The 8 Best Short-Term Investments: Should You Invest Now?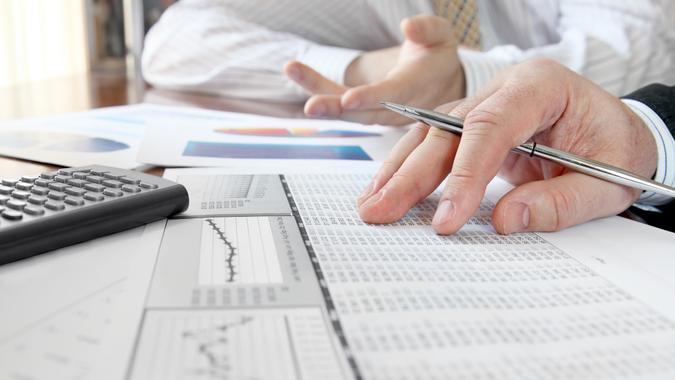 ©Shutterstock.com
Most investors understand that they should set aside money for long-term goals, such as retirement. However, if you put all your eggs in a long-term basket, you could find yourself caught short when you need liquidity. Although saving for retirement is important, there are other ways to meet your financial goals without tying up your cash.
The best short-term investments are investments that have little risk and high liquidity, even if they might not have the most dramatic returns. There are many types of short-term investments, with varying pros and cons.
What Is a Short-Term Investment?
A short-term investment is an investment that is easily converted to cash and that is not intended to be held for a long period of time. Generally speaking, a short-term investment is one that you plan to hold for only about one year — sometimes even just a matter of months. There are even very short-term investment options, such as foreign exchange trading, in which positions are often not meant to be held for more than a day.
Nearly any investment can turn into a short-term investment if you sell it within a brief enough timeframe. To the average investor, stocks generally are considered long-term investments. There are even some tax benefits that come into play if you hold stocks for longer than one year.
But if you're a day trader looking to maximize the short-term movements in the stock market, then you'll never hold a stock for a year. To a day trader, a stock is a short-term investment. Thus, short-term investment options are extremely varied.
Think of it this way: The best short-term investment is one that you can rapidly turn into cash without incurring too much risk or financial penalty.
The 8 Best Short-Term Investments
No single investment is a cure-all for every investor. With different investment objectives and risk tolerances, every investor's portfolio is unique. Select some or all of these short-term investments to meet your particular needs. Remember that if you're chasing a short-term investment big return, you'll need to take on more risk.
Here are some of the most common short-term investment examples.
1. Online Savings Account
If liquidity is your goal, a savings account might be the best option for your short-term needs. Online savings accounts tend to have higher interest rates than traditional brick-and-mortar savings accounts.
In terms of short-term investments cash flow, these options often are best; you can't get better than a savings account for liquidity. There's no penalty for withdrawal, just a limit on the number of monthly transactions.
Investment Timeline: Indefinite
Potential Earnings: 0.01% to 0.50%
Risks: Limited transaction amounts
Example Funds/Brokers: Bank of America Advantage Savings, up to 0.05% APY
Pros
Higher interest rates than average with online banks and/or promotional rates
Often come with convenient features such as mobile apps, automated deposits and funds transfer capability
Insured by the FDIC, typically up to $250,000
Can be liquidated
Cons
Can earn higher rates in other types of investments
Certain withdrawals limited to six per month
2. Certificates of Deposit
Certificates of deposit, or CDs, traditionally have been a way for bank customers to earn more interest than with a simple checking or savings account. CDs can extend as long as 10 years or more, but most are generally short-term in nature, running from three months to one or two years.
CDs are good investments for investors who value security because they are insured. They are also one of the best short-term investments for beginners.
The best rates for CDs usually can be found either with online banks or via promotional rates that frequently pop up at individual banks or credit unions. You can withdraw your money from a CD immediately at any time — if you're willing to pay a penalty. Otherwise, you'll have to wait until the CD matures.
Investment Timeline: Usually 1 to 5 years
Potential Earnings: 0.55%-plus
Risks: May need to pay a penalty if withdrawing early
Example Funds/Brokers: Marcus by Goldman Sachs, 0.55% APY
Pros
Insurance of up to $250,000 from the FDIC
Wide range of maturities typically available
Generally higher interest rates than with savings or checking accounts
Cons
Typically must be held until maturity to avoid early withdrawal penalties, which sometimes can equal the total interest earned
Interest possibly not as high as with some other investments, such as bonds
3. Bond Funds
Bond funds are a way to generate income without having to purchase individual bonds.
In a bond fund, shareholder contributions are invested by professional money managers, who can diversify risk and purchase bonds that may be difficult for the individual investor to find. They're a good option for investors who don't want to do the legwork of analyzing the qualities or characteristics of specific bonds.
Bond funds have no maturity date, so there's no need to tie up money waiting for the return of principal — although there's some risk to that, as well. This type of liquidity means that you can get your money out of a bond fund at any time. However, due to movements in interest rates, you might have to sell at a loss.
Investment Timeline: Indefinite
Potential Earnings: 7% to 8%
Risks: Possible to lose money
Example Funds/Brokers: Aristotle Strategic Credit Fund, 7%
Pros
Can provide consistent monthly income
Can be sold at any time
Can reinvest and compound dividends
Generally can expect dividends to slowly rise over time in conjunction with rising rates
Easy to diversify, lowering the risk to the buyer
Cons
Falling share prices when market interest rates rise
Fund expenses, which can eat into distribution rates and overall return
Possible fee or commission to buy
Doesn't mature, so no guarantee of stability or return of principal
4. Money Market Accounts
Money market accounts combine features of both checking and savings accounts into an easy-to-access investment. A money market account typically will pay a higher interest rate than a checking account, but it also usually will offer check writing and other cash-access features.
Good To Know

Just like other deposit accounts, most money market accounts benefit from FDIC insurance of up to $250,000. Some banks offer promotional or high-yield money market accounts that provide much higher yields than the national average rate.
Money market accounts are just as liquid as regular checking and savings accounts, although they often come with higher minimum balance requirements. They're best for savers with higher cash balances who won't need to withdraw their funds as often.
Investment Timeline: Indefinite
Potential Earnings: 0.60%
Risks: Withdrawal limits
Example Funds/Brokers: Axos Bank High Yield Money Market,

0.25%

APY
Pros
Easier access to capital than with a savings account
Higher yields than most checking accounts
FDIC insured up to $250,000
Cons
Withdrawals may be limited to six per month
Might not offer ATM or debit card access
Yields possibly not as high as other investments, such as bonds
5. Peer-to-Peer Lending
Peer-to-peer lending puts you in the role of a bank. You extend microloans to individuals whom you select, and they pay you interest until the principal comes due. Just as with a bank, if you offer a microloan, you're taking the risk that you won't get paid back.
However, this risk can be minimized in a few ways. For starters, the best peer-to-peer lending sites let you screen the recipients of your loan, and you can choose the ones you feel most comfortable with. Next, as the name implies, a microloan is usually a small investment, so in the worst-case scenario, you won't lose too much money.
Peer-to-peer loans are not nearly as liquid as some of the other investments on this list; if your borrower doesn't have the money to pay you back, there's not much you can do to pull out of your investment. They're generally better suited for investors with a higher risk appetite or the desire to directly invest funds in particular causes or people.
Investment Timeline: 3 to 5 years
Potential Earnings: Variable based on risk
Risks: Borrowers might not pay back the loans; loan money isn't liquid
Example Funds/Brokers: LendingClub, 14.77%
Pros
An investor can take the role of a bank and get paid interest on their money, typically at rates above savings rates
An investor can choose a good cause for their money
Cons
Risk losing the entire investment
Might not be able to get out of loan until it matures
6. Treasury Securities
For investors looking for safe investments, Treasury securities are at the top of the list. Backed by the full faith and credit of the U.S. government, Treasuries are considered the gold standard when it comes to safety.
Not all Treasury securities are short-term investments; in fact, most can be considered intermediate- or long-term investments. However, Treasury bills, which mature in ranges between a few days and 52 weeks, are the very definition of short-term investments.
You can buy Treasury bills direct from the U.S. government when they are auctioned regularly, or you can buy them through a broker. Minimum purchases are just $100. Treasuries are among the most liquid securities in the world; more than 20 broker-dealers are required to stand ready to buy them back from investors at any time.
Investment Timeline: Up to 52 weeks
Potential Earnings: Variable on auction
Risks: Very low
Example Funds/Brokers: TreasuryDirect.gov
Pros
Safe because they are fully backed by the U.S. government
Free from state and local income taxes
Liquid
Cons
Federally taxable
Low-interest rates
7. Money Market Mutual Funds
A type of mutual fund invested in cash, cash equivalents and short-term debt, a money market mutual fund is one of the safest and lowest-risk investments there is. Like other mutual funds, money market mutual funds can be invested through retirement accounts and other investment portfolios. The caveat: They may have a large buy-in.
Investment Timeline: Indefinite
Potential Earnings: Variable
Risks: Reduced liquidity
Example Funds/Brokers: Vanguard Prime Money Market Fund, 1.15%
Pros
Fairly significant returns with relatively low risk
A versatile investment that can be purchased through a traditional portfolio account
Cons
Needs to be liquidated to take money out
Sometimes requires a significant buy-in
8. Promotional Deals
Every once in a while, there might be promotional deals for credit cards, checking accounts and savings accounts. A credit card might offer you a $300 bonus to sign up or a savings account might offer you $500 to transfer a balance of $10,000. These promotional deals are extremely variable and depend on the company — but if you can meet their criteria, it's "free money."
Investment Timeline: Indefinite
Potential Earnings: Varies
Risks: Low
Example Funds/Brokers: Chase Total Checking, $200
Pros
Liquidity; you can move your money out after the introductory period
Low barrier to entry
Cons
Just a one-off payment rather than a more significant investment
Could require direct deposit or other conditions
Benefits and Drawbacks of Short-Term Investments
Short-term investments are for the here and now. You might use these types of investments for an emergency fund, for vacation planning, or to save for the purchase of a new home.
With short-term investments:
You don't sacrifice liquidity. You can still get your money back in a reasonable amount of time.
You don't risk a lot. Usually, a short-term investment is lower yield and lower risk.
The trade-off, of course, is in money earned. Drawbacks include:
Short-term investments generally have lower yields than long-term investments.
There's additional management: You can't just "set and forget" your portfolio.
Should You Invest for the Short Term?
Short-term investments are usually investments with high liquidity. If you plan on purchasing a home in the next five years, you might want to invest in the shorter term. Nearly any investment theoretically can be short-term; there even are short-term investments stocks. However, in addition to short-term investments tax to be paid, other consequences of taking money out early may exist.
Some common short-term investment goals include:
Saving money before a significant move
Saving money to make a big career transition
Saving money to have children or go through the process of adoption
Short-term investments also can be wise during times of market volatility. Investors can avoid potentially putting their cash in a vehicle that will have a markedly tumultuous future.
Final Take
Your own personal needs will dictate whether short-term or long-term investments are better. Although Treasury bills might not pay a high-interest rate, for example, you'll sleep much better at night if you are using Treasury bills rather than aggressive growth stocks to fill your emergency fund.
By the same token, you're likely to enjoy a more fruitful retirement if you've got some stocks in your retirement account rather than short-term CDs. Consider working with a financial advisor, which could be very beneficial in helping you find your best path.
This article has been updated with additional reporting since its original publication.
Rates are subject to change; unless otherwise noted, rates are updated periodically. All other information on accounts is accurate as of Feb. 15, 2021.
This content is not provided by the companies mentioned. Any opinions, analyses, reviews or recommendations expressed in this article are those of the author alone and have not been reviewed, approved or otherwise endorsed by the companies mentioned.
Our in-house research team and on-site financial experts work together to create content that's accurate, impartial, and up to date. We fact-check every single statistic, quote and fact using trusted primary resources to make sure the information we provide is correct. You can learn more about GOBankingRates' processes and standards in our editorial policy.