Marketplace's Chris Farrell: This Is the One Investment That Always Pays Off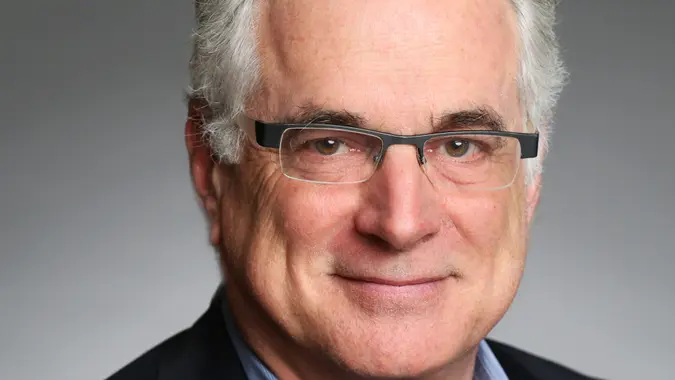 Chris Farrell is a financial columnist and a senior economics contributor at Marketplace, a nationally syndicated public radio program that discusses business and the economy. He has also published five books on personal finance and the economy.
Recognized by GOBankingRates as a Top Money Expert, here Farrell weighs in on what investments to make in an uncertain market and how to ignore what you cannot control when it comes to your finances.
Want to vote for Chris as your favorite money expert? Click here and go to his expert page.
What do most people not know about investing that you wish they knew?
First, that the essence of investing is uncertainty. How confident are you about the trajectory of the stock market over the coming year, let alone the next 10 years? Knowing that surprise is inevitable with markets, putting money into a portfolio that matches the performance of an index like the S&P 500 is cheap, simple, and savvy. Investors in equity index funds consistently outperform most professional stock pickers. Among the biggest attractions of broad-based index funds is very low fees compared to actively managed funds. You're not paying money managers to beat the market which, experience and market history show, is difficult to do over time.
Second, diversification pays, especially considering that investors can't escape uncertainty about future asset returns. As Don Quixote de la Mancha put it: "Tis the part of a wise man to keep himself today for tomorrow, and not venture all his eggs in one basket."
I'm a Self-Made Millionaire: These Are the 6 Investments Everyone Should Make During an Economic Downturn
What should everyone be doing to build their wealth, no matter how much money they currently have?
The bedrock insights of personal finance include: save often, keep fees low, prepare for the unexpected, invest in learning and create a margin of financial safety. These ideas have been honed over centuries of dealing with financial uncertainty and upheaval. The principles seem easy enough, but they're often hard to follow in practice. Life is complicated and messy. 
That said, the best way to get your financial bearings in uncertain times is to ignore what you can't control, like the direction of the stock market and the economy. Put away all the forecasts. Instead, focus on what you can control. That starts with creating a budget no matter what you earn. You'll learn where your money is going and where you might need to make some adjustments. From that practical base of knowledge, you can make plans to get to where you want to be despite economic and market uncertainty.
I would also expand the definition of investment. Too much of the conversation revolves around the markets. Nothing wrong with investing in stocks, real estate, and fixed-income securities. But your valuable asset in good times and bad is your network — family, friends, good colleagues and people you respect. Invest in your network. They'll help you find a job if you get laid off and they'll work with you to advance your career. Investments in job skills and education can also pay off big.
More From GOBankingRates
Jaime Catmull contributed to the reporting for this article.