Collaborative Investing and How It Could Improve Gen Z's Wealth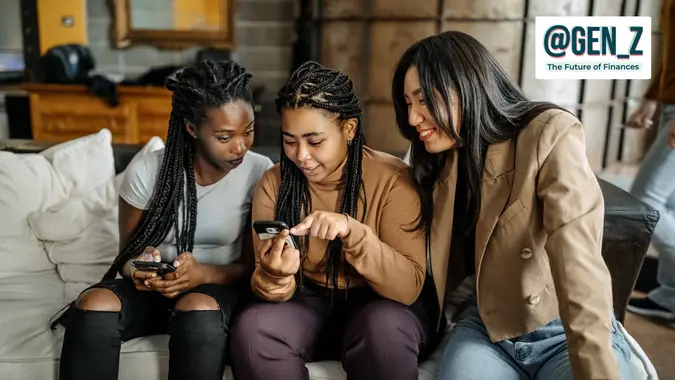 Pekic / iStock.com
At the start of 2021, young, passionate investors loosely organized online brought Wall Street to its knees with an epic short squeeze of a struggling video game company. Thanks to the drama of the Reddit/GameStop saga, the world witnessed the power of collaborative investing.
Find Out More: Nearly 20% of Gen Z Invest In This Surprising Asset, According To New Survey
Take a Look: The 10 Best Stocks for the Gen Z Investor
"It was a win for Gen Z investors that sent shockwaves throughout the world," said Giovanni Braghieri, personal finance expert, management consultant and co-founder of MyConsultingCoach. "However, it also showed that there is a community of young investors looking for leadership and direction."
While Gen Z is not, by and large, willing to seek that leadership and direction from traditional financial planners, "they're also reasonable enough to know that DIYing without enough prior experience isn't a viable option," Braghieri said.
Their Impact on Money: Gen Z: The Future of Finances
So, where is the middle ground between unguided DIY investing and the traditional establishment advisory services that Gen Z is so well known for distrusting? It's in their social networks, of course, which form the basis for the phenomenon known as collaborative investing. 
Collaborative Investing: Not Alone in the Wilderness, but Not Paying For Help, Either
Until recently, most regular, noninstitutional investors could be lumped into one of two categories: DIYers, who direct their own investments through apps like Robinhood, and those who delegate their investments to financial planners and robo-advisors. Doing it yourself is free, but DIY leaves green investors at the mercy of their own knowledge, skills and emotions. Delegating, on the other hand, can cost money and requires forfeiture of control and self-direction — both big no-nos for Gen Z, which balked at those options and instead fled to familiar safe spaces.
"Younger investors are getting investment advice from TikTok, YouTube, Discord, in Telegram channels, and, of course, on Reddit," said Lana Khabarova, a former investment professional who now runs SustainFi, an investment and personal finance site focused on sustainable investing. 
Read: 4 Industries Gen Z Might Save — and 4 It Might Destroy
The intersection of social media and investing apps has proven to be a perfect middle-ground for young investors who are both digitally proficient and highly suspicious of the financial establishment.  
"There are a few important elements when it comes to understanding Gen Z's tendency toward collaborative investment approaches," said Brian Dechesare, a former investment banker and CEO of the financial platform Breaking Into Wall Street. "First of all, from a psychological point of view, I think there is a greater sense of security in being part of a mass online investment. Whether that sense of security is well placed or not, for budding and inexperienced investors, these types of investments are more attractive than going it alone. In this respect, they also function as an in, or a stepping stone, for amateur investors to learn the basics."
See: Surprising Ways Gen Z and Millennials Are Worlds Apart Financially
New Investments Pushed New Investors To Look Elsewhere
Part of the reason that collaborative investing has gained such traction is that the old guard simply had no experience with the kind of investments that Gen Z was interested in — 20-year-olds, after all, weren't looking for advice about ETFs or FAANG stocks. 
"This next generation of traders is pushing the boundaries of what we define as valuable," said Tobias Heaslip, CEO and founder of Trading TV. "It's not just stocks and bonds — it's crypto and NFTs, trading cards and handbags." 
The collaborative investing model often focuses less on the type of investment and more on the brand or concept that the investment backs. 
"This generation places an emphasis on supporting companies and brands that are making an impact in the world, and this extends to their approach investing their money," said Alice Nehauser, CFO and founder of Seismic Capital Company, an early-stage investment firm. "Young investors are seeking opportunities to support diverse, inclusive businesses with the potential to make a positive and long-lasting impact in society."
Check Out: A Look at Gen Z's Financial Habits, From Spending to Saving and More
The 'Finfluencer' Phenomenon
Wall Street is wooing armies of young, popular social media influencers who focus on finance, according to Bloomberg. That's because the big investment firms have learned that these "finfluencers" are better at selling their investment products than they are.
"Some finfluencers, especially on TikTok, are going viral overnight and attracting millions of views," Khabarova said. 
For example, Bloomberg reported that the robo-advisor Betterment got 10,000 signups in one day after a 25-year-old TikTok finfluencer mentioned the platform to his followers. That dynamic, however, means that the very establishment that Gen Z was hoping to sidestep could be sponsoring the same online personalities that they're turning to as an alternative. Other finfluencers could just be pretenders riding the gravy train.
Take Action: 7 Moves Gen Z Should Be Making To Protect Themselves Financially
"Some of them do have finance backgrounds and are maybe former financial analysts or advisors," Khabarova said. "But, in many if not most cases, there is no way for an inexperienced investor to tell if the finfluencer knows what they are talking about. There are no background checks and it is not always clear if the finfluencer has a financial interest in promoting something. It is great that young investors are passionate about investing and want to learn. However, potential conflicts of interest and the fact that many influencers have no finance backgrounds or credentials are problematic."
In the End, Social Media Is Still Social Media
Same as with online dating, the trouble with collaborative investing is that you don't really know who, exactly, it is you're collaborating with on the other end of the iPhone screen. 
"Investing is fundamentally complex," said Olivia Tan, a Florida-based personal finance coach and co-founder at CocoFax. "You can't boil it down in a single tweet. You can't distill it into just a few words or images. There is a great deal of information that is good on social media platforms, but there is also a great deal of information that is bad, whether it's people who don't know what they're talking about or who have malicious intent, which is frightening for regulators."
Find Out: What Gen Z Can Learn From Millennials' Money Mistakes
It should also frighten — or at least give pause to — anyone who understands the nature of social media and the information it produces. 
"Given the inherent anonymity of online groups and users, it's safe to assume that there's potential for abuse," Braghieri said. "Relying on personal networks for financial advice is a sound plan so long as you know — or at least, have a clue — whose advice you're following."
More From GOBankingRates
Last updated: Oct. 13, 2021