5 Easy Ways To Bring Your Investing Up to Date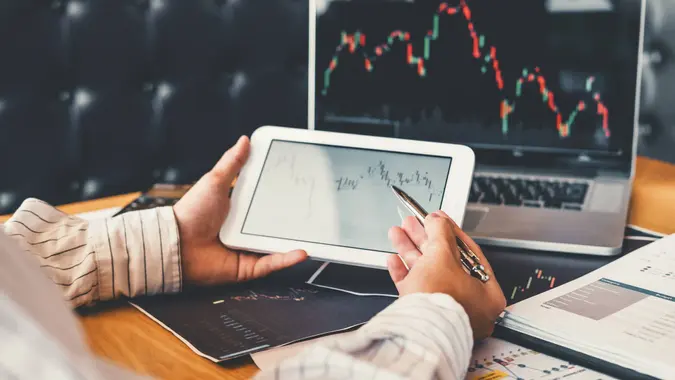 ©Shutterstock.com
Properly setting up a long-term investment plan can take a lot of time and research. After all, a well-constructed portfolio will incorporate a large number of elements, from your investment objectives and risk tolerance to your age and financial situation. But even after all of that effort, you should still continue to review and update your portfolio on a regular basis. As the investment world is constantly evolving, you need to update your portfolio regularly to keep it optimized and maximize your potential gains. Here are just a few ways to modernize your portfolio and ensure that you aren't missing out on new developments in the investment world.
Find Out: The 5 Fastest Ways To Become Rich, According To Experts
Keep Reading: 6 Top Tips for How To Turn $1,000 Into $10,000
Reevaluate Your Investment Objectives
If you haven't reviewed your portfolio for a while, start with your investment objectives. As you age and experience various life events, it's possible or even likely that your investment objectives will shift. For example, if you're just out of college and starting a new job, you might seek aggressive growth. But if you get married, have kids, or approach retirement, you might need to dial down your risk profile, or even shift to an income-first portfolio. Even if your investment objectives haven't changed, reviewing them is the first step in making sure that your portfolio is up to date.
Learn More: 7 Things Most Americans Don't Know About Investing
Research ESG Investing
Once you've set your investment objectives, it's time to be open-minded about newer investment styles or strategies that may not have been available when you first built your portfolio. ESG investing is a great example. While investors in decades past may have wanted to integrate social and environmental issues into their portfolios, there was never any formal mechanism to do so. In fact, it wasn't until 2005 that the term "ESG," for "environmental, social and governance" investing, even came into existence. But now, 80% of large corporations follow Global Reporting Initiatives standards, and over $3.9 trillion is invested in more than 7,000 ESG funds. In other words, ESG investing is here to stay, and it can be a great way to refresh your portfolio.
Advice: 12 Essential Money Tips for Every Phase of Your Financial Life
Learn About Cryptocurrencies
Even if you don't pay much attention to the financial press, you can't avoid hearing about cryptocurrencies these days. While crypto isn't for everyone, for others it can be a good speculative addition to a portfolio. Cryptocurrency is wildly volatile, and its success is far from guaranteed. However, many well-known billionaires, from Mark Cuban to Elon Musk, have positive things to say about some cryptocurrencies, and El Salvador recently became the first country to adopt Bitcoin as legal tender. The bottom line is that crypto can either be in the early innings of disrupting the global financial system, or it can just be a passing speculation that will ultimately prove worthless. Either way, it pays to educate yourself about crypto and make your own determination about whether or not it belongs in your portfolio. 
Find: Bitcoin and Crypto Taxes in 2022: What You Need To Know
Switch To a Low-Cost Broker
Throughout most of the history of the stock market, investors could only purchase securities through a full-service broker. Traditionally, this meant in-person meetings, high commission costs and only occasional trading. It wasn't until the brokerage industry was deregulated in 1975 that Charles Schwab was able to introduce discounted commissions and begin the trend toward self-managed investments. Nowadays, you can trade most stocks and ETFs online with zero commissions, while still receiving access to investment research and additional services, if needed. If you're still stuck with a traditional, high-fee broker but want to be more hands-on with our investments, update your investing by bringing it to a reputable online broker that offers zero-commission trading.
Find Out More: 7 Simple Habits That Will Make You Richer in 2022
Rebalance Regularly
Regardless of how well you construct your portfolio, "set-it-and-forget-it" is a thing of the past. This doesn't mean that you shouldn't hold stocks for the long term. Rather, it means you shouldn't completely forget about your portfolio after you build it. Things change rapidly in the investment world, and it's likely that after a year, or even after a quarter, your portfolio is out of whack. Assuming you still want to own all of the stocks that you originally purchased, rebalancing is a way to take some profits from your winning stocks (i.e., "sell high") and reinvest that money in positions that have underperformed (i.e., "buy low"). You can also use your rebalancing as a time to weed out stocks that you no longer want to own. Regular rebalancing is one of the best ways to keep your portfolio fresh and up to date. 
More From GOBankingRates