Elon Musk's Worst Investments (And What You Should Learn From Them)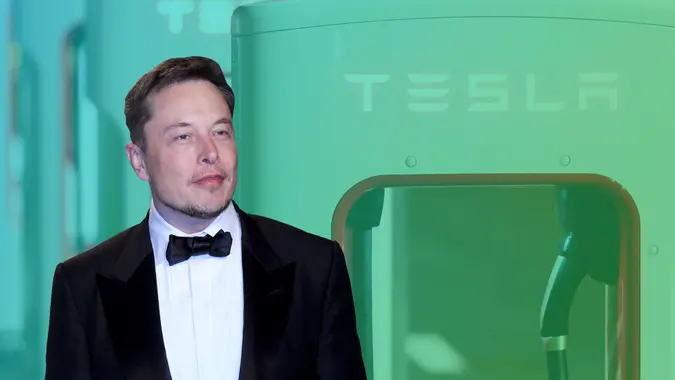 Elon Musk brought the fringe concept of electric cars into the mainstream while simultaneously pioneering commercial space travel and reusable rockets. His efforts made him a household name, a titan of industry and technology, and the richest man in the world. Along the way, he inspired entrepreneurs from far and wide with lessons from his many successful investments.
"That said, not all of Musk's ventures have paid off," said Voices.ai founder David Ciccarelli, who, like Musk, is a tech entrepreneur and artificial intelligence enthusiast. "The lessons from these failures are just as instructive." Elon Musk goes big with everything he does, and when he fails, he fails in an equally epic fashion. Here's a look at his worst investments.
SolarCity
Elon Musk's cousins Peter and Lyndon Rive founded SolarCity, which produced and installed groundbreaking new solar systems for homes and businesses. Tesla acquired the company in 2016 despite its $3 billion in debt.
"The idea of integrating energy production and storage into homes was revolutionary, but the execution wasn't quite there," said Ciccarelli. "In my own experience, I've found that a brilliant idea is just the starting point."
Musk incorporated SolarCity into Tesla Energy, a division that has spent years embroiled in shareholder and consumer lawsuits. So, what's the lesson?
The Lesson
"Proper execution and the ability to adapt to changing circumstances are crucial," said Ciccarelli. "There was a time when we had to pivot our business model at Voices.ai to respond to changing market needs. We learned, much like Musk did, that the ability to adapt is essential for survival in the tech world."
OpenAI
Considering how its ChatGPT platform has dominated the headlines and empowered everyone from content creators to coders, OpenAI might feel out of place on a list of Musk's misfires.
But there's more than one way to measure success.
"Elon set up OpenAI to be an open-source nonprofit at the bleeding edge of AI development, and he seeded it with at least $50 million and helped it raise hundreds more," said Siam Kidd, founder of The Realistic Trader. "However, once he discovered that the board had other intentions of profiteering off the tech, he soon left. We now have access to ChatGPT, but this, according to Musk, is the beginning of a very slippery slope."
According to Motley Fool, Musk regrets putting up the cash and recruiting key engineers before leaving the company in 2018. His chief concern is that OpenAI did not prioritize safety when developing its powerful and disruptive generative artificial intelligence algorithms — and now the genie is out of the bottle.
Goldman Sachs predicts the human-competitive platform could automate as many as 300 million jobs, and Musk worries that Microsoft — a major investor — has too much control over the technology.
The Lesson
The takeaway is never to invest in something you don't fully understand and whose outcome is unpredictable.
The Hyperloop
Elon Musk conceptualized the Hyperloop in 2013 and founded The Boring Company in 2016 to bring it to life.
He describes it as "an ultra-high-speed public transportation system in which passengers travel in autonomous electric pods at 600+ miles per hour. A Hyperloop trip from DC to New York would take less than 30 minutes. Similarly, a trip from DC to Baltimore would take less than 8 minutes."
In 2016, The Boring Company completed a one-mile test tunnel in California. Last November, Musk dismantled it and turned it into a SpaceX parking lot as his billion-dollar-per-mile project stalled underground.
"Musk sunk $10 million into this high-speed transport concept, and it's still waiting to prove its worth," said Brad Banias, a former Department of Justice attorney and the founding partner of Banias Law and Pro Se Pro. "Despite all the initial excitement, Hyperloop is up against some significant technological and regulatory roadblocks. Legally, there's the mountainous task of acquiring land rights, adhering to safety regulations, and earning government approvals."
The Lesson
Banias's work has made him intimately familiar with navigating the minefield of local, state and federal regulations. "Musk's Hyperloop journey spotlights the necessity of understanding the regulatory environment before you invest," he said.
Twitter
On June 5, the New York Times reported that Twitter's ad revenue had plunged by 59%, a direct result of Musk's clumsy and controversial takeover of the social media giant.
"Musk's decision to acquire Twitter last year seems to be a notable misstep," said June Jia, a quantitative researcher at GF Securities and owner of Canny Trading. "Though the final outcome remains uncertain, it's clear that the acquisition has incurred significant costs to date. Musk grappled with margin calls during the acquisition process, forcing him to sell large portions of his Tesla shares repeatedly. This move precipitated a considerable decline in Tesla's share price throughout the latter half of the previous year."
In fairness to Musk and his flagship company, Tesla shares are up more than 55% in the last month and nearly 140% in 2023.
Perhaps more importantly, the saga muddied his public image as an apolitical entrepreneurial visionary bent on colonizing Mars, reversing climate change and advancing the human species. Now, his name is often mentioned in the context of blue checks and petty partisan culture wars.
The Lesson
"Ultimately, Musk found it necessary to delegate the management of Twitter to Linda Yaccarino to refocus his efforts on Tesla," said Jia. "Musk's motives behind acquiring Twitter remain unclear, but his impulsiveness throughout the acquisition process is a valuable reminder of the need for caution and due diligence in investment decisions."
More From GOBankingRates