6 Employee Equity Mistakes To Avoid, According to Experts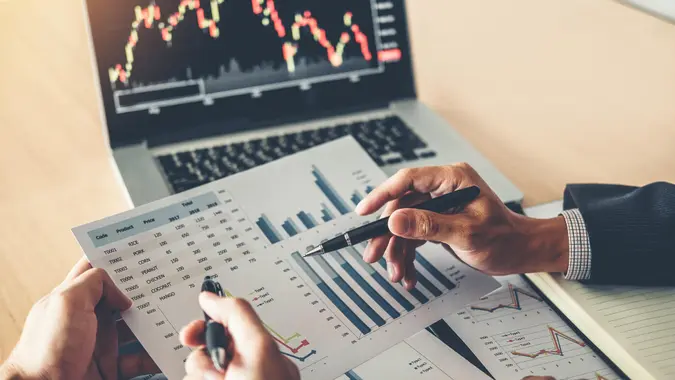 SARINYAPINNGAM / Getty Images/iStockphoto
There's something about the words "stock options" that gives a royal feel to an employee compensation package — but equity isn't just a badge of prestige.
"Employee stocks are a great way to start an investment portfolio," said Anthony Martin, CEO of Choice Mutual. "When managed correctly, they can become quite lucrative."
"Managed correctly" is the key phrase.
Find Out: How Much Will Pfizer and Moderna Be Worth by the End of 2022?
See: Best Undervalued Cryptocurrencies To Buy for 2022
Stock options, restricted stock, employee stock purchase plans and other types of equity compensation are complex and unfamiliar to most. 
GOBankingRates asked the experts about the most important mistakes to avoid when managing equity compensation. Keep reading so you'll be able to see the traps before you fall into them.
Not Understanding the Basics
If your employer is compensating you with stock options, congratulations on your ownership stake in the company. But being an owner takes a fair degree of skill and knowledge. If you don't take the time to learn at least the basics of what you're getting into, costly errors are all but certain. 
"There are a few key mistakes to avoid when it comes to stock options and other forms of employee equity compensation," said Lucas Solomon, a New York City financial, business and investing consultant and founder of fx4biz.com. "Employees can make much more money if they understand what their stock options and equity compensation actually mean. Make sure you know how many shares you have, what the strike price is, and when the options will expire."
More Investment Options: 8 Best Cryptocurrencies To Invest In for 2022
Failing To Plan and Strategize
One of the most common mistakes is to treat stock options the way most people treat their 401(k) plans — to put them on autopilot and forget about them. Equity compensation requires a little TLC, especially if your employer is going through any ups, downs or changes.
"If you think your company is doing well or is likely to be acquired, contact your HR department and ask about exercising your options or cashing in your stock," Solomon said. "Waiting until the last minute could mean losing out on valuable compensation."
The easiest way around all of the many pitfalls is to have a plan before you ever receive your first share.
"The best step to take with any stock, especially company stock, is to have an investment strategy," Martin said.
Not Considering Taxes
Just because you receive equity as compensation doesn't mean that the IRS treats it as regular income. If stock options are part of your pay package, start planning for a more complicated tax season next year. 
"When you exercise your stock options, or cash in your stock, you will have to pay taxes on the profits," Solomon said. "Make sure you budget for this and factor it into your overall financial plan."
Teens & Taxes: My Teen Has Investment Income — Do They Need to File Taxes?
Failing To Play the Long Game With an ESPP
If you believe in the value or growth potential of your company's stock, you might be able to pursue increased ownership at a discount for the duration of your employment.
"If you're interested in company stock, take advantage of an ESPP, if your company offers one," Martin said in reference to employee stock purchase plans. "This type of program allows you, the employee, to purchase stock at a discounted price. There are no taxes due on this type of stock until you sell it. The discounted rate will also earn you even more if the stock continues to appreciate over time."
Treating Company Stock as a Magic Bullet
You can't be blamed for feeling like you've made it into the investor class when you land your first job with an equity stake, but don't get tunnel vision. The old rules of investing still apply — especially that one about protecting your assets through diversification.  
"Stock options and other equity compensation can be a great way to build wealth, but it's important to spread your risk by investing in other assets as well. Don't put all your eggs in one basket."
Martin agrees.
"Take full advantage of employee stock opportunities, but make sure to still have a balanced portfolio," he said. "It can seem exciting to continue purchasing as much stock as you can in a business — especially at a discounted rate. However, it's a general rule to not have more than 15% of your portfolio tied up in one stock in case of a downturn. Otherwise, you risk losing everything."
Going It Alone
Managing stock options, restricted stock, restricted stock units, phantom stock, stock appreciation rights and ESPPs is not the same as kicking 10% of your check into an ETF once a month. It's very likely that getting the most out of your equity compensation requires expertise that you simply don't have. If you're not up to the task, seek help.
"This is probably the biggest mistake of all," Solomon said. "Employee equity compensation can be complex, and it's important to get professional advice to make sure you're making the most of it."
Martin agrees.
"Having a financial advisor can also help you understand your options if you're new to the market or have additional questions," he said.
More From GOBankingRates