Gen Z Is Investing in Stocks More Than Previous Generations: Will This Lead To More Wealth?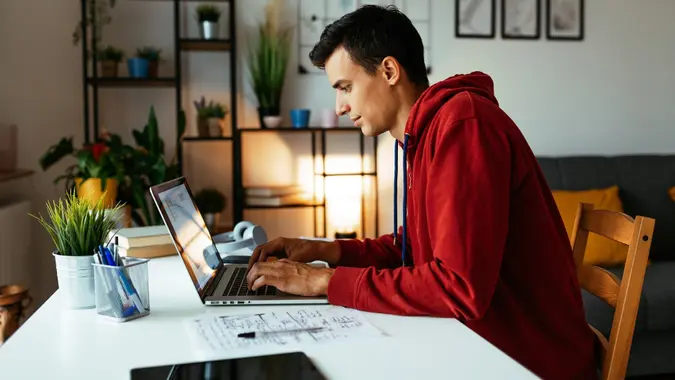 Drazen_ / iStock.com
Gen Z is taking steps in the right direction toward building wealth. A recent Vanguard report found that this generation is more invested in stocks than previous generations.
The Vanguard analysis observed the savings behaviors of 250,000 employees based on their ages in 2006 and 2021, and found that in 2006, 25% of employees ages 18 to 24 had no stocks in their 401(k) plan; in 2021, 97% of employees ages 18 to 24 had invested between 41% and 99% in stocks in their 401(k) plan.
Here's a closer look at why this generation is more inclined to invest in stocks, and why that's a good thing for Gen Z's overall wealth.
Why Is Gen Z Investing in Stocks More Than Previous Generations?
There are a couple of factors that can explain Gen Z's higher participation in the stock market, the first of which is a higher comfort level with technology.
Take Our Poll: Would You Put All of Your Savings in an Apple Savings Account?
"Gen Z investors have grown up in a world where technology is fully a part of their daily lives," said Nilay Gandhi, CFP, senior wealth advisor at Vanguard. "This generation is the most active mobile user and can use their devices to gather information and manage their finances — including investing in stocks — through various technology platforms."
The process of investing in stocks, particularly within 401(k) plans, has also become automated over recent years, which can benefit the youngest generation of workers.
"Younger investors are benefiting from their employee retirement plan benefits, such as automatic plan enrollment and automatic annual savings rate increases, making it easier for them to join, save and invest in the appropriate levels of stock," Gandhi said.
Stocks Could Play a Key Role in Gen Z's Retirement Readiness and Wealth
Gandhi sees Gen Z's active investment in stocks as a positive thing, noting that this can set this generation up for future wealth.
"Stocks can be a powerful tool for wealth accumulation and give money a higher potential to grow over the long term," he said. "We also know that savings rates, having a well-balanced portfolio, costs and the ability to remain disciplined are key aspects in giving investors of all ages the best chance for investment success. Gen Z investors have a long runway to retirement, so taking the first step to save, and save early and often, is most important."
While it's too soon to tell if Gen Z will become the wealthiest generation, their investment in stocks is certainly putting them on the right track.
"We are encouraged by the positive savings behaviors we are observing with younger generations," Gandhi said. "Gen Z savers, on average, have higher account balances than their predecessors in part because they are investing earlier and often, and taking advantage of retirement plan benefits. Many Gen Z employees also are coming out of school with less debt, are highly educated and are putting aside more for their retirement nest eggs. Because younger workers are saving more, maintaining a long-term perspective and holding balanced portfolios, they have the right recipe to obtain strong financial security in retirement."
More From GOBankingRates