Here's How Warren Buffett Says To Inflation-Proof Your Earnings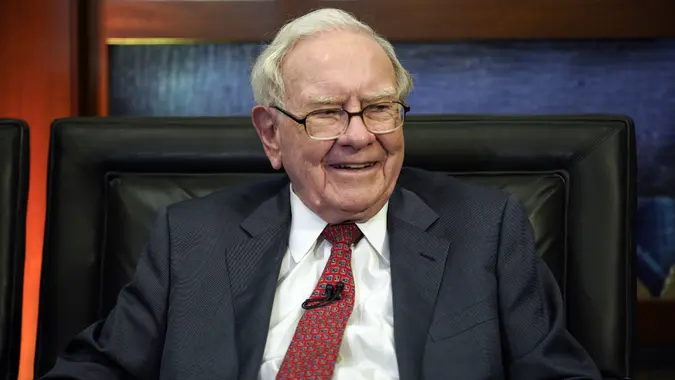 Nati Harnik/AP / Shutterstock.com
The Berkshire Hathaway annual meeting has become a pilgrimage for those looking to kneel at the altar of billionaire co-chairs Warren Buffett and Charlie Munger. The two are known as no-nonsense, practical investors who believe in the long-term growth of undervalued businesses.
Small Business Spotlight 2022: Nominate Your Favorite Small Biz
Discover: 22 Side Gigs That Can Make You Richer Than a Full-Time Job
But what makes them especially popular in the investing community is the folksy wisdom they dispense in seemingly endless quantities. At the 2022 Berkshire Hathaway annual meeting, investors got what they came for yet again. In response to a question from the audience about which stocks to invest in to beat inflation, Buffett flipped the script and said the best defense is not a stock but yourself.
According to Buffett, "The best thing you can do is to be exceptionally good at something. … The best investment by far is anything that develops yourself."
Here are some ways you follow Buffett's suggestion and build up your skills to help make your earnings inflation-proof.
Go Back To — or Stay in — School
The most traditional path toward acquiring greater skills and education is to go to school. If you're still in school, you may consider taking additional courses, or even a master's or Ph.D. program, to become the best in your field.
If you're already out of school, consider going back and taking whatever courses may be available that are applicable to your chosen field. If you currently have a job, this may mean taking night or weekend courses. But that might be part of the investment you make to become "exceptionally good at something," in the words of Buffett.
Take Online Classes
There is so much educational material available online these days that you may not even need formal schooling to enhance your skills. Major universities, ranging from Stanford to Harvard, now offer many of their classes online, and even YouTube videos have developed to the point that you can learn how to do most anything. Just be sure that the material you're using is high quality and can actually enhance your skills rather than just be an entertaining diversion.
Check for Workplace Educational Offerings
Many employers, particularly larger ones, will offer educational services for employees. Check to see whether your employer offers a program that will either enhance your existing skills or teach you a new trade or skill altogether.
Diversifying your talents can not only prepare you for advancement at your current employer, it may give you additional options should you choose to work somewhere else. 
See Whether Your Employer Will Pay for Additional Schooling
Whether or not your company offers educational services, it may very well pay you to take your own classes at an accredited university. Many employers now offer this service as a workplace benefit, so take advantage of it if you can. Free schooling is a great way to get ahead without having to spend anything but your time and effort.
Ask About Workplace Incentives for Higher Education
Still another workplace benefit your employer might offer is additional pay for higher education. Some companies will automatically boost your salary if you obtain a master's degree or a doctorate, for example. Others may offer additional pay for simply completing courses that teach advanced skills in your field. Check with your employer to find out all of the available educational offerings, if you're looking to make yourself indispensable.
Perfect Your Own Existing Skills
You don't necessarily have to go to school to become the best at what you do. If you are a talented artist or work a trade, time, discipline and practice may be all you need to become the best in your field.
Of course, you'll always be learning, whether from others in your field, from online instructional videos or simply by following your instincts. But, if you have the innate drive and ability to perfect your craft on your own, that may be enough to get you to the top of your field.
Get the Word Out
You could be the most talented person in the world; but, if no one knows about it, you won't earn a single dime. Learn how to promote yourself via social media and any other advertising that will reach your target market. Once you start developing customers, word-of-mouth referrals are often the very best source of additional quality customers.
More From GOBankingRates