More Than Half of Gen Z Invests: Here's What They Sink Their Money Into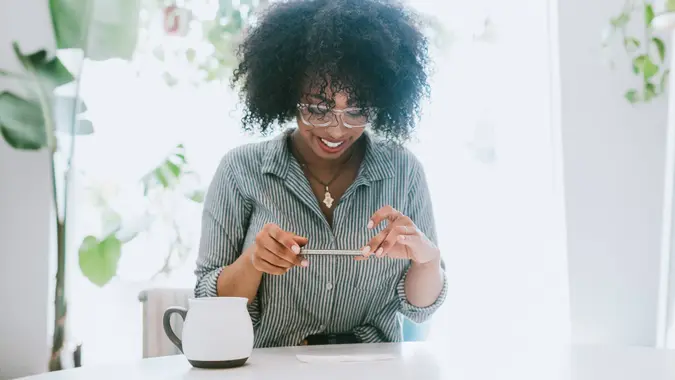 RyanJLane / Getty Images
A new study from GOBankingRates offers good news to anyone worried about Gen Z's commitment to their financial future. Although the youngest adults are a little less likely to invest their money than millennials, Gen Z invests in percentages that are nearly equal to those of middle-aged adults between 45-54 — and they're actually more likely to invest than older Americans 55 and up. 
The Future of Finances: Gen Z & How They Relate to Money
More: Should You Still Buy a Home in Today's Market?
The study, which surveyed more than 1,000 American adults, found that 43% of Gen Zers (18-24) aren't yet investing. That means 57% are, which might be shocking to those who stereotype the youngest generation as irresponsible and short-sighted. 
What's even more shocking, however, is what they are — and aren't — investing their money in as they grow.
Wait. Yes to Real Estate, But No to Crypto? 
The study's most striking revelation was that only about 11% of the Gen Zers who invest sink their money into cryptocurrency. Twice as many, about 22%, invest in the stock market, and about 14%-16% invest in 401(k)s or IRAs and mutual funds or ETFs. In fact, the only category that draws fewer young adults than crypto is the 5% who dabble in collectibles. 
Remarkably, the biggest plurality — a little more than 24% — invest in real estate. 
So, how is it that Gen Zers shun cryptocurrency — which is almost universally associated with young, tech-savvy risk-takers — but they flock to real estate, which has always been the realm of mature, stable investors with assets, income and credit? 
As it turns out, assumptions about Gen Z rarely hold up to reality.
Take Our Poll: Do You Think You Will Be Able To Retire at Age 65?
Gen Z Missed Tech's Training-Wheels Phase
George Sinis is a computer science professional and longtime crypto trader who owns an educational crypto and finance media company called BuyCryptoSafety. 
In his experience, the common presumption that the youngest adults are crypto's biggest fans just isn't grounded in reality. Today's 20-year-olds were seven when Bitcoin debuted in 2009 — their concept of how we got here is purely academic. Older sets, on the other hand, watched it evolve in real time.
"Older generations, especially us millennials, had to go through all the phases of the internet and technology," said Sinis. "Before forums, blogs and social media, we had to figure out everything ourselves, which made us quite tech-savvy. On the other hand, whenever I do a crypto presentation to a Gen Z audience, the most common complaint I get is that they find crypto too confusing and don't have the patience to learn how everything works. My experience shows that Gen Z is very skilled at handling social media, but their tech knowledge doesn't extend further. That is why they pick a simpler investing model like real estate. As time goes on, I think we will see a significant influx of Gen Z investors in the crypto market as they become more confident and mature." 
But They Also Missed the Great Recession
Sinis's thesis — that Gen Z is shying away from crypto until they get a better grasp on the technological evolution that birthed it — is certainly valid. But bear in mind that his perspective is that of a blockchain specialist. 
Brian Davis, founder of Spark Rental, also believes a lack of pre-2009 context drives the dynamic — but he sees the issue through the lens of a real estate professional.
"Those stats make sense when you think about it," said Davis. "Gen Z was very young during the last housing market crash in 2008, and it probably didn't make much of an impression on them. All they've seen is real estate skyrocket in value since then. But they have been old enough to see the wild volatility of cryptocurrency, and they either know someone or they themselves have lost money on crypto at some point over the last few years." 
Or, the Study's Results Might Tell Only Part of the Story
John Frigo, a Gen Zer and investor who works as a marketing analyst with BestPriceNutrition.com, exhibits a healthy dose of one more thing that his generation is known for: skepticism.
"I would disagree with the idea that most of my peers are investing in real estate, let alone over stocks and crypto," Frigo said.
"Here's the thing. It's very easy to invest in crypto. Anyone with a Robinhood account, Cashapp account, etc., can throw $20 into crypto, whereas very few people my age have the means, the credit or the job history to be able to buy real estate. I think a lot of my peers are intrigued by real estate and want to be real estate investors or landlords down the road. But it's not nearly as prevalent as crypto or stocks, which someone can invest as little as $5 into with a few clicks on an app they already have, versus having to have money saved up and get financing to buy real estate."
Frigo makes valid points — so how can those points be reconciled with the results of the study? Several experts offered explanations that might fill in the blanks. Frigo mentions landlords, credit, job history and down payments. But perhaps the Gen Zers who reported being real estate investors aren't flipping foreclosures or buying properties. Perhaps they're investing in partial shares of REITs or REIT EFTs, which anyone with a no-fee brokerage account can buy with as little as $1. Or maybe they're investing through real estate fractional share crowdsourcing platforms like Concreit, which are also cheap and accessible.
On the flip side of the coin, many of those same young adults who appear to shun crypto might have invested in digital currencies in 2021 when the market was hot, but panic-sold their shares as this year's crypto winter diminished their modest holdings before they participated in the survey.
The point is that Frigo's sound logic doesn't have to be wrong for the study to be right, or vice versa. No matter the cause, one thing is certain — Gen Z is serious about putting its money to work.
More From GOBankingRates
Methodology: GOBankingRates surveyed 1,004 Americans aged 18 and older from across the country between July 21 and July 24, 2022, asking six different questions: (1) Where did you learn about personal finance?; (2) How much overall debt do you currently have? (Including student loan debt); (3) How much of your monthly income do you put toward rent/housing?; (4) What is your opinion on remote work/work from home policies at your current or future employer?; (5) Do you invest your money? If so, what do you invest in? Select all that apply; and (6) What minimum salary would you need to make to be happy? GOBankingRates used PureSpectrum's survey platform to conduct the poll.