How Much Money You Lose in Your Lifetime By Not Investing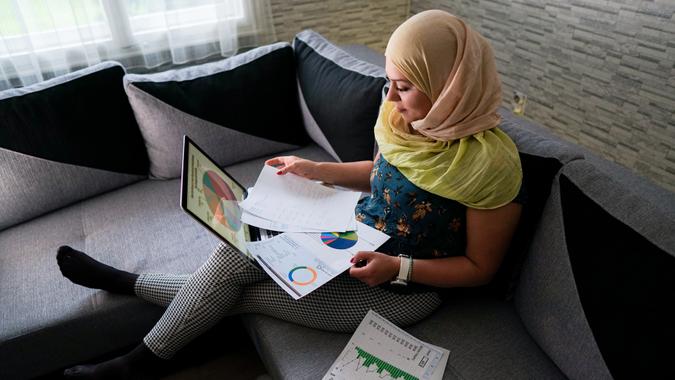 Viktorcvetkovic / Getty Images
Whether it be in cryptocurrency, the stock market, or in a retirement plan, investing is talked about constantly. The problem is most people don't have a great grasp on what exactly investing is. According to a recent GOBankingRates survey of 1,000 Americans, 44% of people have avoided investing because they don't understand it. However, not investing can cost you. Though investments do have their risks, even investing a small amount leaves you in a better place not investing at all.
Here's what you lose when you don't start investing. 
Check Out: 20 Genius Things Mark Cuban Says To Do With Your Money
Find Out: 25 Things To Sell When You're Ready To Retire
Your Quality of Life in Retirement Suffers
Pension plans are less and less common as an employee benefit, and social security usually isn't enough money to sustain life in retirement. Investing can be started really easily, and it ensures you'll have money to live off when you retire. Take advantage of 401(k) plans at your job–especially if your company offers to match any amount of your contributions.
If your job doesn't offer a 401(k) plan as a benefit, think about opening a traditional or Roth IRA account and contribute to it regularly. If your modified adjusted gross income (MAGI) in 2022 is under $144,000 as a single filer, or $214,000 as a married couple filing jointly, you are eligible to contribute to both types of IRA accounts, but if you earn above those numbers, you can only open a traditional IRA. The main difference between a traditional IRA and a Roth IRA is when you pay taxes. With a traditional IRA, you pay taxes later, and with a Roth IRA, you pay taxes now. If you think you'll be earning a lower income than you do now when you retire, then a traditional IRA is the way to go. If you think you'll be earning more in retirement than you do now, opt for a Roth IRA. 
By not investing in any sort of retirement account, you can lose out on hundreds of thousands. The suggested investment into these accounts is 4% of your income, so that ultimately, you've saved 70-80% of your pre-retirement income. Say you make $60,000 a year now and want to retire in 40 years. According to the inflation calculator, $60,000  would be the equivalent of $288,061 in 40 years. By not investing, you're missing out on at least $200,000 you could have saved in your retirement accounts. 
Check Out: 6 Alternative Investments To Consider for Diversification in 2022
Even a Small Investment Can Go a Long Way
Outside of retirement accounts, you might think investing is just for the wealthy. That is not the case. Say you save $10 a month and put it in a savings account. That would be $120 at the end of the year, and $600 after five years. It's not bad, but if you invest that in the stock market, you could earn an extra 10% on top of your savings. Over time, that really adds up. At the end of 25 years, just saving $10 a month can turn into an extra $3,300 in your pocket. It can be even more if your investments do exceptionally well. 
Pick an App To Get Started
There are plenty of resources that are specifically made to help new investors break in. Investment apps are referred to as robo-advisors, and can choose investments for you automatically based on your goals and risk tolerance. Betterment is a popular app that does this. Betterment even has the ability to make a "socially conscious" portfolio that directs your funds to causes that you're passionate about. The fee for Betterment is 0.25% of whatever you invest, which is a bargain when compared with paying a financial advisor. 
Acorns is another investment app that focuses on saving for retirement. The app chooses your portfolio based on when you want to retire. The app will make sure your investments become more conservative the closer you get to retirement. The app starts at just $3 a month. 
Always remember to only invest money you have, and don't feel pressured to invest a lot to make a lot of money or chase the trends of what stocks are hot right now. Remember, a small amount is better than nothing, and if you're not comfortable with taking big risks in the market, you don't have to.  
More From GOBankingRates
Methodology: GOBankingRates surveyed 1,012 Americans aged 18 and older from across the country on between March 8 and March 9, 2022, asking sixteen different questions: (1) Do you consider yourself financially literate?; (2) Where did you learn most of your financial literacy?; (3) Which financial topic do you think you should have learned more about in high school? (Select all that apply); (4) Which financial topic do you still feel you need more education on in 2022? (Select all that apply); (5) When you were growing up, did your parents talk to you about how to manage your money?; (6) Do you think high schools are lacking in financial education?; (7) How has a lack of financial education cost you the most?; (8) At what age did you become comfortable with basic money skills (i.e., writing a check, balancing your accounts, budgeting)?; (9) At what age did you start saving and planning for retirement?; (10) How do you feel about how you used your 2021 American Rescue Plan stimulus check?; (11) Which financial topic did you feel the need to learn more about due to the COVID-19 pandemic? (Select all that apply); (12) What do you not understand about the Child Tax Credit? (Select all that apply); (13) Which part of the homebuying process is most confusing to you?; (14) Which part of the car buying process is most confusing to you?; (15) Are you prepared for the student loan debt moratorium to end in May?; and (16) How are you changing your driving habits with the rising gas prices? GOBankingRates used PureSpectrum's survey platform to conduct the poll.