How To Invest When You Live Paycheck to Paycheck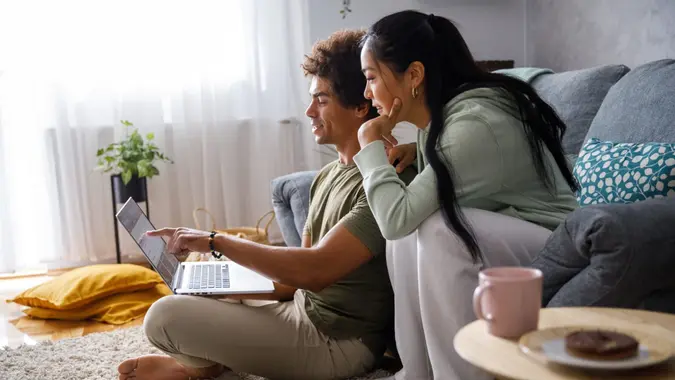 fotostorm / Getty Images
By now, most Americans know that the best way to build a retirement nest egg is to start saving as early as you can, and set aside as much as possible. Knowing and doing are two different things, though — and especially if you are living paycheck to paycheck.
Take a Look Back: 2022 Year in Review
Learn: 5 Things You Must Do When Your Savings Reach $50,000
Since Social Security isn't likely to cover all of your expenses in retirement, it's essential to do all you can to build a retirement savings plan, no matter how much you earn. Here are some simple steps you can take to get started.
Save Without Even Knowing
It can be hard to set aside money for saving and investing, no matter how much you earn. But when you live paycheck to paycheck, it can feel as if you don't have any room in your budget for savings. This is where automation really shows its value.
Most banks and brokerages allow you to automatically transfer money from your checking account to a savings or investment account. Automated transfers prevent you from "forgetting" to save every month, and they also remove emotion from the act. Rather than having to keep track of your savings — or agonize every month over whether or not you can afford to save — your money is automatically transferred without you even thinking about it.
It can be hard at first to automate your savings, as it will seem like money is being taken from your account. However, it won't take long until you get used to these transfers and learn how to live with what's left over. To help you stick with this type of program over the long run, start small. Even $25 or $50 per month is a start, and over time, you can slowly increase this amount.
Take Our Poll: How Has Inflation Impacted Your Holiday Shopping Plans?
Round Up Your Purchases
One easy way to begin saving is to round up your purchases to the nearest dollar, with the excess money going toward your investments. For example, if you buy a sandwich for $4.72, you can round that up to $5 and put the additional $0.28 towards your savings. It may not sound like much, but over time, those "round-ups" will add up, and you won't likely feel any pain at all by setting that money aside.
Although you can do this yourself, you can save some time and inconvenience by using a number of apps — like Acorns or Chime — that will link to your bank account and do the heavy lifting for you.
Treat Savings Like Your Most Important Bill
It's human nature to think of "savings" as the money you have left over at the end of every month, but the reality is that most people don't have "extra" money in their accounts at the end of the month.
If this is your strategy, it can be hard to save anything at all. That's why it's essential to treat savings like your most important bill, the one you pay first every month. This way, you'll always save every month, no matter how much money you earn. You may have to scrimp on some other areas — like your food or entertainment budget — but you won't be neglecting your savings. Over time, this strategy can really pay off.
Start With an Emergency Fund
Although long-term investments are an essential part of a retirement planning strategy, you have to walk before you can run. Start with building an emergency fund in a liquid savings account. This way you can avoid going into debt if you have any unexpected expenses, such as a car repair.
Since debt is the biggest drag on your cash flow and savings plan, you should try to avoid it at all costs. Having a sizable emergency fund equal to three to six months of your income should be the cornerstone on which you build your long-term retirement plan.
Choose Low-Cost Investments
After debt, investment expenses are the biggest enemy of long-term returns. This is particularly true if you are only beginning to invest with small amounts, as even a few dollars in fees or commission can eat up a sizable percentage of your returns.
Fortunately, it's never been easier to find zero-commission brokers that allow you to buy or sell exchange-traded funds or stocks without paying additional fees. Although there may come a time when you want or need to pay for full-service advice, that time is not when you are just starting out and living paycheck to paycheck.
Automatically Increase Your Savings
Slowly increasing the percentage of your money that you're saving is an easy way to boost your long-term account value — and you might not even notice it.
For example, if you're earning $4,000 per month and saving 2% of that, you're putting away $80. If you bump that saving percentage up to 3%, you'll be socking away $120, or another $40 per month. For a little over $1 per day, you'll be increasing your savings rate by 50%.
More From GOBankingRates