Could Investing in CDs Be the Best Personal Finance Move Right Now? Experts Weigh In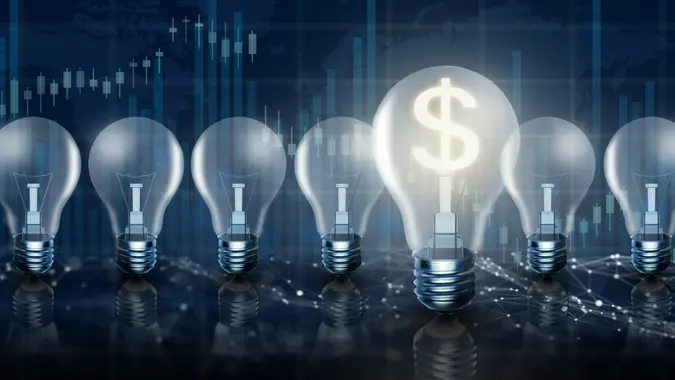 Peach_iStock / Getty Images/iStockphoto
One big silver lining (or should we say gold?) of higher interest rates — they apply just as much to saving as they do to borrowing money.
Social Security: No Matter Your Age, Do Not Claim Benefits Until You Reach This Milestone
Discover: 3 Things You Must Do When Your Savings Reach $50,000
So, as the Federal Reserve keeps raising interest rates for loans and credit as a measure to combat inflation, it would make sense that now is the time to capitalize on saving money. 
While traditional savings accounts are a great foundation, opening a CD (or Certificate of Deposit) is another option that will provide a greater return due to even higher APYs. The exchange for this benefit is that you'll need to "lock" your money into the account for a predetermined amount of time — months or years — and wait to withdraw the funds when they are matured or risk a penalty fee for early withdrawal. If you have long-term savings goals, CDs are a great way to capitalize on earning potential right now, say experts.
"The rates on some types of CDs [have] even doubled or tripled over the course of 2022," says Samantha Melting, SVP, Head of Consumer Bank at Synchrony. 
In fact, GOBankingRates.com has reported CD rates for the past several months, showing that, as of press time, the highest rate for a 6-month CD is 4.15%, 4.8% for a 12-month CD, 4.6% for an 18-month CD, 4.5% for a 24-month CD and 4.55% for a 60-month CD. (rates change daily)
But, like most things financial, getting the best returns is a matter of capital and timing. And when it comes to CDs, which as mentioned above require a term of maturation before they can be touched, timing really is everything. 
According to Melting, "During this time, it's important to be flexible with your savings to make the most of higher rates, but that doesn't necessarily mean you should always opt for the longest-term, highest-rate CD possible." 
This is because, if inflation keeps going up, you might regret putting all your savings into a long-term CD and not being able to take advantage of interest rates that rise even further (once you lock in the funds, you are also locking in the current APY). Instead, Melting says, "Until inflation gets under control, you may want to consider shorter-term CDs to take advantage of potentially higher future rates if inflation persists."
Loretta Kilday, a financial expert and spokesperson for Debt Consolidation Care, the internet's first get-out-of-debt community, has some other recommended strategies. One is a CD Ladder in which you open several CDs with varying maturity dates (perhaps a combination of 6-month, 12-month and 18-month CDs) that will allow you to withdraw and reinvest the money as term dates expire.
"A CD ladder can be a good option if you want to invest in certificates of deposit (CDs) but also need regular access to some of your money," says Kilday. 
Another option is a "bump-up" or "step-up" CD, which re-evaluates the interest rate during the maturation term to match current industry numbers. "With step-up CDs, the bank decides when the rate increase takes effect, which is typically on a predetermined schedule. Bump-up CDs, also known as 'raise-your-rate CDs,' allow you to request a rate increase at any time," says Kilday.
Melting adds, there's also a no-penalty CD, "which allows you to take your money out without paying a penalty."
Both experts also have investment recommendations beyond CDs. Melting suggests a high-yield savings account. "You'll generally get a better rate than a standard savings account, but unlike a CD, you can withdraw funds at any time," she says. 
Kilday also notes that treasury bonds are a great option for a high yield. "As of January 2023, the yields on one-year and five-year bonds were around 4.70% and 3.70%, respectively." She adds, "To put it another way, when Treasury yields increase, banks are sometimes slow to adjust CD rates, and as a result, they may provide a lower rate than Treasurys."
Take Our Poll: Do You Have a Second Job or Backup Plan in Case You Are Laid Off?
Kilday adds that various factors will affect interest rates for CDs, "including economic conditions, inflation expectations and central bank policy," and as such, "it can be challenging to predict how these factors will evolve over time." Though CDs are always a great, safe investment since they are FDIC-insured.
More From GOBankingRates