Investing Experts Reveal Warren Buffett's Mistakes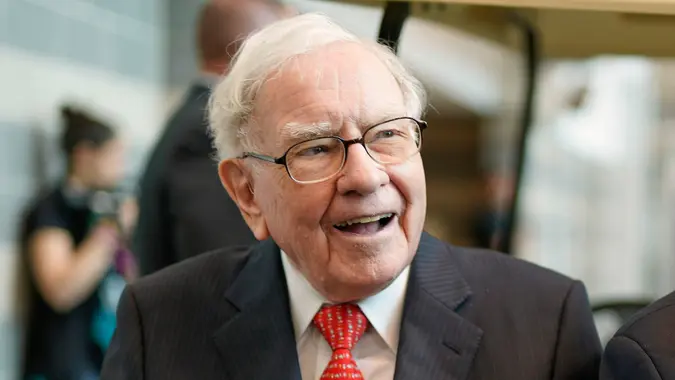 Nati Harnik / AP / Shutterstock.com
Known as the "Oracle of Omaha," Warren Buffett is often credited as being one of the greatest investors of all time. His investment decisions have helped him accumulate a net worth of $108.1 billion, according to Forbes. While Buffett has certainly had more than his fair share of success in the markets, not every decision he has made has been a winner.
Wealthy Millennials Aren't Banking on Stocks: Here's What They're Investing In Instead
Discover: 5 Things You Must Do When Your Savings Reach $50,000
Here are some of the missteps Buffett has made, according to finance and investment experts.
Not Buying During the Pandemic Downswing
"Warren Buffett made a poor investment decision during COVID-19," said Steve Chou, money management expert and founder of MyWifeQuitHerJob.com. "While he is known for 'being greedy when others are fearful,' he neglected to follow his own advice during the pandemic. When the S&P dropped almost 35% due to panic selling, he did not make any purchases and missed out on a huge money-making opportunity."
Take Our Poll: Do You Think People Should Invest In Crypto?
Being Bearish on Bitcoin
"I think Buffett's thesis on crypto, specifically Bitcoin, is incorrect," said Adam Struck, founder of Struck Capital. "Buffett has made multiple bearish statements against Bitcoin and cryptocurrency as a whole, citing a lack of true utility associated with the token.
"The core technology innovation behind Bitcoin allows for the trustless P2P exchange of value without any of the limitations associated with our current fiat-based monetary system. With cryptocurrency, one can transfer value to another individual without requiring a third-party intermediary to authenticate or verify the transaction. This allows value to be exchanged almost instantaneously at any time from any location.
"From my perspective," Struck continued, "Bitcoin specifically is a manifestation of that core technology innovation; and, as a first mover, Bitcoin has a perception of value in a similar vein as gold. This puts Bitcoin in a position to be a digital store of value, separating itself from the pack in comparison to other cryptocurrencies."
However, not all experts would qualify this as a misstep.
"Given how crypto has been performing, I don't blame him for not investing in it, as it is no hedge against inflation nor any more transparent than the stock market," said tokenomics expert Eloisa Marchesoni. "Crypto is for the brave punks and probably just doesn't speak to his generation."
Buying Berkshire Hathaway
Although Buffett has turned Berkshire Hathaway into a successful conglomerate, when he first purchased the company, it was a failing textile company.
"Buffett admits his purchase of Berkshire Hathaway in 1964 was a mistake," said Sam Dogen, founder of Financial Samurai. "Buffett was too emotional and bought out the owner because Buffett wanted him removed. The owner reneged on a previously agreed-upon purchase price to buy Buffett's stake, so Buffett went the other way and sunk good money after bad."
Waiting Too Long To Buy Tech Stocks
"Buffett has a history of avoiding investments into any kind of business and technology he doesn't understand. This has admittedly led to his missing out on the majority of big tech domination, particularly Google and Amazon," said Jeff Feng, head of Sei Network.
Bob Lotich, CEPF, author of "Simple Money, Rich Life," also sees this as a misstep.
"Warren gets so much right that it is nerve-wracking to point out his mistakes, but I bought Amazon stock in 2010 because it became so obvious to me that they were on to something huge," he said. "Warren didn't begin buying Amazon stock until 2019, and he viewed that as a mistake that he didn't start investing in Amazon sooner."
Not Investing in Gold
"He misses the mark with his claim that physical gold is of little or no value to his portfolio because 'it doesn't do anything but sit there and look at you,'" said Len Penzo, founder of the personal finance blog Len Penzo dot Com. "Rather than looking at gold as an investment, Buffett ignores gold's primary role as wealth insurance. Gold is the ultimate money, and therefore its value can never go to zero — unlike stocks and bonds. For this reason, there are more than a few people out there who keep a small percentage of physical gold in their investment portfolio as a hedge against catastrophic financial downturns and monetary system crises."
Recommending a Low-Cost Index Fund for Retirement Savings
"Warren misses big on one thing: that the average American should use a low-cost index fund as a retirement plan," said Curtis Ray, financial planner and creator of MPI Unlimited. "Although they can be good for accumulating wealth, they are very inefficient at distributing retirement income due to the 4% rule. Even if an individual achieves the rare accomplishment of saving more than $1 million in their low-cost index fund, this can produce as low as $40,000 a year in retirement income and then be taxed if it's not in a Roth IRA."
'He Gets Nothing Wrong'
Not every financial expert would categorize any of these actions (or inactions) as mistakes.
"Warren Buffett gets nothing wrong," said David Bach, founder of FinishRich Media. "The man, along with his partner Charles Munger, is the GOAT of investing in my lifetime, and arguably one of the greatest financial teachers that have ever lived. Drop the mic."
Gabrielle Olya contributed to the reporting for this article.
More From GOBankingRates