Is Art a Good Investment?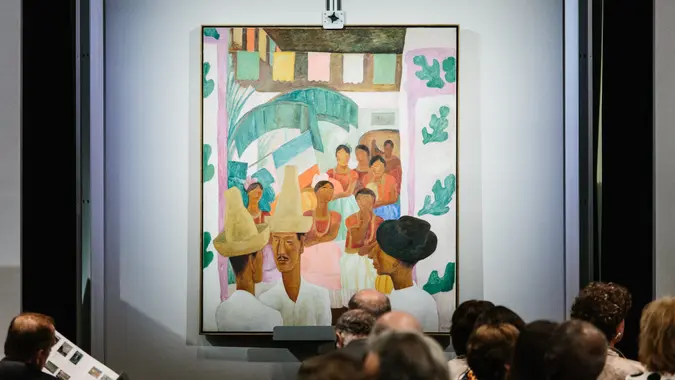 ALBA VIGARAY/EPA-EFE/REX/Shutter / ALBA VIGARAY/EPA-EFE/REX/Shutter
For many people, art is something they see in museums, or perhaps even in their homes, but it's not thought of as an investment. Yet, art can be a tremendous investment for astute collectors. Some of the most famous art pieces in history have sold for tremendous sums, such as Pablo Picasso's Les Femmes d'Alger, which sold in 2015 for $179 million, and Leonardo da Vinci's Salvator Mundi, which snagged an incredible $450 million in 2017. In addition to being a potentially solid investment, art differs from other assets, such as stocks, in that it's both tangible and inspirational. But, should you invest in art? Here's a quick look at some of the pros and cons of adding artwork to your investment portfolio.
Support Local: Don't Miss Out on Nominating Your Favorite Small Business To Be Featured on GOBankingRates — Ends May 31
Pros of Investing in Art
Take a look at some reasons it's worth investing in art:
Non-Correlated With Other Assets
One of the main benefits of art as an investment is that it is non-correlated with other asset types. The art market doesn't care if there's a stock market crash, for example; rather, it trades in its own world based on supply and demand. If you're looking for an investment that may be able to hold its value even if the stock or bond markets are going down, art might be an option for you. According to Citigroup, for example, art outperformed 10 major asset classes through the first seven months of 2020, with contemporary art gaining 6.7%.
Check Out: 13 Toxic Investments You Should Avoid
Top Artists Can Generate Healthy Returns
As seen above, buying the right artwork can result in tremendous profits. While you probably shouldn't expect to sell your first piece of art for $450 million, buying the right pieces from the right artists at the right price can result in big gains. Currently, Banksy is a hot artist, with Bank of America estimating that the artist's pieces generated an internal rate of return of 36% from 2010-20, just ahead of the 28% IRR of Kazuo Shiraga. 
See: The Most Fascinating Things You Never Knew You Could Invest In
Cons of Investing in Art
Read on to see why investing in art might want to be something you avoid:
Illiquid
Probably the biggest drawback to investing in art is that it's illiquid. Unlike stocks, for example, which you can unload at a stated price at any time that the market is open, selling art is more like selling a house. Although there are some sites where you can now sell art online, generally speaking, if you're looking to snag top dollar for your artwork, you'll have to sell it at a gallery or via an auction. The entire sales process could take weeks, if not months.
Discover: Ways Investing Will Change in the Next 25 Years
Hard To Value
Art is notoriously hard to value, and quoted prices can be quite subjective. If you're buying at an auction, you can end up paying much more than what some would consider being the "fair value" of the piece, and if you're selling, you might not get bids anywhere near what you think should be the going price. This is the polar opposite of an active market like the stock market, where buyers and sellers agree on fair market prices every second of every day. Art galleries and auction houses also have notoriously high commissions (think 20%-40% or even more), so you'll have to factor this into your valuation as well.
Learn: 13 Ways To Invest That Don't Involve the Stock Market
The Bottom Line
Art is a unique investment, and there are certainly profits to be had by owning the right pieces. The continuing rise in global wealth and the expansion of the art market into digital marketplaces may also help support prices over the long run. However, art is also illiquid, notoriously hard to value and requires an expert eye to pick the best pieces. If you love art and want to diversify your portfolio, there's nothing wrong with owning some; however, it's likely not the best choice as a core investment to fund your retirement, for example.
More From GOBankingRates
Last updated: May 7, 2021