FOX's Liz Claman Shares the Best Investing Advice Warren Buffett Gave Her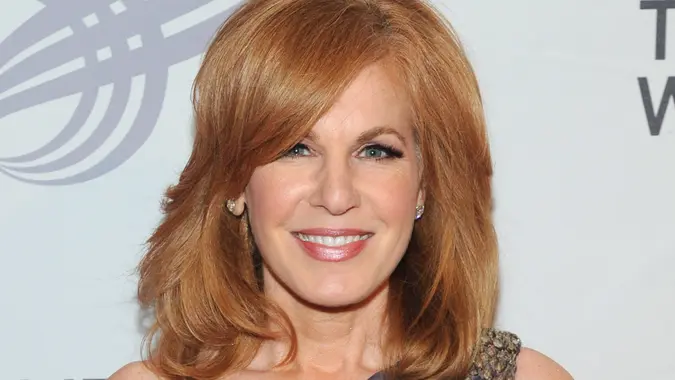 Mediapunch/Shutterstock / Mediapunch/Shutterstock
Liz Claman is the host of FOX Business' "The Claman Countdown." She is an experienced TV journalist, with former anchor roles on "Morning Call," "Wake Up Call," "Market Watch," "Today's Business" and "The Morning Exchange." She is also the author of the book "The Best Investment Advice I Ever Received."
Recognized by GOBankingRates as a Top Money Expert, here she shares tips and tricks from her interviews with Warren Buffett and her personal best advice for parents who want to set their kids up for financial success.
Want to vote for Liz as your favorite money expert? Click here and go to her expert page.
What's the best money advice you have received from someone you've interviewed?
The very first time I flew to Omaha to interview Warren Buffett, he looked me straight in the eye and said, "Investing is easy. It's the discipline that's hard."
The discipline he was talking about involved targeting good quality companies, first- or second best-in-class, and buying them at a discounted price. In simpler terms, it's "buy great companies going through bad times." It's unlikely that a business that has legions of fans, customers of the product or service, and is No. 1 or No. 2 ranked would go under, but you only buy them when others are selling. That way, you don't overpay.
Sticking to those rules though? THAT'S the part where you see most people break down. They'll buy when all their friends are diving in, when the stock is moving higher. And that's where you find yourself overpaying and your portfolio underwhelmed.
What's a common money misconception you'd like to dispel?
That you need a professional to invest for you. In this day and age, brokerages offer not just commission-free trades, but websites jam-packed with education on how to invest and resources for expert advice.
To that end, I did once ask Warren Buffett the one book he'd recommend for newbies who want to start investing their money. He immediately said, "Where Are the Customers' Yachts?: or A Good Hard Look at Wall Street" by Fred Schwed. Easy to understand, it's a very funny but insightful look at the "lunacy at the heart" of the investment business.
What should parents do to set their kids up for financial success?
Start them EARLY on saving! Whether it's their allowance or a Christmas or Hannukah check the grandparents give them, teach them right away to snip off a corner of it to put in an interest-bearing account. Then bi-monthly, have them check it to see how it's growing.
Jaime Catmull contributed to the reporting for this article.
More From GOBankingRates