What Happens When You Call Warren Buffett Late on a Friday Night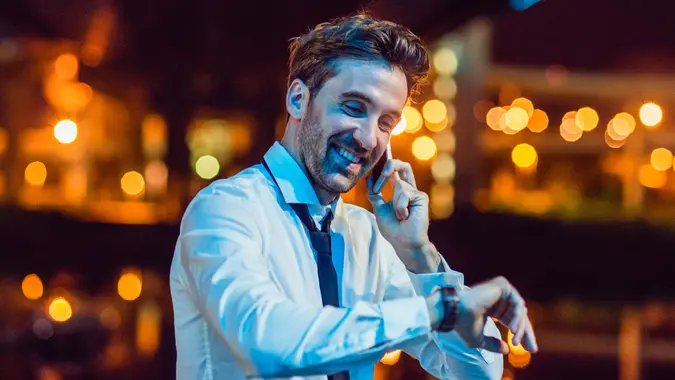 DaniloAndjus / Getty Images
In September 2008, Wall Street's elite reached out to Warren Buffett for financial help.
Buffett explained that when this happened during odd hours, he required minimal deliberation time.
The Oracle of Omaha believes Berkshire Hathaway is "the best fast buyer" when it comes to major financial decisions.
When you call Warren Buffett after hours on a Friday, don't try hiding your desperation because he already sees right through you.
In an interview with CNBC's Andrew Ross Sorkin, Buffett recalls in vivid detail the offers and pleas for help he received in September 2008 from New York City executives of the world's leading investment banks and insurance firms who needed money in order to keep their companies afloat during the financial crisis. And Buffett was who they reached out to because, with him, they know what they're getting — a quick answer.
Click to read more about how rich Buffett was at your age.
Fellow executives called Buffett not just for the cash he would inject into their floundering companies, but because he requires minimal deliberation time. Buffett conveyed his quick decision-making investment skills to Sorkin — "We'll act fast if we like something" — and acknowledged that Berkshire Hathaway is "the best fast buyer for anything that involves in the billions of just about anybody."
Read: What Happened When Warren Buffett Didn't Follow His Own Advice?
So, on Friday, Sept. 12, 2008, while Buffett sat in his Omaha office during the precipice of the financial crisis, he fielded phone calls from Wall Street's elite. A glance at the clock and Buffett was tipped off that the requests were urgent. "The very fact that they were calling me and sending out stuff Friday evening — 8 or 9 o'clock — New York [time] indicated they were in peril," he told Sorkin.
Related: How Billionaire Warren Buffett Ended Up With 3 Totally Normal Kids
Unperturbed by the pressures of the world's markets hinging on him, Buffett acted swiftly by hearing out companies and vetting proposals that could go up to 250 or 300 pages. Among the proposals the now-88-year-old judiciously read around that time were likely those of Goldman Sachs and General Electric — companies he's credited with rescuing from bankruptcy. One company that didn't share in the good fortune and wasn't looked favorably upon by Buffett was AIG. When the insurance group reached out to Buffett to float them $10 billion, the investor said, "don't count on it."
The self-made billionaire started investing at age 11 and by his mid-30s, he was a minted millionaire. Over the course of his career, Buffett has amassed his fortune by investing and buying companies outright through his holdings company, Berkshire Hathaway.
Click through to read more about the companies you'd never guess Buffett loves.
More on Investing
Editorial Note: This content is not provided by any entity covered in this article. Any opinions, analyses, reviews, ratings or recommendations expressed in this article are those of the author alone and have not been reviewed, approved or otherwise endorsed by any entity named in this article.