Is Silver the New GameStop? Thanks to Reddit, Precious Metal Hits 11-Year High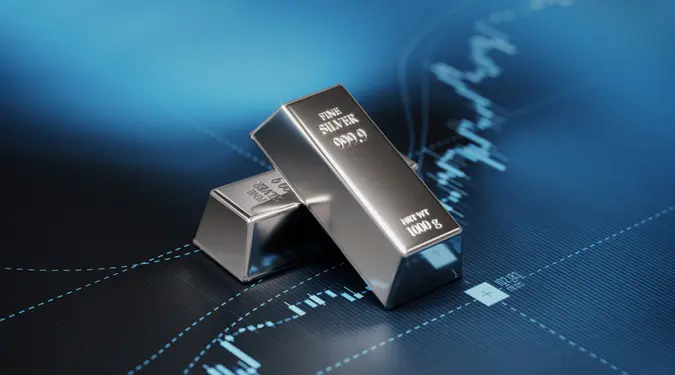 MicroStockHub / Getty Images/iStockphoto
One of the odder financial events in the late 1970s was an attempt by the Hunt brothers, three Texas oil billionaires, to buy all the silver in the world. In the commodities markets, an attempt to control the inventory of an asset is known as a corner. The Hunts wanted a hedge against inflation and possible global economic collapse. They succeeded in controlling two-thirds of the world's silver before the bubble burst in early 1980 — after my father sold his high school class ring for more money than he paid for it.
See: 26 Smartest Ways to Invest Your Money During the Pandemic
Find: Water Joins Gold and Oil as Wall Street's Next Precious Commodity
Some forty years later, a group of speculators banding together on the WallStreetBets Reddit message board are trying again. Inspired in part by the Hunts, traders are buying shares of silver miners and silver exchange-traded funds as well as ingots and coins. They are using the hashtag #silversqueeze and hoping to force anyone shorting the metal to close their positions. As of Monday morning, silver was up 9%, "the most in 11 years," according to CNBC.
If you seen

#silversqueeze

trending, it's because r/WallStreetBets is back with "the biggest short squeeze ever".

This time they're targeting silver (via the Silver ETF, $SLV)

Here's the Reddit thesis of how it goes $25 to $1000: pic.twitter.com/zE0XZAjsVU
— Trung Phan ???????? (@TrungTPhan) January 31, 2021
See: Should You Take Stock Tips from Internet Gamblers? This Group's Latest Pick Soared 50% (Almost) Overnight
Find: 10 Best Reddit Personal Finance Threads
There are significant differences between metals markets and stocks. The first is something that thwarted the Hunts and made a little extra money for my father: there is a lot of silver floating around, and if the price is high enough, people have an incentive to sell keepsakes.
GameStop (NYSE: GME) has 69.8 million shares outstanding. The total number of silver atoms on earth also may be fixed, but no one knows exactly how many of those atoms trade, how many are sitting in people in people's drawers and how many are yet to be mined. The Hunts simply could not raise enough money to buy all the world's silver because the target kept changing. They could not meet a margin call on March 27, 1980, causing the price of silver to drop and the brothers to lose their billionaire status.
The current attempt to corner the silver market is likely to fail, but some people will make profits. In the short term, the inventory of coins and ingots is fixed, so prices will go up. Over time, more inventory will enter the market, bringing prices back down. The Hunt saga makes for fun YouTube videos and a great cautionary tale.
More From GOBankingRates: