Hunger Games Investment Series — District 9: Grain
Image: Facebook.com/District9PN
In The Hunger Games, District 9's industry is grain. This district's industry isn't explicitly stated in the books — which only say the district has factories — but is revealed on the official website.
Let the Games begin!
The Hunger Games District 9: Human Tributes
Neither the two tributes in the books' 74th nor 75th Hunger Games are named.
The Hunger Games District 9: The Grain District
There are many varieties of grain; several of the most common ones are wheat, corn and barley. Grains are primarily used to make various foods, but are also used to produce other products, such as ethanol.
For this investment series, I could consider grain as an agricultural end-product, and use the "Farm Products" industry classification from which to choose the two stock tributes. I could also consider grain as an ingredient in food products, and choose stocks from one of the food industries, such as "Food-Major Diversified."
Sponsors of
Given the books state this district has a factory or factories — which implies processing — and given District 11's industry is agriculture, I'm going to consider grain as an ingredient in food products.
The Food-Major Diversified industry (according to Morningstar, which provides industry classification data to many financial entities) is comprised of 14 stocks. The heavyweight here is Kraft Foods (KFT); other familiar names include Heinz (HNZ) and Dole (DOLE).
The Hunger Games District 9: Methodology for Stock Tribute Selection
For some previous districts/industries, I limited the entrants to stocks with market caps above a certain minimum. I'm not doing that here, as there are only 14 stocks in our industry universe.
I chose the top stock based upon past performance and potential for promising future long-term performance. A similar (but opposite) rationale was used to select the poor stock.
Food Industry Stock Tributes
Top Stock:  Kraft Foods (KFT)
Poor Stock:  Crumbs Bake Shop (CRMB)
KFT & CRMB Vs. S&P 500 (5-Year Period)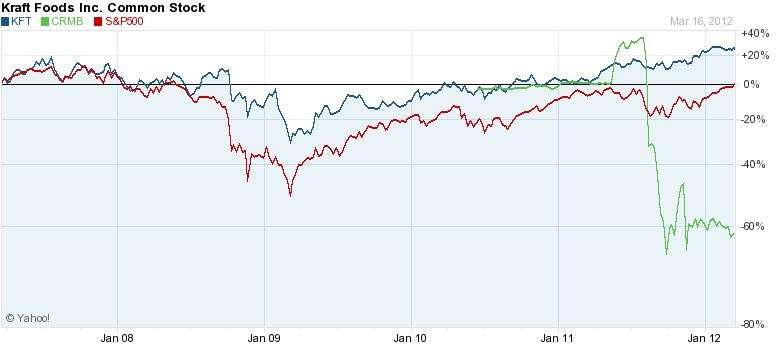 Sponsors of
Kraft Foods ($67.9 billion market cap)
Kraft Foods (KFT), based in Northfield, Illinois, manufactures and sells packaged food products worldwide. Its products include biscuits, like cookies, crackers and salted snacks; confectionery products, such as chocolates, gums and candies; beverages, including coffee and packaged juice drinks; cheese products; grocery items consisting of dressings, condiments, and desserts; and convenient meals.
Its primary brands include Oreo, Nabisco and LU branded biscuits; Milka and Cadbury chocolates; Trident gums; Jacobs and Maxwell House coffees; Philadelphia cream cheeses; Kraft cheeses, dinners and dressings; Oscar Mayer meats; and Tang powdered beverages. The company sells it products through a wide variety of distribution channels.
The stock returned 29% over the past 1-year period (to 3/16/12). Operating and profit margins are 13.2% and 6.5%, respectively. Last quarter's revenue growth was 6.6%, while earnings grew 53.7% (earnings growing faster than revenue = expanding margins, a positive). Return-on-Equity (ROE) is 10%. The stock's beta is 0.37, so the stock's price is only about 37% as volatile as the overall market.
Sponsors of
The stock has a 3.0% dividend yield.
Though Kraft's stock trounced the market over the past year with its 29% return, investors should not expect this type of annual return going forward. That said, Kraft's stock has handily beat the market over the long-term — and with only one-third the stock price volatility — and there should be no reason why the steady long-term out-performance doesn't continue.
Crumbs Bake Shop ($43.7 million market cap)
New York City-based Crumbs Bake Shop (CRMB) is a retailer of cupcakes in the U.S. As of November 14, 2011, it had 45 locations, including 31 in the New York metro area; 6 on the West Coast; 3 in Washington D.C.; 1 in Virginia; and 4 in Chicago. The company was formerly known as 57th Street General Acquisition Corp. and changed its name to Crumbs Bake Shop, Inc. in October 2011. The company was founded in 2003, and went public in mid-2010.
The stock chart above shows the dangers of buying an IPO — especially of a company that is not profitable and has no barriers to entry (meaning there's nothing to make it difficult for competitors to set up shop and compete, as no intellectual property (IP) is required, nor are start-up costs prohibitive).
Some may argue that Starbucks' situation was the same. However, there are key differences. Firstly, coffee has been proven to have staying-power, while cupcakes could be just a short (and sweet) fad. Secondly, the market for coffee must be considerable larger than the market for cupcakes. If you're a coffee drinker, as I and about half your fellow Americans are, you know there is no substitute for coffee — only coffee will cut it! However, if you're craving a sweet — there are no shortages of sugary-foods available.
Granted, cupcakes are currently hot, especially as more upscale party treats. But, in general, the upscale market — which is more health-conscious — is not going to be gobbling cupcakes down on a regular basis. Besides, who wants a cupcake when they could have chocolate, and get a dose of feel-good endorphins? Not me — and I'd venture to say that I'm in good company.
I could eat these words, as the company and its stock could do well going forward. That said, there are just too many currently good stocks out there to waste money on one which hasn't yet proven it can deliver the goods.
Next up: District 10 – Livestock.