6 Ways To Recession-Proof Your Investment Portfolio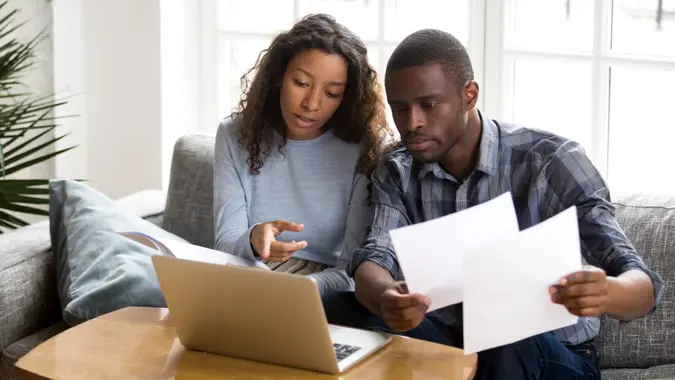 fizkes / Getty Images/iStockphoto
A recession is technically defined as two or more quarters of negative growth in the economy. While the technical definition is a bit sterile, the reality of a recession is that it drags down earnings and profits for most companies. As earnings drive stock market prices over the long run, a drop in profitability typically drags down stock prices as well.
Since the stock market tends to overreact on both the downside and the upside, prices may drop dramatically even before a recession actually occurs, as economists and financial pundits predict bad times ahead. As many are predicting a recession in the second half of 2023 in America, it could be time to start recession-proofing your portfolio. Here are some of the steps you can take.
Select Recession-Resistant Industries
There's no absolutely foolproof way to avoid a recession-driven selloff in the stock market. If the market is in a panic, it tends to drag down everything with it. But there are some industries that are more recession-proof than others, and their stocks tend to hold up better during economic contractions than others. 
For example, utility and consumer staples companies often perform better during recessions because they offer products that everyone needs. Even if you don't want to pay your utility bill or spend at the grocery store, you typically will, even during a recession, because everyone needs to eat and to power their homes. This makes these types of stocks more naturally recession-resistant than others. 
Buy Stocks With Defensive Characteristics
In addition to stocks that have recession-resistant characteristics, there are a number of types of stocks that are defensive by the way they are structured. Stocks that pay high dividends, for example, often attract investors during recessions because although their stock prices may fall a bit, the income they pay helps reduce any losses.
Stocks with high dividends are also generally more conservative in nature, with consistent cash flows. That makes them more desirable to investors during recessions than more aggressive, high-flying companies that may not even survive an economic downturn.
Take Our Poll: Are You Concerned About the Safety of Your Money in Your Bank Accounts?
Keep an Eye on the Long Term
If you're a long-term investor, you shouldn't fret too much about a recession-driven market correction. After all, corrections tend to last only a few months, and they occur fairly regularly to boot.
After the correction ends, the next bull market will follow, and investors who added to their positions while they were down will reap the rewards over the long run. While you may not exactly want to "hope" for a market correction, that's the time when you can take advantage of cheaper share prices to stock up on long-term winners.
Add Shorter-Term Bonds
Most stock investors aren't interested too much in bonds. But bonds can not only help diversify your account even in the best of times, they can also cushion the blow during recession-triggered market corrections. 
One of the reasons is that recessions are often triggered by excessive interest-rate increases by the Fed. What this means is that as the economy is tipping into recession, short-term rates are often high. Investors picking up short-term bonds, CDs or even high-yield savings accounts can see rates that are even higher than long-term rates, as is the case in 2023.
As the stock market drifts down during a recession-driven correction, investors who picked up high-yielding short term investments can sit back and collect interest until the Fed starts cutting rates again — which often sets the next bull market into motion.
Increase Your Retirement Plan Contributions
As the stock market falls during a recession, the emotional reaction many investors have is to simply sell everything until the damage is done. The problem with this is that no one knows when the market will reverse. By the time it's back in an uptrend, you may have missed out on a 20% or 30% move upwards, stunting the long-term growth of your portfolio.
As famed billionaire Warren Buffett often says, "Be fearful when others are greedy, and greedy when others are fearful." If your portfolio is crashing down during a recession, continue adding even more to your best investments, buying when their share prices are low. You'll thank yourself in the long run.
Make Yourself Indispensable at Work
You can't add to your investments if you aren't drawing an income. Part of the unfortunate truth about recessions is that they are always accompanied by job losses. No matter what type of investments you own, losing your job will derail your portfolio.
If a recession appears to be on the horizon, there's no better time to make yourself indispensable at work. Whatever your company values more than anything — be it raising more assets, making more customers happy or building more widgets — do your best to make yourself noticeable, in the best possible way. Fight for your job ahead of time, before any possible layoffs, so that if bad news is coming to the company, you've already secured your position. This will allow you to continue building your investment portfolio.
More From GOBankingRates