Here's What Americans Are Investing In for Retirement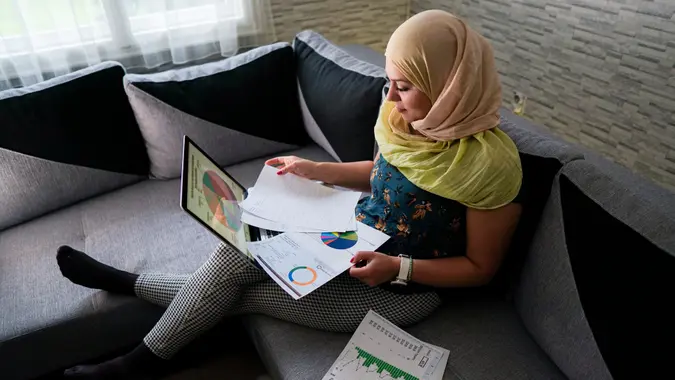 Viktorcvetkovic / Getty Images
They always say you need to diversify your retirement portfolio, but are we doing that? In order to determine what Americans are investing in for retirement, GOBankingRates conducted a poll of 997 Americans ages 18 and older from Aug. 9-11, 2022. The poll consisted of 16 different questions about various financial topics, but one, in particular, focused on the assets that respondents have in their retirement portfolios. Multiple answers were allowed depending on the portfolio components of each survey respondent. Results were analyzed through a variety of different filters, including age and sex. Respondents indicated they were invested across eight different types of investments and/or accounts. Here are the highlights of the survey, broken down by individual asset class or account type.
Crypto
Cryptocurrency has been the headline asset class on financial news programs for the past few years, primarily due to its volatility and the fact that it's a relatively new type of investment. Perhaps not surprisingly, a significant percentage of survey respondents — 21% —  indicated that they owned crypto. That percentage remained fairly constant based on age group, with 20% to 29% of respondents ages 18 to 54 acknowledging ownership. Only beginning at age 55 did crypto ownership decrease, to 8% of those 55 to 64 and just under 8% of those 65 and older. 
The biggest variation in crypto ownership was due to sex. Just 12% of women indicated they owned crypto, as opposed to almost 30% of men, or more than double.
Real Estate
Nearly identical amounts of men and women — both just under 24% — indicated that they owned real estate. What may be the most surprising statistic when it comes to real estate is that 31% of those ages 18 to 24 indicated ownership. This is the second-highest percentage of any age group, following only 32% of those 65 and older. Almost 16% of those ages 35 to 44 responded that they owned real estate, the lowest percentage among any age group.
Stocks
In terms of asset classes, stocks were the most popular choice across all age groups. Between 34% and 45% of respondents indicated they owned stocks, with those extremes being those 65 and older and those 18 to 24, respectively. Ownership was particularly popular with men, as 47% indicated that they own stocks as opposed to just 32% of women.
Bonds
Bond ownership was acknowledged by 21% of respondents, the same percentage as those who own crypto. More men than women own bonds, by a 25% to 16% margin. As bonds are generally considered a more conservative type of investment, it's not surprising that those 55 and older represented the largest percentage of bond owners. However, the margin was not that great, as positive responses by age group ranged from 18% of those 18 to 24 to 24% of those 55 to 64. 
Annuities
Annuities are generally owned by older Americans more than younger ones, as withdrawals before age 59 ½ are subject to early withdrawal penalties. This reality is reflected in the survey results, as ownership rose from 5% of those 18 to 24 to 17% of those 55 to 64 and 22% of those 65 and older. Slightly more men than women own annuities, at 13% and 9%, respectively. 
Index Funds and ETFs
For all the accolades heaped on index funds and ETFs, a surprisingly small percentage of survey respondents indicated ownership. Even though billionaire Warren Buffett, CEO of Berkshire Hathaway and the "Oracle of Omaha," believes that index funds are the best investment for the majority of investors, just 10% of respondents own them, a number that is fairly consistent by age group. However, more than twice as many men as women indicated ownership, by a 14% to 7% margin. 
Gold
Gold is often used by speculators or by those wishing to hedge the inflation risk in their portfolios, so it's not surprising that a relatively low number of survey respondents own it. Overall, just 10% of survey participants own gold, which is a low percentage but still level with those indicating ownership of index funds and ETFs. The gap between male and female ownership of gold, however, is vast. Just 7% of women indicated they owned gold, compared to 14% of men. 
401(k)/IRA
By far the highest positive response in the survey was regarding ownership of a 401(k) or IRA, with a whopping 52% of respondents answering in the affirmative. More than 50% of respondents in each age group indicated they had a 401(k) or IRA, with the exception being those 18 to 24, where positive answers registered a low 33%. More women than men had a 401(k) or IRA, by a 56% to 47% margin. 
More From GOBankingRates
Methodology: GOBankingRates surveyed 997 Americans aged 18 and older from across the country between August 9 and August 11, 2022, asking sixteen different questions: (1) How much money do you currently have saved for retirement?; (2) How much money do you think you'll need to retire?; (3) Realistically, at what age do you want to be retired?; (4) At what age did you start saving for retirement?; (5) What worries you financially about retirement? (Select all that apply);  (6) Do you plan to work in retirement?; (7) What assets do you have in your retirement portfolio? (select all that apply); (8) How has the current inflation impacted your retirement plans?; (9) How much of your retirement do you plan to fund with Social Security?; (10) How do you feel about the future of Social Security when you retire?; (11) What percentage of your salary are you currently investing for retirement?; (12) Are you planning to move after your retirement?; (13) Where is your ideal place to retire?; (14) What government programs do you plan to use for your retirement? (select all that apply); (15) Do you have a pension plan?; and (16) How much do you think the average American has saved at the time they retire?. GOBankingRates used PureSpectrum's survey platform to conduct the poll.