How to Invest Your Money If You Plan To Spend It in 5, 10, 15 or 20 Years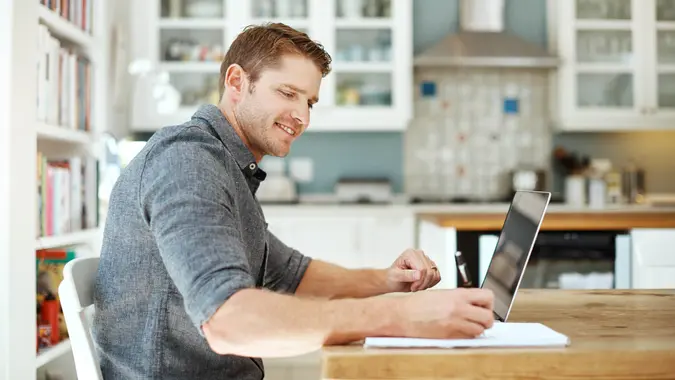 shapecharge / iStock.com
With interest rates so low, you might not want to keep too much cash in a checking or savings account, even if you plan to spend that cash in the shorter term. Depending on your goals, you may want to invest funds that you plan to use in the next five, 10, 15 or 20 years for things like putting a down payment on your first home, buying in an investment property, upgrading your car or taking an extended leave from work. The best investment vehicle for your funds will depend on when you will need that money.
Read: $1M Is No Longer the Standard Nest Egg – Here's How Much Most Americans Think You Actually Need To Retire
Discover: Why Inflation's 6% Cost-of-Living Increase to Social Security Could Be a Double-Edged Sword
How To Invest Your Money If You Plan To Spend It in 5 Years
If you need access to your funds in five years, you shouldn't take too much risk with your investment, said Steven Jon Kaplan, CEO at True Contrarian Investments LLC. He recommends purchasing I bonds.
The Financially Savvy Female: How Every Woman Can (and Should) Become a Confident Investor 
Economy Explained: How Does Cryptocurrency Work – and Is It Safe?
"If you are going to keep money for five years, especially with today's dangerous overvaluations, it is essential to have it be safe and guaranteed, and yield more than nearly all other competing safe investments," he said. "I bonds are guaranteed by the U.S. government and are currently yielding 3.54% compounded semiannually. This will yield a total of just about exactly 19% after five years. As long as you hold them for at least five years, you will get 100% of the interest with no penalty, and if after five years it turns out you don't need the money, then you can continue to hold them for up to 30 years."
To purchase an I bond, you can set up an account at TreasuryDirect.gov and link it to any bank or brokerage account.
Find Out: 4 Investing Lessons the Pandemic Has Taught Us 
As an alternative, you might put funds into a Roth IRA.
"If you qualify to go directly, this is a great way for you to have that tax-sheltered benefit and you still have liquidity, especially if it's for something like a down payment in the future," Winnie Sun, managing partner of Sun Group Wealth Partners, told CNBC. "What you place in a Roth IRA can be taken out tax-free and penalty-free should you need to use those monies for a down payment. Now, let's say something changes and you end up not buying a home. That money can continue growing tax-deferred and be withdrawn tax-free if you hold it until 59½."
How To Invest Your Money If You Plan To Spend It in 10 Years
With a longer investment time frame, you may be more willing to take on more risk.
How To Invest In Stocks: A Beginner's Guide
"Investors are more able to rely on the long-term growth stability of the stock market," said Brian G. Blackwell, director of financial planning at Spotlight Asset Group. "For an investor with a moderate risk tolerance and moderate capacity for risk, a growth-oriented asset allocation may be appropriate with between 50% and 70% in diversified equities."
How To Invest Your Money If You Plan To Spend It in 15 to 20 Years
The longer-term your investment is, the more risk you can take on. While someone with a 10-year time frame should allocate 50% to 70% to diversified equities, investors "may increase [that percentage] by 10% for each additional five-year period of investment beyond the initial 10 years," Blackwell said. "Keep in mind that an investor should seek the guidance of an investment professional before making any investment decisions, and they will need to regularly evaluate their situation with a professional to determine if the portfolio is still appropriate."
More From GOBankingRates