Top Investing Tips From Mark Cuban and More Money Experts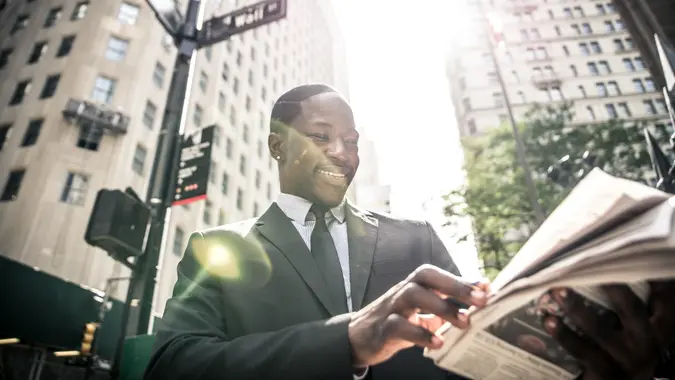 oneinchpunch / iStock.com
Day 11: GOBankingRates wants to help you Live Richer. For a month, we'll be sharing daily tips for how you can do just that, with advice on budgeting, saving, investing, making the most of your career and managing debt — plus money advice for every phase of your life. Check back each day during our 31 Days of Living Richer to learn everything you need to know to set yourself up for financial success and live the richest life possible.
Go Back To Day 10 of Living Richer: How Investing a Little Bit Each Paycheck Goes a Long Way
And Day 9: How Growing Your Savings Can Help You Live Richer
Investing can be intimidating if you're new to it or have never done it before — but with the right advice, you can be investing like a pro in no time. Whether you choose to invest through a brokerage account, investing app or a company-provided retirement plan, here's some tried-and-true advice from some of the best experts in the investment field.
If You're New to Investing, Start With Your Retirement Account
"The best way to invest and take advantage of the stock market — without the hassle of trying to understand its every move — is to participate in a tax-friendly retirement fund like your employer's sponsored retirement fund (e.g. a 401(k)) and/or an individual retirement account (IRA)," Farnoosh Torabi, host of the "So Money" podcast, wrote on her website.
Read More: The Top 3 Budgeting Tips From Experts
Invest More in Stocks Than in Other Assets
"All the experts talk about a 'balanced portfolio' — some stocks, some bonds, gold… I think that's a dated view," said Liz Claman, anchor of FOX Business's "The Claman Countdown."
Where To Put Your Money: Savings or Retirement?
"Over time, the stock market paid investors better than most investments. Since 1930, the S&P has returned an average of 9.7% annually. Now, keep in mind that some years were way better, and others, like the financial/housing crash of 2008 when the S&P lost 37% of its value, have been way worse. But lately, personal investment experts say that over time, buying quality companies with good management should be the greater part of a portfolio. Yes, bonds can give you downside protection, but unless you're in your later years and need to preserve your savings, quality stocks are a good bet."
Discover: How To Live Richer on a Budget
Buy Stocks You Believe In and 'Hold on for Dear Life'
"Many bought [Bitcoin] at the highs in 2017 and watched it fall by 2/3 or more. But they held on because they believe in the asset," Mark Cuban, entrepreneur and investor, said on a Reddit Ask Me Anything. "When I buy a stock, I make sure I know why I['m] buying it. Then I HODL until … I learn that something has changed," using text-slang acronym for "hold on for dear life."
Day 12: Join us tomorrow for our Living Richer series when we discuss how to make investing part of your long-term plan.
More From GOBankingRates
Andrew Lisa contributed to the reporting for this article.
Last updated: July 11, 2021