Top Investing Trends in 2022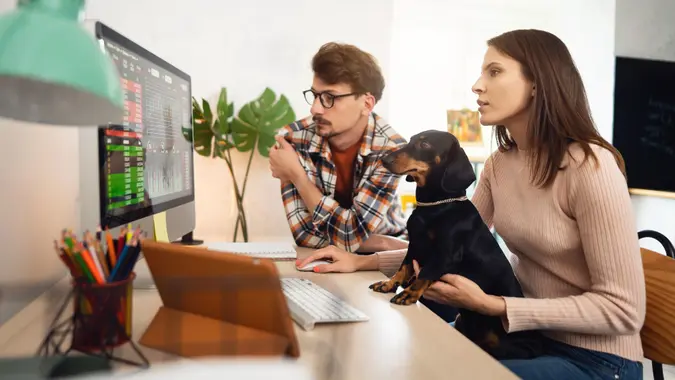 SrdjanPav / iStock.com
Investment markets are cyclical, both in terms of performance and in terms of investor interest. While there is always long-term demand for equities, there are many periods when net flows into equities and mutual funds are negative, as investors fear upcoming or ongoing market downturns.
Wealthy Millennials Aren't Banking on Stocks: Here's What They're Investing In Instead
Also: 5 Things You Must Do When Your Savings Reach $50,000
In 2022, market participants were particularly capricious, as investing trends essentially reversed in the second half of the year vs. the first half. Here's a look at some of the most popular investment themes for both parts of the year, trends that may or may not carry over into 2023.
High-Yield Savings Accounts
So-called "high-yield" savings accounts were anything but for most of the past decade, with even the best rates hovering at or below 1-2%. But thanks to the Fed's aggressive campaign of raising interest rates to fight off inflation in 2022, savings account yields have exploded. Most online savings accounts began to yield at least 3% in the latter half of 2022, with some reaching 4% or more. While this still isn't enough to form the cornerstone of a long-term investment plan, in some cases it amounts to 4x or more of the yields investors were receiving just a few years ago. Receiving 3% to 4% from an insured savings account looks pretty attractive when stocks are in a bear market – as they were for the bulk of 2022 – which accounts for the increase in money flows to this asset class.
Inflation-Protected Securities
As inflation ran away in 2022 to levels not seen in over 40 years, investors flocked to Treasury Inflation-Protected Securities, also known as TIPS. The incredible, headline-garnering TIPS yield of over 9% in mid-year drew in many investors, particularly in an environment in which yields of even 2% drew money. Unfortunately, TIPS are a complicated security that many investors don't understand. The 9%-plus yield touted in the press really came about due to the TIPS yield of less than 2% being added to the market inflation rate. However, that "return" doesn't factor in the potential these securities have to lose money in the open market – as was the case for most of 2022. In fact, as of Dec. 2022, the iShares TIPS Bond ETF, which tracks performance in the sector, was actually down over 10% on a YTD basis as of Dec. 15, 2022.
Take Our Poll: Do You Think People Should Invest In Crypto?
Energy
When it comes to the stock market, the single best-performing sector in 2022 has been the energy patch, up an incredible 45% in 2022. In fact, energy is one of the very few stock sectors even showing a positive return in 2022's bear market, with conglomerates and utilities eking out low single-digit gains. A large part of this gain has been due to the runup in inflation, as energy is an important component of the overall pricing structure of the economy. But increased demand, supply chain shortages and other logistical issues have contributed to the sharp rise in energy prices in 2022. If inflation cools as expected into 2023 – and if the American economy indeed falls into a recession – these types of stocks may have room to fall. However, if the Fed engineers its desired "soft landing" and the economy regains steam in 2023, increased demand for energy may follow.
Commodities
Commodities are often regarded as a hedge against inflation, so it's perhaps no surprise that it was a popular area to invest in 2022. As of Dec. 15, the Bloomberg Commodity Index was up over 14% on a year-to-date basis, one of the few asset classes that posted a double-digit positive return in 2022. However, commodity prices overall have reversed dramatically in the second half of 2022. At the beginning of the year, supply chain shortages, the war in Ukraine, rising consumer demand and other factors combined to drive up prices for everything from oil and gas to lumber and food stocks, oftentimes dramatically. This sent commodity prices skyrocketing. Since then, lumber prices and energy prices in particular have tumbled, and inflation in general has been falling since the Fed began its campaign of aggressively raising interest rates. Still, commodities remain decidedly positive on a year-to-date basis. 
Lithium and Metals
After decades of being beaten down by traditional car makers, electric vehicles are clearly here to stay. The U.S. government has already mandated that federal vehicles must be completely electric by 2035, and some states, such as California, will require all new cars sold by 2035 to be electric- or hybrid-powered. Combined with the ongoing and well-publicized success of Tesla, it's apparent that the push towards EVs is now "out of the box," with no turning back. In response, investors have begun flocking to companies that produce necessary materials for electric vehicles, such as lithium, nickel and other materials. This is a newer trend that could have long-term staying power. 
More From GOBankingRates