6 Cars You Should Never Buy Used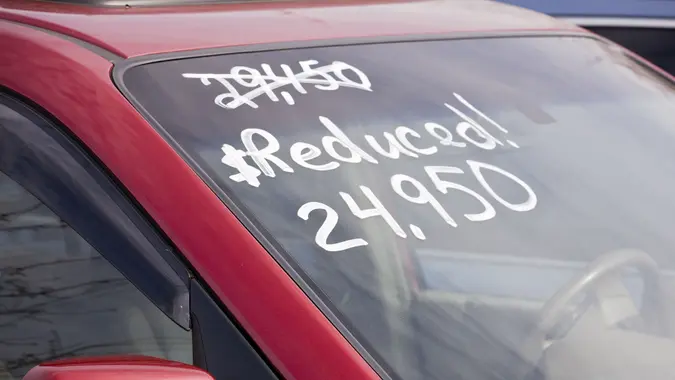 red_moon_rise / iStock.com
Used car prices have hit historic highs due to a shortage of new vehicles since the beginning of the COVID-19 pandemic. So, it's more important than ever for buyers to make sure their money is going toward something safe and reliable when they shell out thousands of dollars on a previously owned car or truck.
While dealers are obliged to disclose a certain amount of information about the past use and condition of vehicles they sell, knowing a bit about brand and model reliability will help you make the most informed decision when the time comes to purchase a used car.  
That being said, there are a slew of specific used models you should be hesitant to buy.
6 Cars You Should Never Buy Used
Consumers Reports has an exhaustive list of 108 models you should avoid due to lower-than-average reliability, but you can start your research with these six used cars you should avoid buying.
Dodge Grand Caravan
The bland, boxy Caravan was discontinued in 2020, so there are still tons of them available on the secondary market. That doesn't mean you should buy one.
Lincoln Aviator
The Lincoln Aviator was singled out for reliability issues by CR in 2020 and 2021, getting tagged with a score of 8 on a 100-point scale, "with the main trouble spots being its in-car electronics, climate system, steering, suspension, power equipment, body hardware, drive system, paint, trim, noises, and leaks," per Ford Authority.
Fiat 500
Both the 500L wagon (retired after the 2020 model year) and the 500X subcompact SUV made U.S. News and World Report's list of "Used Cars To Avoid in 2023" and ranked at the bottom of their respective classes.
Volkswagen Eos
Suffering from "the uncommon and feeble one-two punch of being both too expensive and not flashy enough for its sales segment," according to Car and Driver, VW phased out the Eos in mid 2015. Joe Giranda, director of sales and marketing for CFR Classic, told GOBankingRates that it "is prone to mechanical problems, particularly with its power windows and convertible top mechanisms, resulting in high repair costs. Owners have also reported frequent suspension issues."
Mini Cooper
Stylish and compact, Mini models tend to be unreliable across the board and you'll pay dearly for repairs too. Transmission fails are the most common complaint among 2005 Mini owners, per MotorBiscuit, as are clutch and power steering issues in early models.   
Chevrolet Spark
You should never rely on one review to give you the whole picture, but when one flat out claims, "The 2022 Chevrolet Spark isn't a very good car," even optimistic buyers could be forgiven with abandoning their search. Very affordable when they were new, you can probably buy a five-to-seven-year old model for a song. While earlier models were beset with oil consumption and transmission failure problems, according to CarComplaints.com, post-redesign Sparks from 2016 onward suffer from worrisome steering and an "unyieldingly stiff" ride, per CR.
Other Things To Consider
Sometimes reliability doesn't even come into question when considering a used vehicle. When GOBankingRates asked Leland Jones, founder and CEO of Ceramic King Coatings, about discounted BMWs, he recommended against buying one regardless of year or model.
"The cost on those vehicles tends to be insane," Jones said. "There's a high cost of maintenance and repair expenses are through the roof." Likewise, buying a used Saab or Suzuki — two companies that don't even operate in the U.S. anymore — is a recipe for financial disaster.
Aside from avoiding specific models or companies, AutoTrader says that you should always look for certain red flags when choosing a used vehicle. Be wary of things like incomplete service records, too many vehicle modifications, long periods of inactivity and cars being sold from remote locations, where repair centers are rare. Be sure to go for a test drive. Even minor unexpected sounds or vibrations can lead to major repairs and headaches down the road.
More From GOBankingRates
Heather Taylor contributed to the reporting for this article.