Common Car Dealer Financing Tricks to Avoid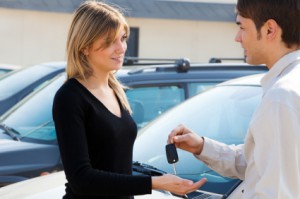 Car shoppers need to heed the old expression "There's a sucker born every minute" as securing car dealership financing can feel like being a three-ring circus.
Although there are honorable dealers out there, there are others who rely on bait-and-switch techniques increase their profits. If you are about to take the plunge into the world of car ownership, you need to know about the most common car dealership financing tricks in advance. Some typical moves they may try on you include:
"On-the-Spot" Financing: Low cost auto financing deals are a great way to lure in potential customers. If you know you have poor credit, but still get approved for an amazing dealership financial offer, it is too good to be true. After you leave in your new car and put a couple of miles on it, the dealer may call you up and tell you your "financing fell through." In turn they will raise your interest rate or you will have to turn in the car. The words, "subject to loan approval" in your contract are the first warning sign of this trick.
Demanding Co-Signers: It is not uncommon for lenders to demand a co-signer for loans issued to high-risk customers. However, some dealers intentionally provide the co-signer with the primary loan paperwork, making them responsible for the loan, not you. To avoid this trick, make sure both parties carefully review the auto dealership financing paperwork and note that there should only be one form for both of you to sign.
Lying Directly To Your Face: Before relying on car dealership financing, consumers need to know not only their credit scores and the average car dealership interest rates. Unscrupulous dealers will blatantly lie to your face about that information so they can avoid giving you the best dealership financing opportunity out there. Remember, those with the highest credit scores will be entitled to the best interest rates and when that happens, that will be less money in the pocket of the car dealership financing representative.
Trade In Scam: Dealers will often accept your old car to help offset the purchase price of your new vehicle. However, if they suggest that they will pay off the remainder of your contract, do not do it. Many times, not only do the "accidentally" forget to pay off your old loan, but they also forget to properly provide you with the credit from the equity you have in your vehicle.
If all this sound too tricky for your liking there are plenty of other options for securing auto financing for your vehicle. It is up to you to do all the necessary research prior to stepping onto a dealer's lot to avoid asking yourself s "Am I Getting a Good Auto Loan Rate?" after the fact.
Those with bad credit should do their best to avoid dealership financing, as your best auto loan is out there, somewhere.