Tesla's New 7-Year Loan for Electric Cars Could Be the Best Auto Financing Deal Around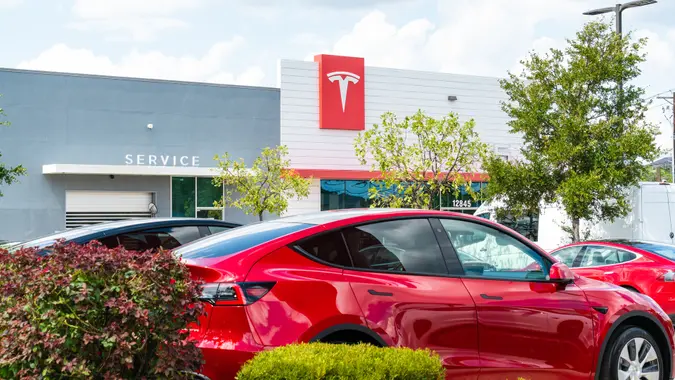 RoschetzkyIstockPhoto / Getty Images
Tesla, under the helm of CEO Elon Musk, has frequently pointed a finger at the Federal Reserve and surging interest rates for dampening the economy and eroding the company's profit margins. In response, Tesla is now taking active steps to counter these challenges.
First disclosed by Automotive News, Tesla is diversifying its financing options for consumers interested in purchasing new Tesla vehicles.
The electric car giant has introduced an 84-month (or seven-year) loan term with a 6.39% interest rate for its Model 3 sedan. This offering stands in contrast to Tesla's prior practice of providing only 72-month loan financing.
While auto loans that extend beyond 60 months are traditionally viewed as long-term, the increased popularity of extended finance terms is reshaping industry norms.
Though these extended terms increase the total amount paid in interest over the duration of the loan, they also lower the monthly out-of-pocket expenses for consumers, making the financing more manageable.
In the past, Musk has chastised the Fed for its interest rate hikes, arguing they risk sparking a "severe recession." He has criticized the central bank's latency in their data-driven approach.
Musk believes that as interest rates grow, Tesla's only avenue for alleviating the monthly burden for customers is to slash vehicle prices. This tactic could also instigate a price war in the electric vehicle (EV) sector, causing considerable distress to Tesla's rivals.
The introduction of extended loans through Tesla's in-house financing arm could attract a larger customer base. Particularly those keen on acquiring Tesla EVs but deterred by the current high monthly costs. Coupled with the federal EV tax credits, lower monthly financing costs could boost Tesla's sales, aiding it in reaching its annual target of 1.8 to 2 million deliveries.
Originating more loans could also significantly enhance Tesla's profitability. Notably, Tesla has also recently entered the debt market to secure additional funds for its leasing operations.
With the Fed's imminent policy and interest rate decision on the horizon, the industry awaits further comments from Musk regarding his views on the US central bank policy's impact on consumers.
The Tesla CEO emphasizes the importance of vehicle affordability for the company's volume growth, understanding that financially strained consumers are detrimental to business prospects.
Musk elaborated on this concern during last week's earnings call, "If interest rates continue to rise, that reduces the affordability of cars… a lot of people are barely breaking even every month," adding that the increasing credit card debt indicates many consumers are actually operating at a loss. Musk's candid view on rising credit card debt has led him to characterize it as "freaking scary."
With the new extended loan terms, Tesla seems poised to alleviate some of these concerns, potentially offering the best auto financing deal in the current market.
Editor's note: This article was produced via automated technology and then fine-tuned and verified for accuracy by a member of GOBankingRates' editorial team.
More From GOBankingRates