30 Ways to Spend Your HELOC at Home Depot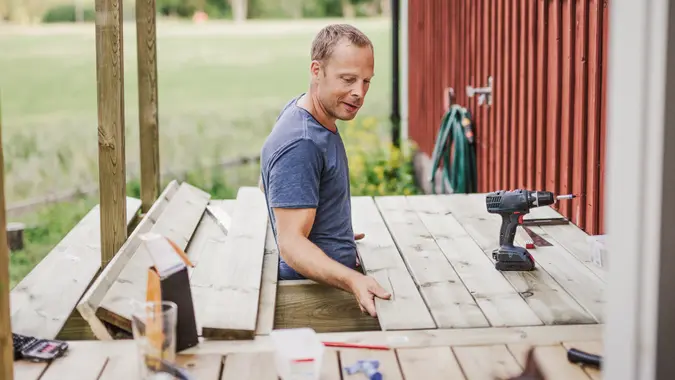 knape / Getty Images
As the weather warms up, now is an excellent time to tackle your home improvement projects by using a home equity line of credit (HELOC) or a personal loan. By using these funds wisely, you can bolster your home's value while also taking advantage of some excellent products, special offers and protection plans supplied by stores like The Home Depot.
1. Remodel Your Kitchen
Doing a kitchen remodel is an excellent way to add value to your home. You can use consultant services at The Home Depot to help you plan and execute your renovation, from cabinetry and hardware to lighting.
Related: 5 Best Loans for People With Poor Credit
2. Invest in New Appliances
One of the best ways to increase the functionality of a room is with a new appliance, such as an energy-efficient refrigerator or washer and dryer. You can save money on the investment by taking advantage of free delivery and haul-away services offered by stores such as The Home Depot and Lowe's.
3. Protect Your Investments
If you plan to buy a large appliance, The Home Depot offers a protection plan that has no deductibles, and coverage starts from the day you buy your appliance. The store also provides a 24/7 customer support line. Lowe's also offers protection and replacement plans that extend beyond manufacturer warranties. Such plans offer you a smart way to protect your investment.
4. Install a Garden
One way to reduce your grocery bill is to grow your own produce. For example, you can grow herbs that last for months for a fraction of the cost of buying them at the store, according to Southern Living. You can find the seeds, soil, planters and other items you need to get started at home improvement stores.
5. Add a Fence
Installing a fence is a great way to enhance your home's curb appeal by completing the look of a yard or garden. It also can increase your privacy or offer protection for small children and pets.
6. Replace Carpets and Flooring
A relatively quick way to add value to your home — as opposed to a complete remodel, for example — is by installing new flooring. Carpeting and hardwood flooring might require professional installation services, but The Home Depot offers clinics to help you learn how to complete tile flooring installation yourself so that you can save on the cost of installation fees.
7. Trim Trees and Shrubs
Just a small investment in landscaping, particularly in keeping shrubbery and trees groomed, can provide huge dividends. Spending a few hundred dollars on landscape maintenance can help save on major repairs caused by mold or damaged roofing as well as can enhance your property's aesthetic, according to This Old House.
8. Replace Old Air Conditioners
Warm weather can stress your air conditioner unit, and an old, inefficient unit can increase your electric bill. A new, energy-efficient air conditioner can keep your home comfortable while lowering your utility costs.
9. Install New Windows
New windows also can provide substantial savings in energy costs. Some types of windows, such as vinyl, don't require painting or other forms of maintenance and can last for years. Soundproof windows can help keep your home quiet. Replacing the windows in your home can be an effective way to use funds from your HELOC.
10. Buy a New Front Door
Similar to new windows, a new front door can enhance your home's curb appeal while also keeping your utility costs low. You can further update your home's look and functionality with new door hardware, door bells, door alarms or by installing a new garage door.
11. Start With an In-Home Consultation
Home improvement stores such as The Home Depot and Lowe's offer in-home consultations for a variety of products and services, including new cabinetry, windows and doors. You can work with the stores' experts to determine your home's needs and which solutions are right for your house and budget.
12. Rely on Professional Installation
Several home improvement stores offer professional installation on everything from flooring and doors to large appliances. By taking advantage of these services, you can ensure that the job is done well and in an efficient manner.
13. Buy a New Water Heater
Buying a new water heater, especially one that harnesses solar power, can help you reduce your utility bills by offering you better efficiency.
14. Tune Up Your HVAC Unit
One of the easiest ways to keep your current HVAC unit running in peak condition is with a tune-up. The Home Depot offers a tune-up service for inspecting your home's HVAC unit and providing seasonal maintenance. Doing a tune-up regularly can increase the life of the unit and increase its efficiency to lower your utility bills.
15. Add a Splash of Color
Painting is one of the easiest ways to alter the appearance of a home to give it a fresh look for little expense.
16. Install a Water-Filtration System
An easy way to eliminate your bottled water expenses is to install a water filtration system. You can find a variety of systems that can accommodate your needs, from an under-the-sink filtration system to a filter you mount on the faucet.
17. Make Your Bathroom Beautiful
Enhancements to your bathroom can add to your home's value and appeal. Whether it's replacing a vanity or installing new tile or fixtures, small changes in this space can improve the look of your home. Installing a new, high-efficiency toilet can help you reduce your water use.
Read: Why Your Paid-Off Home Still Costs $11,000 a Year
18. Go Native With Landscaping
Planting shrubs or a tree can dramatically improve the look of your property. HGTV recommends choosing low-maintenance landscaping and native plants that suit your climate, such as drought-tolerant plants for areas that receive little rain throughout the year.
19. Install Solar Panels
While they can require a high initial investment, solar panels can help drastically reduce your utility bills over time. The Home Depot offers professional installation services to make the transition to solar easier for you.
20. Add Ceiling Fans
You can find inexpensive home fixtures like ceiling fans at your local home improvement store. These additions can enhance the appearance of a room and help you remain comfortable during the warm summer months.
21. Put in Fresh Sod
To add immediate value to your home, you can install fresh sod. Depending on the size of your property, you can potentially finish this project in a weekend and on a relatively low budget.
22. Brighten Your Home
Beautiful, strategically placed lighting can convey a sense of spaciousness and improve the look of a room. You can find options such as chandeliers, under-cabinet lighting, recessed lighting and island lighting at The Home Depot and Lowe's.
23. Replace Your Roof
If you notice your roofing shingles are curled or are breaking off in small chunks, then it's time to replace them. A new roof can give your home's appearance an instant boost and can reduce your heating and cooling bills. Because a new roof can typically last for more than a decade, this type of long-term improvement can be a smart use of your HELOC.
24. Give Your Home's Concrete a Facelift
Instead of replacing the cracked concrete around your home, DIY Network recommends you resurface it with different textures, which can cost a lot less. You can find brick and various types of pavers at The Home Depot and other home improvement stores to resurface your walkways, patios and other areas of your property.
25. Install a Sprinkler System
If you want a lush lawn but don't have much time to water it yourself, an automatic sprinkler system could be the perfect solution. The Home Depot has hose timers, misting systems and other irrigation systems for your lawn, garden and landscape.
26. Transform a Room
If you have a garage or unfinished basement, consider using your HELOC to transform it into a living space. Extra space can provide added functionality for your family — such as a laundry room, home gym or entertainment space — or could serve as a room or apartment to rent out, which, over time, can pay for the initial investment.
Read: 7 Worst Money Mistakes People Make in the Name of Love
27. Insulate Your Home
One of the most common reasons for high utility bills is a lack of insulation or poor insulation. You can combat this problem by increasing the insulation in your attic and walls or replacing old insulation with a newer, better type of insulating material. This change can improve the comfort of your home by reducing the amount of pollen and noise that can seep in as well as can net significant savings on heating and cooling costs over time.
28. Add a Deck
The demand for outdoor living space continues to rise, and the variety of firepits, outdoor kitchen appliances, patio furniture and other features for decks and patios continues to increase with demand. Using your HELOC to add a deck can add value to your home and a new space you can use to entertain guests.
29. Power Wash Your Property
Never underestimate what a good power washing can do for a home's siding, walkway and exterior living space. Power washing can help keep your home looking sharp, and you can rent the equipment you need at home improvement stores like The Home Depot. Seasonal power washing is a good form of property maintenance but you might find it especially necessary before painting your home's exterior.
30. Weatherproof Your Windows and Doors
Weatherproofing your doors and windows can save you up to 40 percent on your cooling and heating bills.
Make a plan before taking out a HELOC. What are your goals for improving your home while you live in it and for enhancing its resale value? By considering your home improvement options carefully, you can potentially gain a greater return on the ways you invest your HELOC in your property.