Home Construction Loans: Everything You Need To Know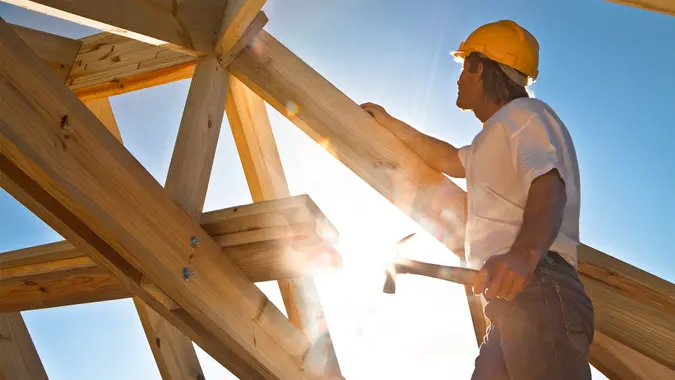 sculpies / Shutterstock.com
Home is where the heart is — and when you're going to be spending years of your life in one place, you want it to fit you to a T. If your real estate agent can't find a home that meets your needs, you can always opt for a new construction, which lets you build exactly the home you want.
But first, you'll have to figure out how to pay for your new home to be built — and for your building lot, if you don't already own the land. That's where home construction loans come in.
What Is a Construction Loan, and How Does It Differ From a Mortgage?
A construction loan is a short-term loan that provides capital for you to build a new house. Unlike a mortgage loan, which pays the whole purchase price at once and is payable over many years, a construction loan pays the contractor in installments and must be repaid once construction is complete — usually within 12 to 18 months.
While your home is being built, you make interest-only payments on the funds you have borrowed up to that point. For example, if your construction loan has a credit limit of $400,000 but the bank paid the builder only $100,000 so far, you'll pay interest only on $100,000. A construction loan calculator can give you an idea of how much your payments are likely to be based on different loan principal balances.
You'll generally pay higher interest rates for a construction loan than for a traditional mortgage, and you'll need to put down a much larger down payment — often 20% to 30% compared to as little as 3% for a conventional home loan.
Good To Know

The U.S. Department of Agriculture — although temporarily suspended — and Veterans Affairs both offer construction loans with no down-payment requirement. An option for first-time borrowers is to apply for down-payment assistance. Even if a no-down-payment construction loan isn't feasible, eligible borrowers can build a home with as little as 5% down with a Fannie Mae construction loan or as little as 3.5% down with an FHA construction loan].
Types of Construction Loans
Construction loans come in several varieties, each with its own benefits and drawbacks.
Construction-Only Loan
As the name suggests, a construction-only loan pays for the construction of the home, but nothing else. With this type of loan, you need a separate mortgage loan, called an end loan, after construction is finished, to repay the construction loan. In the meantime, you have some flexibility with regard to how often you draw against the loan to make payments to the building contractor.
Construction-only loans are called two-closing loans because you have a separate closing for each loan.
Construction-to-Permanent Loans
A construction-to-permanent loan relieves you of the stress of having to shop for a mortgage to repay the construction loan — and the fear of being declined for a mortgage after construction is already underway. With this type, the contractor receives draws at predetermined milestones in the construction process.
After construction is complete, the construction-to-permanent loan automatically converts to a regular mortgage, so you only need one loan. Another benefit is that you can use the loan to finance the purchase of your building lot.
Construction-to-permanent loans are single-closing loans, so you lock in your interest rate before construction begins.
Owner-Builder Loan
In the event you want to contract the work out yourself, an owner-builder loan can provide the financing. This could be a single-closing construction-to-permanent loan that can also finance your lot purchase.
The Construction Loan Process
Applying for a construction loan is a more arduous process than applying for a mortgage. Before you apply, gather your two most recent tax returns and your W-2s as proof of income, as well as any other financial documents your lender requests. The lender will also want to see the following.
Lenders May Request To See:

Your builder contract
A floor plan
The land contract to purchase the lot
A deed if you already bought the land
The builder's certification, licenses and insurance coverage
Construction Loan Timeline
Due to the amount of documentation the bank must review for a construction loan, expect approval to take a few weeks.
The loans themselves are usually designed to last only for the duration of construction. Your lender will make periodic disbursements to the contractor as they hit different building benchmarks, such as completing the foundation or the framing, and you can withdraw additional funds as needed if you use a construction-only loan.
When the construction is finished, you'll pay the construction loan off in a lump sum or refinance it into a permanent mortgage loan.
Your new home must be inspected, and you'll need a certificate of occupancy before you can move in. Your mortgage lender will verify your certificate of occupancy and ask for a lien release from the builder.
If you already own a home, you could be saddled with overlapping mortgage payments if your new home is finished before you sell your current home. In that case, a bridge loan can give you the cash you need while you await the proceeds from the sale of your current home.
Build Your Dream House
If you're hoping to build your dream house but don't have the cash to pay for it upfront, a construction home can help you break ground. But remember, you'll have to refinance into a traditional mortgage once construction is complete unless you use a construction-to-permanent loan to finance the build.
Michael Keenan contributed to the reporting for this article.
Our in-house research team and on-site financial experts work together to create content that's accurate, impartial, and up to date. We fact-check every single statistic, quote and fact using trusted primary resources to make sure the information we provide is correct. You can learn more about GOBankingRates' processes and standards in our editorial policy.