Homeowners Gained $1 Trillion Last Quarter Thanks to COVID-19 Housing Boom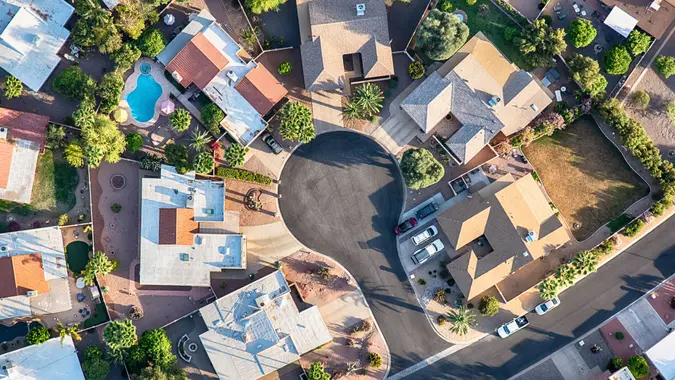 Art Wager / Getty Images
U.S. homeowners with mortgages (which account for roughly 63% of all properties) have seen equity increase by 10.8% year over year, despite the pandemic and an otherwise chaotic economic year. This represents a collective equity gain of $1 trillion, and an average gain of $17,000 per homeowner, since the third quarter of 2019, according to a new report.
Data and analytics company CoreLogic released its Home Equity Report for the third quarter of 2020 Thursday, which notes that this marks the largest average equity gain since the first quarter of 2014.
See: What $1 Trillion Really Looks Like, Plus More Fascinating Money FactsFind: The 10 Cheapest, Safest Places to Buy a Home in the Pandemic
"Over the past year, strong home price growth has created a record level of home equity for homeowners," Dr. Frank Nothaft, chief economist for CoreLogic., said in a statement. "The average family with a home mortgage loan had $194,000 in home equity in the third quarter. This provides an important buffer to protect families if they experience financial difficulties and is one reason for the generational-low in foreclosure rates reported in September."
The report notes that while national figures continue to reflect a resilient housing market, equity gains varied broadly at the local level, as states with strong home price growth continued to experience the largest gains in equity. These include Washington, where homeowners gained an average of $35,800; California, where homeowners gained an average of $33,800 and Massachusetts, where homeowners gained an average of $31,200.
See: 28 States That Reopened (and 7 More That Closed Again)Find: What You Can Get in Every State for the Price of a California Home
On the contrary, North Dakota, which was particularly affected by the pandemic, showed the lowest annual equity gain — averaging just $5,400 — in the third quarter of 2020.
"The housing market has remained a strong pillar in an otherwise tumultuous economic year," said Frank Martell, president and CEO of CoreLogic. "A sharp rise in demand, spurred by record-low interest rates, continues to bolster homeowner equity. And with many people now spending more time than ever before at home, some homeowners have tapped into their strengthening equity to fund renovations."
See: Home Renovations That Will Pay You BackFind: Inflation Is on the Way for 2021 – Here's What That Means for You
If you're looking to tap into your own home equity, pick up a few smart strategies here.
More From GOBankingRates