3 Ways RBFCU Makes Buying a Home Affordable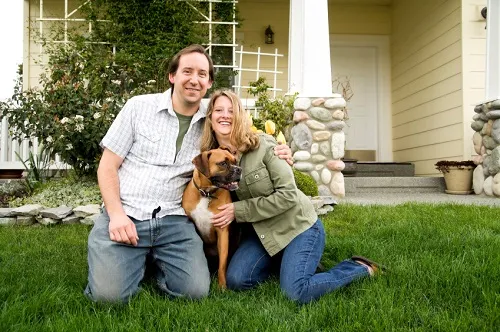 To buy or to rent? That is the age-old question when it comes to finding a place to live. Trulia, a website that tracks housing trends, makes the choice of whether to rent or buy easier if you live in Austin, Texas. According to its infographic, it is 30 percent cheaper to buy a home in Austin than rent.
Low mortgage rates, like the ones offered through Randolph-Brooks Federal Credit Union (RBFCU), make the choice to buy even sweeter. Not only could you save upwards of 30 percent each year in housing costs (based on typical rent expenditures) just by choosing to buy instead of rent, you also have the opportunity to save more in the long run with a low-rate mortgage loan from RBFCU. Best of all, with buying a home, you get to build equity, instead of putting your hard-earned money into paying a landlord or apartment complex.
Buying a home can be a wise investment, but one of the most important decisions to make in the home-buying process is picking the right bank or credit union to finance your home. Here are just three reasons why RBFCU is a smart choice for Austin home buyers:
1. Low Mortgage Rates
RBFCU offers highly competitive mortgage rates. It's the perfect time to stop paying rent and lock in those rates for the next 15 or 30 years. A decade down the road, mortgage rates could double, yet you will still be saving money with a low rate secured now.
2. Easy Closing
Be in your dream home sooner with RBFCU's easy closing process. The credit union offers an easy online application that will let you know instantly if you've been preapproved for a loan. This is the first step to getting a home faster. Having your preapproval in hand, you will be able to save time when it comes to closing. The preapproval notice can even help you negotiate a price with the sellers.
3. Money Back
On its website, RBFCU says that home buyers can earn $1,200 back when they finance a home of $200,000 and when they use a preapproved real estate agent through them. For homes more than $200,000, buyers will get a bigger paycheck from the bank. RBFCU gives home buyers 20 percent of their approved agents' commissions back as a benefit.
It might be a bigger commitment upfront to purchase a home, but it could be worth it with the savings you could reap each year you own the home. Don't let the home-buying process stress you out. RBFCU makes home buying affordable and painless, so that you can be in your new home quickly.
Randolph-Brooks Federal Credit Union is a GOBankingRates client.