7 House-Hunting Tips for Scottsdale Families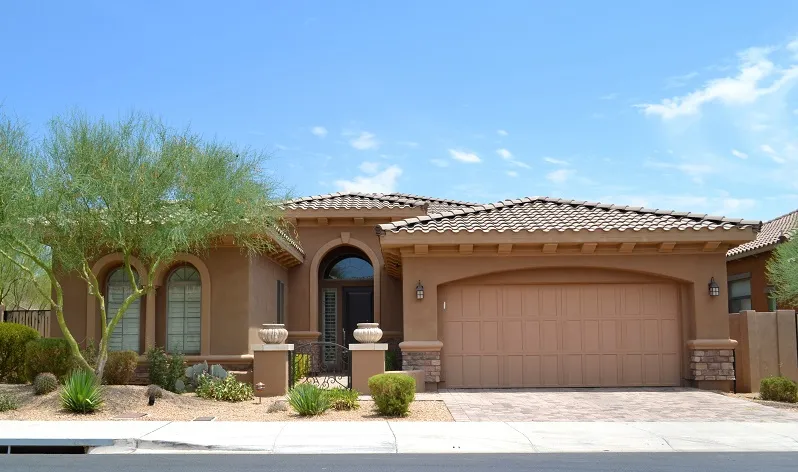 This content is sponsored by Arizona State Credit Union, which offers 30-day closing on its mortgage accounts.
Buying a house takes careful planning and research. At times, the process can seem overwhelming, albeit exciting and life-changing. As you consider houses for sale in Scottsdale, Ariz., keep these seven tips in mind to assist you during your search.
7 Tips for Researching Houses for Sale in Scottsdale
1. Find a local Scottsdale mortgage lender.
While there are plenty of options for online mortgage lenders, going local and working with a Scottsdale credit union or bank has its benefits. Local lenders rely on strong customer service and competitive rates to reel in borrowers.
A smaller financial institution can devote more resources to customer care, providing you a higher level of assistance. Your mortgage lender should be familiar with the Scottsdale area, too, in case you have questions about neighborhoods, historical prices or the general economy.
"With quite a few options, the home-buying process can appear overwhelming and time consuming," said Rebekah Morales, director of mortgage origination at Arizona State Credit Union. "A lender can assist with zeroing in on the best price point that a buyer may qualify for and shorten the time from looking for a home to finding the perfect home."
2. Don't sweat minor imperfections in homes.
Making a laundry list of home features you need, want and can live without can help you narrow down your search. When looking at houses for sale in Scottsdale, try not to focus on small imperfections. You can always upgrade dull fixtures and install hardwood floors. Building an additional bedroom, however, can be a costly and time-consuming task.
Related: 5 Mortgage Tips for Scottsdale Residents
3. Visit Scottsdale neighborhoods.
Looking at available properties online is a great place to start your home search, but driving and walking through Paradise Valley, McCormick Ranch and other Scottsdale communities can give you an intimate look at what it's like living in these neighborhoods. Take advantage of open houses to see what types of homes are available in your area. Asking real estate agents questions about local listings can give you a glimpse into the market.
"Scottsdale is one of the prime real estate locations in Arizona, with rich culture and a diverse set of amenities," said Morales. "Those considering a move to Scottsdale have an opportunity to tailor their community to a desired lifestyle. Once a buyer has a vision in mind, it is best to meet with a real estate agent that specializes in the area and can direct a family to the best neighborhood to suit their desired lifestyle, or away from an area that wouldn't make the best fit."
Related: The Advantages of Buying a Home at the End of the Month
4. Focus on homes within your budget.
Here's a good rule of thumb: If you can't afford something, don't even look at it. Set your house budget and avoid homes that break it. Falling in love with a home is only exciting if you can follow up with an offer. Stay focused and make sure realtors you work with are willing to respect your budgetary constraints.
You'll also want to consider how your mortgage will affect your ability to afford a home. A first-time home buyer, for example, can research local programs and mortgage options to find ways to help him afford the expense of a new home. "First-time home buyers have many options available to them that include low down payment programs with low- to no-cost mortgage insurance," Morales said. "These options are helpful for first-time homebuyers who need access to liquidity for purchasing appliances and furnishing a new home."
For a move-up buyer looking to relocate to an area that can support a growing family, Morales recommended fixed-rate mortgages. "A fixed-rate mortgage is typically the best option in this case, as homebuyers may lock in a rate for a longer period of time and have a more stable payment throughout the life of the loan," she said.
5. Consider each home's location and commute.
The perfect house in the wrong location is a recipe for disaster. An hour-long commute might not seem like much at first, but driving two hours every business day can be exhausting after making the trip for years on end. Your home's location will have long-term effects on its resale value, too.
The added convenience of being near entertainment and restaurants, such as in Old Town Scottsdale, can attract buyers in the future, while giving you the opportunity to enjoy the local scene. In the end, be realistic about your needs and avoid rushing into a decision.
6. Hire an inspector for your favorite Scottsdale home.
If you find a home you like in your choice neighborhood, it's time to call in an inspector. Pristine hardwood floors and a stainless steel dishwasher are nice perks in any home, but your house's foundation is an unseen, vital feature. Get the full history on your top-choice houses to make sure you don't buy a home that's undergone faulty remodeling. An inspector can help you identify potential problems.
Read: Is It Cheaper to Build or Buy a House?
7. Don't get discouraged during your home search.
House hunting is time consuming — it's the nature of the beast. But your patience can pay off. If you find yourself unable to find a house that fits your needs or if you are getting outbid on houses you love, don't buy a less-than-ideal house out of desperation. Sometimes you'll need to reevaluate your needs and allot more time to your house hunt than you originally planned.
In the end, your house hunt should be enjoyable. You are taking the next step in your life, whether as a Scottsdale resident or investor. Don't let hurdles discourage you as you shop houses for sale in Scottsdale.