Would You Apply for a Mortgage Loan from Walmart?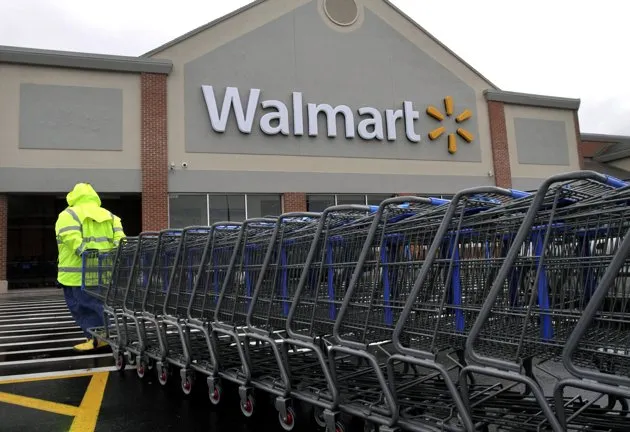 Walmart has been trying to get its foot in the door of banking for quite some time, but it appears as though the mega-retailer is considering a move into mortgage lending as well. It begs the question: Would you feel comfortable getting your mortgage loan from a store?
If so, you're in good company, according to the findings of a financial services survey that was released last month. The study found that one in three U.S. consumers would consider obtaining a mortgage from Walmart (WMT).
While the retailing giant isn't hawking mortgages yet, there is reason to believe that day could come. Walmart currently offers a wide array of financial services, including check cashing, credit and debit cards, and money transfers. It also makes small business loans at its Sam's Club warehouse stores.
Non-bank Mortgage Loans
Non-bank mortgage loans are nothing new, and people are generally quite open to them.
The Carlisle & Gallagher Consulting Group survey found that 70 percent of U.S. consumers would "prefer" to have their home loan with one of their primary banks. However, a full 80 percent of consumers would "consider" a mortgage loan from a non-bank.
There are a slew of non-bank mortgage originating companies — Quicken Loans is a biggie. Quicken was the fifth largest mortgage originator in the third quarter of 2012, with a volume of $21.0 billion, or 4.2 percent of all mortgage originations. And it came within a hair of #3 and #4:
| | | |
| --- | --- | --- |
| Lender | Third-Quarter Volume | Market Share |
| Wells Fargo (WFC) | $139.0 billion | 29.9% |
| JPMorgan Chase (JPM) | $47.3 billion | 10% |
| US Bancorp (USB) | $21.5 billion | 4.5% |
| Bank of America (BAC) | $21.3 billion | 4.5% |
| Quicken Loans | $21.0 billion | 4.2% |
Source: The Motley Fool
Retailers as Non-bank Mortgage Lenders
There is one retailer currently in the mortgage business — Costco Wholesale Corp. (COST). The warehouse club began offering home loans online through select lenders about a year ago. The goal, according to Jay Smith, Costco's director of financial services, was to "make it a service where members see significant value on rates and fees."
Benefits & Risks of Using Non-Bank Mortgage Lenders
A benefit of using a non-bank lender is often they can provide better (lower) interest rates. However, they are currently less regulated than banks, which can pose increased risks. Leveling the regulation playing field is a priority for the Consumer Financial Protection Bureau (CFPB), according to CFPB Supervision Chief Steve Antonakes:
"Supervision of nonbank mortgage lenders and servicers is a top priority. Before the creation of the bureau, a significant part of the mortgage market was not subject to federal supervision. We are working closely with state regulators in an effort to ensure a level playing field in the nonbank mortgage industry and to closely coordinate our supervisory work."
The CFPB is tightening rules for all mortgage lenders and servicers. On January 10, it released a slew of new regulations that go into effect in 2014. The aim of the regulations is to better protect consumers against risky mortgages.
Highlights of the new rule:
Mortgage terms cannot exceed 30 years
Mortgages cannot include negative-amortization payments (where the principal amount increases)
Mortgages cannot carry fees and points in excess of 3 percent of the loan
Mortgages cannot be issued to borrowers who will carry back-end debt-to-income ratios above 43 percent once the mortgage is included
Bottom Line
Generally, it is safer to use a bank rather than non-bank mortgage lender. However, like any generalization, that doesn't always apply. There are huge differences between non-bank lenders.
Walmart currently does not offer mortgages, so it's not possible to comment on terms, fees, etc. I'd imagine its mortgage interest rates would be competitive, but consumers would need to look closely at all fees, such as late fees.
The only way for potential homeowners to get the best and most appropriate mortgage for their needs is to shop around and read all documentation. Most importantly, they should not rely on lenders to tell them what they can afford. Once the new regulations go into effect in 2014, there will be an added measure of safety. However, that still doesn't mean borrowers should rely on lenders.
The best money a person will ever spend is to use a real estate attorney to review mortgage documentation before signing. If Walmart continues on its conquer-all-industries path, perhaps one day you'll even be able to throw an attorney into your Walmart cart!
Editorial Note: This content is not provided by Chase. Any opinions, analyses, reviews, ratings or recommendations expressed in this article are those of the author alone and have not been reviewed, approved or otherwise endorsed by Chase.