Carrington Mortgage Review: Loans for All Credit Scores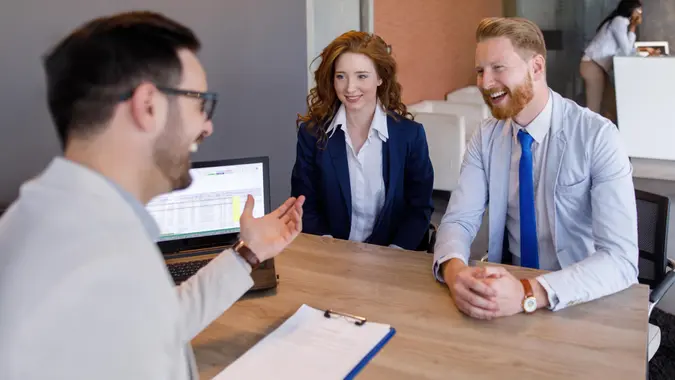 EmirMemedovski / iStock.com
Subprime mortgages all but disappeared following the 2008 financial crisis, but 10 years later, companies like Carrington Mortgage are filling the gap for prospective homeowners with less than stellar credit. Carrington Mortgage, a mid-sized lender founded the year before the crash, announced its entry earlier this year into the field of "nonprime mortgages," as they are now called. Headquartered in California, Carrington originates, secures and services the loans in 48 states for people with credit problems. In addition to nonprime loans, Carrington also offers a range of other loans, including FHA and conventional loans.
Keep reading to see if Carrington Mortgage has the right loan for you.
Carrington Mortgage Services
Carrington Mortgage offers a variety of loan options for houses, townhomes and condos, and its Flexible Advantage program is specifically targeted at borrowers with less than ideal credit. Although 700 is the typical credit score needed to qualify for a competitive mortgage interest rate, Carrington Mortgage gives mortgage loans to borrowers with scores as low as 500. It accepts people with negative financial events that would disqualify them at many other lenders, such as:
Late mortgage payments
A history of missed credit card payments
Bankruptcies prior to the last 36 months
Short sales and foreclosures prior to the past 36 months
Self-employed borrowers are allowed to prove their income with bank statements or W-2 forms rather than the tax documents traditionally required by mortgage lenders.
The Carrington Mortgage Flexible Advantage program offers both 30-year fixed rate mortgages and adjustable rate mortgages with 5/1 and 7/1 options. You can also do a cash-out refinance if you'd like to pay off higher-interest loans, consolidate your bills, pay for college or make home repairs or improvements. Carrington Mortgage doesn't require you to carry mortgage insurance on the loan.
Other loan options offered by Carrington Mortgage include:
Conventional loans that provide borrowers with a stable mortgage interest rate and monthly payment
FHA loans with flexible qualifications and smaller down payment requirements
Jumbo loans for those wishing to purchase more expensive homes in the $417,000 to $2.5 million range
VA loans for members of the military, veterans and qualifying surviving spouses
USDA loans for low-income people seeking to buy or refinance houses in rural areas
Carrington Mortgage also allows the use of down payment assistance programs for those who meet certain criteria, like people with low incomes or those who are purchasing their first home. You might also qualify for down payment assistance if you agree to attend homeowner counseling.
How to Buy a House: 10 Essential Steps
Advantages and Disadvantages of Carrington Mortgage
Before deciding if Carrington Mortgage is right for you, take a look at the following pros and cons.
Carrington Mortgage Advantages
Here are the benefits to a Carrington mortgage:
Home loans within reach for self-employed borrowers and those with credit problems
Nonprime mortgage program includes townhomes and condos
Services its own loans so you deal with the same company from application to monthly payment
Does not charge a pre-payment penalty if you decide to pay off or refinance your mortgage
Carrington Mortgage Disadvantages
Here are the drawbacks to a Carrington mortgage:
If your bankruptcy or foreclosure was within the past 36 months, you are ineligible for Carrington Mortgage's Flexible Advantage program.
Carrington Mortgage is a mortgage lender, not a broker. Mortgage brokers will shop around for you and might find you better mortgage interest rates than what you could find by focusing on a single lender.
Carrington Mortgage locations are limited. The company is not licensed in Massachusetts or North Dakota, so they cannot grant you a mortgage if you live in one of those two states.
If you haven't gotten your financial situation fully back on track, or if you fall behind on your bills again, your credit will take an even worse hit. The new set of late payments will stay on your credit report for seven years, and you could lose your home to foreclosure. This is true of a nonprime mortgage from any lender.
Gather These: The 14 Documents You Must Have to Get a Mortgage
Is Carrington Mortgage Right for You?
Although Carrington Mortgage might not offer the best mortgage interest rates, it's a viable option if you have some dings and dents on your credit report or if you're self-employed and can't prove your income with conventional tax documents. If you fall into one of those categories and your dream of homeownership has been out of reach in the post-recession years, Carrington Mortgage could allow you to make it a reality.
Learn More: 19 Reasons Your Mortgage Loan Could Get Rejected
More on Mortgages
This content is not provided by the companies mentioned. Any opinions, analyses, reviews or recommendations expressed in this article are those of the author's alone and have not been reviewed, approved or otherwise endorsed by Carrington Mortgage.