How to Get an FHA Loan in 5 Easy Steps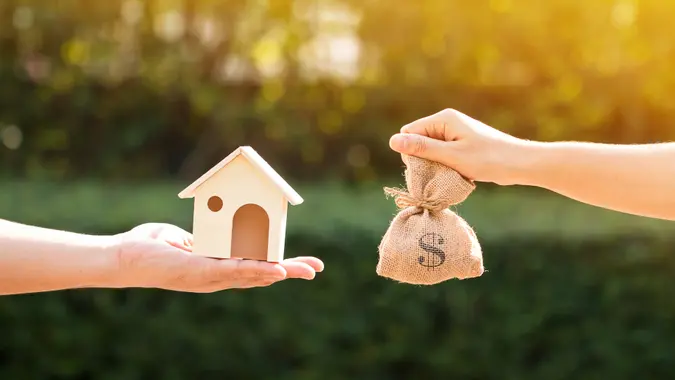 Watchara Ritjan / Shutterstock.com
Now is a great time to use an FHA loan. More money than ever is available to borrowers, which means more families will have the opportunity to own a home than ever before, according to the FHA.
FHA loan limits have been raised and the program requires only a 3.5 percent down payment, which makes it a great loan for first-time homebuyers. Follow these steps to ensure your FHA loan isn't rejected.
What Is an FHA Loan?
For first-time homebuyers or those with less than stellar credit, FHA home loans are an excellent option. FHA loan requirements are not as strict as conventional loans — the FHA does not lend money for home loans directly; it insures mortgage lenders against any potential losses.
Typically, an FHA mortgage is more affordable than a conventional home loan, because it requires a low down payment and has minimal closing costs. Another benefit of an FHA loan is that it is assumable, which means if you want to sell your home, the buyer can take over your existing loan.
Read: Step-by-Step Guide for First-Time Homebuyers
How to Qualify for an FHA Loan
When you're buying a house you'll need to find out if you qualify for an FHA loan. To qualify, you must:
Have the minimum credit score for an FHA loan
Come up with the minimum down payment
Have a clear Credit Alert Verification Reporting System report with no delinquencies or default judgments
"Technically the minimum credit score the FHA requires to insure a mortgage is 500 with a 10 percent down payment. However, lenders are able to set their own credit requirements and most will not work with a credit score below 580. There are lenders that offer FHA loans to borrowers with a 580 credit score with just a 3.5 percent down payment," said Randall Yates, founder and CEO of The Lenders Network.
How to Get an FHA Loan in Five Steps
Getting a mortgage loan is a process. Follow these steps to get an FHA loan:
1. Find FHA-Approved Lenders
If you meet the FHA guidelines for a loan, locate FHA-approved lenders. Many banks, credit unions and mortgage brokers are FHA lenders and you can search for one in your area via the HUD lender list search.
Don't pick just one lender from the list and start the process. Instead, choose three to five lenders and spend some time researching and interviewing them. In addition, conduct a quick, online search to see if you can find any reviews or testimonials about the financial institutions you're planning to contact. You want a lender who has a lot of experience with FHA loans — and one who can give you the best FHA loan rates.
Related: Refinancing Your Home With Current FHA Mortgage Rates
2. Fill Out an FHA Loan Application
When you apply for FHA loan you'll find out information about interest rates and your maximum loan amount. Filling out a loan application is a time-consuming process — when you're ready to apply for a loan, have the following documentation and information ready:
Addresses for places you've lived over the last two years
Social Security numbers of each applicant
Two years of employment history
Gross monthly salary from your employment and current check stubs
Checking, savings and loan account information
Information on any other real estate you own
List of all personal property and its value
Certificate of Eligibility and DD Form 214 if you're a veteran
Two years of personal tax returns or a current income statement and business balance sheet if you're self-employed
Two years of W-2 forms
Related: What to Do If You Lost Your W-2
3. Sign Up for FHA Mortgage Insurance
Once your application has been approved, you'll need to sign up for FHA mortgage insurance. "Mortgage insurance funds the FHA so they can afford to insure mortgages," said Yates. It also protects lenders against homebuyers who default on their loans.
You will need to pay two mortgage insurance premiums. The Upfront Mortgage Insurance Premium will cost you 1.75 percent of the home loan — and in many cases, you can roll the payment into the mortgage. You'll be billed monthly for the Annual MIP payment, which is added to your total mortgage payment. The MIP payment varies among borrowers — it's a percentage of your loan that takes into account your loan-to-value ratio, loan amount and loan term.
4. Get Your Home Appraised
FHA loans require a special inspection of the house you want to buy, which must be performed by an FHA-approved appraiser. Schedule your FHA appraisal as soon as possible to avoid any delays due to inspection problems.
An appraisal, which is optional, is different from an FHA standard home inspection. Consider scheduling a home inspection as well to get an accurate assessment of its condition.
Find Out: 7 Ways Homeowners Can Dispute an Absurdly Low Home Appraisal 
5. Review FHA Closing Costs and Sign the Final Documents
The last step in getting an FHA loan is reviewing your closing costs and signing the documents. Be aware that there will be other costs at signing, known as closing costs, but you might be able to negotiate having the seller pay them.
If you can't arrange that, you can pay the costs upfront or add them into the loan. Each local FHA office determines which specific costs and amounts are reasonable and customary. Here are the items you need to bring with you at closing:
Valid identification
Policy of title insurance
Proof of homeowners insurance
Closing funds in either a cashier's check or an electronic wire
Take the time to go over the closing documents carefully with a notary and verify all the information is correct. Once you sign on the dotted line, you are legally bound to that mortgage, and the only way you'll be released from that responsibility is by selling your home, paying off your mortgage or foreclosing on your property.
Ashley Eneriz contributed to the reporting for this article.