Guild Mortgage Review: A Variety of Options for Borrowers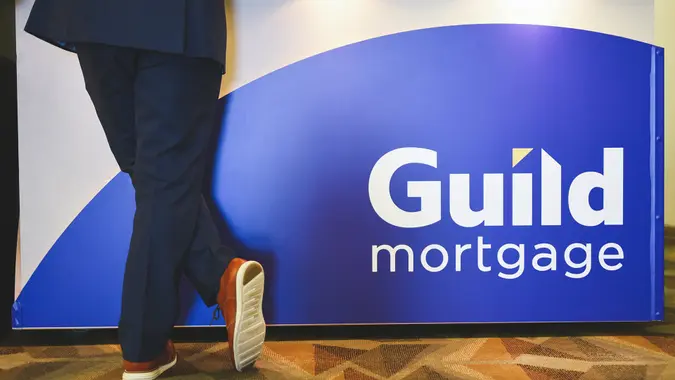 ©Guild Mortgage
Guild Mortgage Company has focused on residential mortgages for over 50 years and ranked No. 8 on the 2017 Scotsman Guide list of mortgage brokers by overall volume. The company's MyMortgage app provides a personalized experience and a paperless loan application, allowing customers to upload documents and make their Guild mortgage payment from any mobile device.
Here's more information about the types of home mortgage loans you can get through Guild Mortgage.
Guild Mortgage Review
Guild Mortgage offers literally hundreds of loan variations for its customer base. The company's flexibility allows it to tailor loans to specific types of customers, from first-time homebuyers to military and rural homebuyers. Guild was recognized in 2015 as one of the most admired companies in San Diego, and now has more than 250 Guild mortgage locations and satellites throughout the country.
The broad mortgage types offered by Guild Mortgage are outlined here. Customers with more specific needs can likely find a loan tailored to their situation by contacting the company.
Guild Mortgage Products and Services
Guild Mortgage offers mortgages across these 10 types:
1. Fixed-Rate Mortgage
Guild's fixed-rate mortgage is the traditional mortgage that most homeowners think of when they buy a home. Terms can vary but are typically 30 years, with a locked-in rate for the duration. This type of mortgage is particularly popular with first-time homebuyers or those with higher credit, as payments are often higher than with adjustable-rate mortgages.
2. Adjustable-Rate Mortgage
Adjustable-rate mortgages at Guild have a fixed rate for between three and 10 years, after which time the rate can adjust upwards or downwards once per year. They are best suited for those looking to move or refinance in the first five to 10 years, before the rate changes. Homebuyers require a minimum FICO credit score of 640 to qualify.
3. Conforming Mortgage
A conforming loan is guaranteed by Fannie Mae and Freddie Mac, which are government-sponsored lenders. Conforming loans can be fixed or adjustable but have financial requirements for borrowers, which include a credit score of at least 620. Additionally, the loan amount cannot exceed a certain limit. The loan limit is dictated by location and cost of living in the area.
4. Jumbo Loan
Jumbo loans allow lenders to borrow more than the conforming or governmental limit. Because the excess amount must be secured by the lender itself, mortgage companies like Guild typically only extend jumbo loans to borrowers with excellent credit and significant assets.
Related: How to Get a Mortgage for $1,000,000 or More
5. Renovation Loan
Renovation loans are used to purchase or refinance a home that needs improvements, which buyers can pay for over time. Guild Mortgage offers renovation loans through both government and conventional programs. In most cases, there is no limit to the type of renovation you can undertake.
6. USDA Loan
A USDA loan is one provided by the United States Department of Agriculture for borrowers living in rural areas. The USDA Property Eligibility website helps borrowers determine if their home is in a qualifying rural area, which 97 percent of U.S. homes are. These types of loans are ideally suited for households with lower to moderate incomes.
7. Unison Loan
Through the Unison HomeBuyer program, customers partner up with Unison to double their down payment. As an equity partner, Unison participates in the appreciation and depreciation of the home. When homeowners sell the home, they pay off Unison. The program is only available in 14 states: Arizona, California, Colorado, Florida, Georgia, Illinois, Michigan, Minnesota, Missouri, Nevada, North Carolina, Oregon, Virginia and Washington. The program is a good one for buyers in high-dollar markets with good credit.
8. FHA Loan
FHA loans are government loans that offer down payments as low as 3.5 percent. However, upfront and annual mortgage insurance premiums are required. FHA loans are commonly used by first-time homebuyers and those with low-to-moderate incomes and credit.
Related: How to Get an FHA Loan in 5 Easy Steps
9. VA Mortgage
Veterans Administration loans are offered through the U.S. Department of Veterans Affairs. They are thus ideally suited for active or retired members of the U.S. Armed Forces, including the National Guard. VA loans typically have more competitive terms than non-VA loans, such as zero down payment options. Disabled or otherwise exempt veterans might be able to avoid mortgage insurance with a VA loan.
10. Down Payment Assistance
Down payment assistance isn't technically a mortgage product, but rather a grant or loan secured as a lien against the property.  Over time, those liens are oftentimes forgiven. Down payment assistance is ideal for first-time homebuyers with little to nothing in the way of down payment funds. Guild partners with counties across the nation to offer more than 500 down payment assistance programs.
Related: 13 Best First-Time Homebuyer Programs
Pros and Cons of Guild Mortgage
The main pros of Guild Mortgage are its broad range of available products and its reputation in the mortgage loan industry. The convenience of the company's MyMortgage app is also a welcome modern addition to a traditional industry, allowing customers the ability to upload documents and manage their accounts from nearly anywhere.
On the negative side, Guild Mortgage does charge fees for some services. For example, Guild charges a $15 NSF fee for returned checks, which is the maximum allowed by the state. Fees for assumption of a mortgage range from $750 to $1,500. Your Guild mortgage interest rate may or may not be the best available in the marketplace.
Learn More: In the Market for a House? Brace Yourself for Bad News
Is a Guild Mortgage Loan Right for You?
With a nationwide reach, broad product line and excellent mobile app technology, Guild Mortgage provides many of the services that homebuyers need. As with any financial transaction, however, comparison shopping is never a waste of time, even if Guild appeals to you. Cross-check Guild mortgage rates and services with other lenders so you can find the best mortgage loan available for your needs.
Learn More: Mortgage Rates 101 — Types of Mortgages Explained
More on Loans and Mortgage
This content is not provided by the companies mentioned. Any opinions, analyses, reviews or recommendations expressed in this article are those of the author alone and have not been reviewed, approved, or otherwise endorsed by Guild Mortgage.