How Have Mortgage Rates Fluctuated Since the Start of the Pandemic?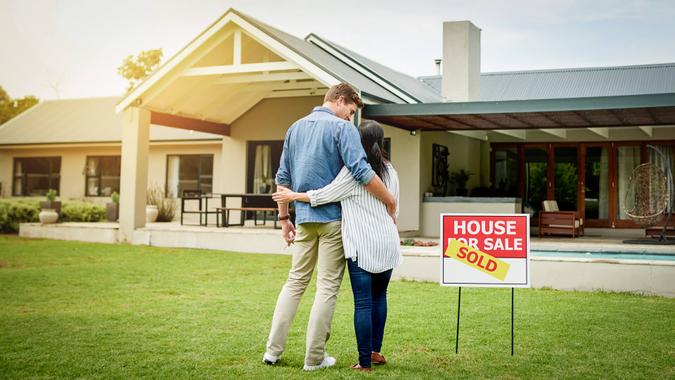 Mikolette / Getty Images/iStockphoto
Over the past few years, mortgage rates have been at their lowest levels in history. Current borrowers are probably thankful they don't have to deal with the double-digit rates experienced in the 80s, but the reasons for today's rock-bottom rates aren't exactly great.
Mortgages 101: Are Online Lenders a Reputable Option for Homebuyers?
Beware: Mortgage Shopping? Watch Out for Junk Fees as CFPB Launches Review Into Bank, Lender and Fintech Practices
The Pandemic's Impact on Interest Rates
The World Health Organization officially declared COVID-19 to be a pandemic on March 11, 2020. Soon after, businesses were forced to shut down operations and unemployment reached record levels. The U.S. fell into a recession that was as severe as it was short-lived.
Still, the pandemic's economic impact continued to ripple through the country. In response, the Federal Reserve cut its target rate to near-zero in an effort to stimulate economic activity (read: spending, borrowing and investing). 
For millions of Americans, those efforts were pointless. After all, low interest rates aren't too helpful if you don't have any money. However, for those who weathered the pandemic with their jobs and savings intact, low interest rates meant they had access to incredibly cheap loans — including mortgages. As a result, home prices skyrocketed and demand boomed despite decreased inventory and record housing insecurity.
Learn: Should I Apply to More Than One Lender?
How Mortgage Rates Have Changed Since 2020
The pandemic has undoubtedly been a strange time for the housing market. However, for those who could afford to buy a home, the financing options were highly attractive. Here's a visual look at how mortgage rates have fluctuated — keep reading for more details on how rates have changed.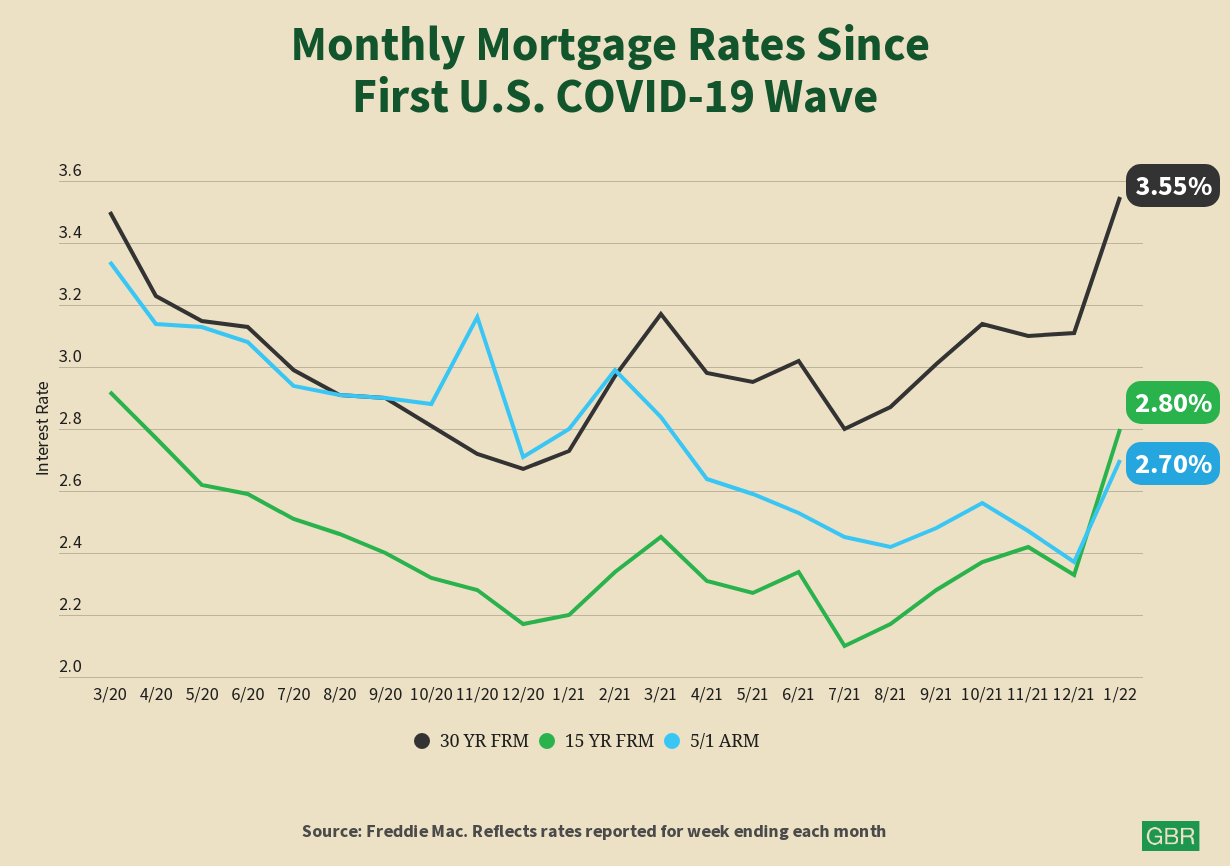 30-Year Mortgage Rates
From the start of the pandemic to now, the average interest rate on a 30-year fixed-rate mortgage increased just 17 basis points. However, there were some notable ups and downs in between. 
In March 2020, the average 30-year mortgage rate was 3.45%. Rates continued falling throughout the rest of the year, hitting a low of 2.68% in December — the lowest rate on record.
Find: How To Pay Off Your Mortgage in 10 Years
At the start of 2021, rates began ticking back up, eventually reaching 3.06% before trending downward again and continuing to hover around the 3% mark for the rest of the year. By February 2022, 30-year rates hit their high since the pandemic began, at 3.62%.
Here's a closer look at how average rates have fluctuated year-over-year for the 30-year fixed-rate mortgage.
2020: 3.03%
2021: 2.96%
2022 (so far): 3.53%
15-Year Mortgage Rates
Interest rates on 15-year fixed-rate mortgages followed a similar story. In March 2020, the average 15-year mortgage rate was just 2.89%. Rates continued their downward trajectory for the rest of the year and into 2021, temporarily spiking upward in March before falling again. In August 2021, 15-year rates hit their lowest point at just 2.15%. 
In September, interest rates on 15-year mortgages began slowly ticking back up through 2022. By February of this year, rates reached 2.85% — nearly the same as the start of the pandemic, with a difference of only three basis points.
See: Mortgage Applications Decrease in the First Week of February
Here's a closer look at how average rates have fluctuated year-over-year for the 15-year fixed-rate mortgage.
2020: 2.52%
2021: 2.27%
2022 (so far): 2.76%
Though we aren't officially out of the woods, the pandemic is taking much less of a toll on Americans' health and jobs. Soon, the Fed will begin raising rates again, which means these historically low interest rates won't be around for much longer.
More From GOBankingRates
Methodology: GOBankingRates used the Federal Reserve Bank of St. Louis' 15- and 30-year fixed rate mortgage average in the US data to compile figures on how mortgage rates have fluctuated since the start of the COVID-19 pandemic. GOBankingRates compiled monthly averages from March 2020 through February 2022, as well as yearly averages for 2020, 2021 and 2022. All data was collected and is current as of February 10, 2022.