Yes, You Can Still Buy a House With Student Loan Debt — Here's How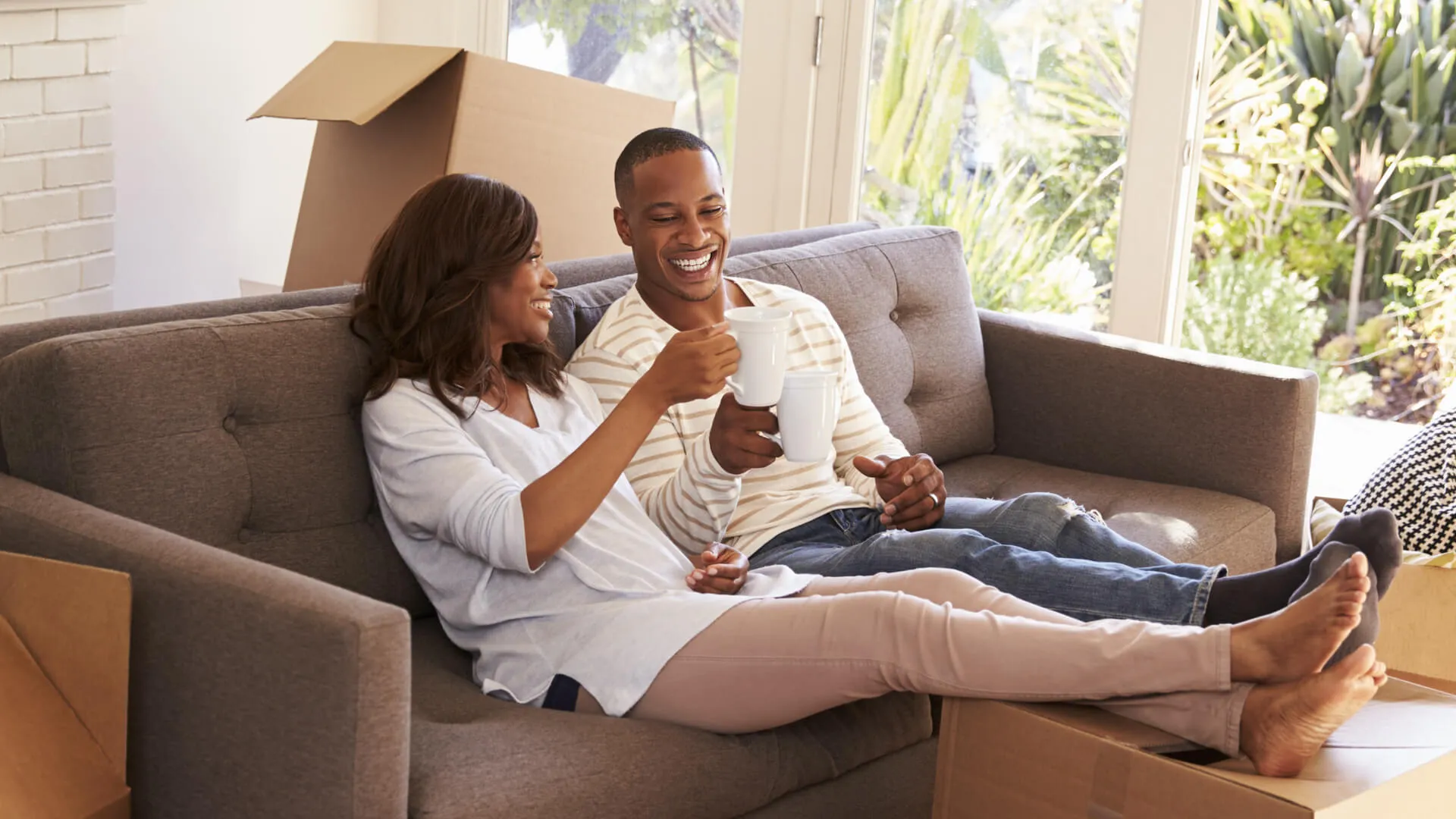 If you're saddled with student loan debt and want to buy a home, you have your work cut out for you.
According to Apartment List's 2021 Millennial Homeownership Report, the rate of millennial homeowners still lags behind other generations. By 30 years old, only 42% of millennials own homes, compared to 48% of Gen Xers and 51% of baby boomers.
And millennials' outlook toward buying homes is getting progressively weaker. In 2020, 18% of millennial renters said their plan is to rent forever — a leap from the 12% that reported the same plan in 2019.
Affordability is the biggest issue, according to the report, especially with the rising home prices. However, 63% of millennials also report having no money saved for a down payment on a home.
Even so, that doesn't mean homeownership is out of reach.
Click through to learn how you can save enough for a down payment, while still tackling other finances.
Last updated: July 20, 2021
Start by Prioritizing Financial Goals
Douglas Boneparth, president of Bone Fide Wealth and co-author of "The Millennial Money Fix," managed to buy a house in 2016, even though he and his wife had more than $300,000 in student loan debt. To put their debt in perspective, the average student loan balance is $38,792, according to credit reporting agency Experian.
Boneparth said he and his wife were able to save enough for a down payment by prioritizing their financial goals. Although paying off their student loan debt entirely and saving more for retirement are goals for the couple, buying a home was a bigger priority because they wanted to have children, Boneparth said.
"People need to be honest with themselves about what their goals are and in what order they want to achieve them," he said. If buying a home is important to you, you might have to put other financial goals on the back burner to save for a down payment.
Eliminate Expensive Debt
Your student loan debt might not be the only stumbling block to saving for a down payment. If you have high-interest debt such as credit card debt, you need to focus on paying that off before you start saving to buy a house, said Carla Dearing, partner at Velo Group.
You can pay off your debt faster by taking advantage of balance transfer offers on cards with a 0% introductory rate. "You can pay that balance off much more quickly if it's not accumulating interest," Dearing said. You can also increase monthly debt payments by slashing unnecessary spending.
Eliminating high-interest debt will help you find more room in your budget to save for a house, and reducing your debt load will increase your chances of getting approved for a mortgage. "Overall, your debt payments should never total more than 20%-25% of your monthly income," Dearing said.
Balance Student Loan Payments With Savings
Unlike high-interest debt, student loan debt — which typically has a lower interest rate — doesn't have to be paid off before you start tackling longer-term goals such as buying a home, Dearing said. "Instead, you can tackle both simultaneously."
She recommends using the following ratio: Put two-thirds of your remaining income after covering necessary expenses toward paying off your debt and one-third toward saving for a down payment on a house.
Refinance Student Loans
You might be able to reduce your monthly payments by refinancing your student loans at a lower interest rate. Boneparth refinanced his federal student loans, which had an average rate of 6.8%, with a private loan that has a fixed interest rate of 2.95%.
With a lower rate, he paid roughly $100,000 less in interest over the length of his loan. Compare refinancing options with lenders such as SoFi and CommonBond.
Take Advantage of Federal Programs to Reduce Loan Payments
If you have federal student loans, you might qualify for a program that will help reduce your monthly payments so you can save more. For example, if you have several loans, student loan consolidation can roll them all into one and reduce your monthly payment by giving you a longer period to repay them.
Or, you might qualify for an income-based repayment plan, which can bring payments more in line with your income, Dearing said.
Student loan forgiveness programs are also available for people who have certain public service jobs or teach in low-income schools. You can get more information at StudentAid.ed.gov.
Reduce Current Living Expenses
Anything you can do to cut back on monthly expenses will make more room in your budget to save for a down payment, Salviati said. But you'll likely free up the most cash by lowering your biggest monthly expense — housing.
Consider getting a roommate to split the cost of rent or moving to a cheaper apartment. You might even be able to get your parents to agree to let you rent your old room at a fraction of what you're paying for apartment rent.
Be Willing to Make Sacrifices
If you're trying to balance saving for a down payment with paying student loans, you might have to give up some things you enjoy.
For example, Boneparth said that he and his wife gave up vacations while saving for a home. "We love to travel, but that's a big saver for us," he said.
Put Saving on Autopilot
Don't let your sacrifices and smaller loan payments from refinancing or consolidating go to waste. Make sure the money you're saving actually goes into a savings account for a down payment. Dearing recommends setting up automatic transfers from your checking account to a savings account at the beginning of each month "before you have a chance to spend the money on something else," she said.
If you get a bonus, overtime pay or a pay raise, immediately transfer that extra money to your down payment savings account, too. "You'll have the down payment you need before you know it," Dearing said.
Aim to Save 20%, But Explore Low-Down-Payment Options
Your goal should be to save enough to make a down payment equal to 20% of a home's purchase price, Dearing said. This will help you avoid having too much debt for your income level — which might make it hard for you to pay your student loans. And it will help you avoid private mortgage insurance, which you must pay in addition to your mortgage if you put down less than 20% of a home's purchase price.
The median sales price for a new home in the U.S. as of May 2021 was $374,400, according to a report from the U.S. Census Bureau and the U.S. Department of Housing and Urban Development. And there's no doubt that for most people, saving for a 20% down payment (in this case, $74,880) will take quite a while. The good news is that there are zero-down and low-down-payment mortgages that might help you get into a house faster.
Boneparth, who bought a house in New Jersey close to New York City, was able to get a mortgage with a competitive interest rate without PMI even though he put down just 10%. Having a high credit score helped him get such favorable terms, he said.
Keep Tabs on Your Credit
As Boneparth pointed out, making sure you have a good credit score can help you avoid PMI and get a good interest rate on a mortgage like it did him. The credit score you need to buy a house will vary from lender to lender and the type of loan for which you're applying. However, a credit score of 760 or higher will improve your chances of getting a mortgage with a lower rate.
Boneparth recommends checking your credit score well before you apply for a mortgage so you'll have time to improve it if necessary. You can boost your credit score by making on-time payments and paying off debt — especially credit card debt.
Consider All Your Loan Options
Conventional loans aren't the only way to buy a home. Instead, consider a government-backed option, such as an FHA loan, which requires as little as 3.5% down and which you now may find it easier to qualify for with student loan debt.
In June 2021, the Federal Housing Administration changed its guidelines for calculating the monthly obligation for student loan borrowers. Before the change, FHA had to use whichever was greater — 1% of the total student loan debt, the monthly payment reported on the credit report, or the actual documented payment  — to calculate a borrower's monthly obligation.
Under FHA's old 1% rule, a borrower with an average student loan debt of $38,792, would have their debt obligation calculated at $387.92 if their actual student loan payment was less because FHA used the greater amount to calculate a borrower's monthly student loan debt obligation.
Now, the FHA must use either the borrower's student loan payment reported on his or her credit report or the actual documented payment — as long as the payment is above $0. If the borrower's payment is $0, FHA will calculate the monthly payment as 0.5% of the outstanding student loan balance. For a student loan balance of $38,792 with a payment of $0, the FHA would calculate the monthly debt obligation as $193.96 — or half of what it would have been under the old rule.
Know How Much House You Can Afford
If you want to buy a home but have student loans, make sure you don't stretch yourself too thin by buying too much home.
"Make up your mind to only purchase a house that you can reasonably afford based on your income and your total assets, and to borrow no more on that home than your income can support," Dearing said.
A good rule of thumb to determine how much house you can afford is to plan on buying a home that costs no more than two to two and a half times your income, Dearing said. "In parts of the country with very high real estate valuations, you can go as high as three to three and three-quarters times your income."
Know What Mortgage Payment You Can Handle
In addition to sticking to a manageable purchase price on a home, pay close attention to the size of your monthly mortgage payment. If you have student loan debt, "a manageable monthly mortgage payment for you should not exceed 25% of your monthly income," Dearing said.
However, you should also consider the additional costs of owning a home. You'll have to pay for things such as homeowners insurance, property taxes, utilities, repairs and lawn care. Boneparth said new homeowners often don't anticipate these costs and aren't prepared for them. If your budget isn't ready for these higher costs, you might have a hard time staying on top of student loan payments.
Consider a Cheaper Housing Market
If you have student loan debt and live in an expensive housing market, buying a house might be easier if you're willing to move to certain suburbs or cities that are more affordable.
This is especially true in 2021 with the current state of the housing market. According to recent Redfin data, more than 31% of homebuyers are looking to move due to elevated home prices in the area they currently live in.
"Reevaluate where you're looking," Salviati said. "Real estate values are localized."
Although it's not always easy to pack up your life and move, it could make owning a home easier.
Consider "SmartBuy" Programs Some States Are Offering
Both Illinois and Maryland are throwing a lifeline to prospective homebuyers who are saddled with student loan debt.
One of the programs the Illinois Housing Department Authority is offering to communities of color is "SmartBuy."  The program offers qualified first-time homebuyers a 30-year, fixed-rate mortgage with a deferred $5,000 for down payment or closing cost assistance.
Additionally, the program provides financial assistance worth 15% of the home purchase price — up to $40,000 — to help borrowers pay off their student loans. Restrictions do apply, such as you must have at least $1,000 in student loan debt and plan to live in the home for at least three years.
In Maryland, you can take advantage of the Maryland SmartBuy 3.0 program, which does not have any community-specific restrictions. To be eligible, you must have at least $1,000 in student loan debt. Financing through the program will provide up to 15% or a maximum of $30,000 to pay off the borrower's student loan debt.
Check with the department of housing in your state to find out if a similar program is being offered.
Consider Tiny Living
You might be able to achieve your dream of homeownership faster if you opt for a tiny home that's just a few hundred square feet. Tiny living is a growing trend, and tiny homes can be much cheaper than conventional houses.
A smaller mortgage and lower maintenance and utility costs also mean that tiny living can help accelerate debt repayment. You'll have more money at the end of each month to pay off your student loans faster.
More From GOBankingRates
Cynthia Measom contributed to the reporting for this article.