Life and Money
Yes, You Can Still Buy a House With Student Loan Debt — Here's How
Don't let student loan debt hold you back.
If you're saddled with student loan debt and want to buy a home, you have your work cut out for you.
On average, it would take a college graduate with no student loan debt less than eight years to save enough for a 20 percent down payment on a $220,000 condo — the national median price. However, it would take a college grad with student loan debt nearly 12 years, according to the 2017 Apartment List Renter Survey.
"It really is more difficult for this generation to save for homeownership," said Chris Salviati, a housing economist at Apartment List. Difficult — but certainly not impossible.
Click through to learn how you can save enough for a down payment, while still tackling other finances.
1/14
shapecharge / Getty Images
Start by Prioritizing Financial Goals
Douglas Boneparth, president of Bone Fide Wealth and co-author of "The Millennial Money Fix," managed to buy a house in 2016, even though he and his wife had more than $300,000 in student loan debt. To put their debt in perspective, the average student loan balance among millennials is $33,579, according to credit reporting agency Experian.
Boneparth said he and his wife were able to save enough for a down payment by prioritizing their financial goals. Although paying off their student loan debt entirely and saving more for retirement are goals for the couple, buying a home was a bigger priority because they wanted to have children, Boneparth said.
"People need to be honest with themselves about what their goals are and in what order they want to achieve them," he said. If buying a home is important to you, you might have to put other financial goals on the back burner to save for a down payment.
2/14
MarsBars / iStock.com
Eliminate Expensive Debt
Your student loan debt might not be the only stumbling block to saving for a down payment. If you have high-interest debt such as credit card debt, you need to focus on paying that off before you start saving to buy a house, said Carla Dearing, CEO of online financial wellness service SUM180.
You can pay off your debt faster by taking advantage of balance transfer offers on cards with a 0 percent introductory rate. "You can pay that balance off much more quickly if it's not accumulating interest," Dearing said. You can also increase monthly debt payments by slashing unnecessary spending.
Eliminating high-interest debt will help you find more room in your budget to save for a house, and reducing your debt load will increase your chances of getting approved for a mortgage. "Overall, your debt payments should never total more than 20 percent to 25 percent of your monthly income," Dearing said.
3/14
Geber86 / Getty Images
Balance Student Loan Payments With Savings
Unlike high-interest debt, student loan debt — which typically has a lower interest rate — doesn't have to be paid off before you start tackling longer-term goals such as buying a home, Dearing said. "Instead, you can tackle both simultaneously."
She recommends using the following ratio: Put two-thirds of your remaining income after covering necessary expenses toward paying off your debt and one-third toward saving for a down payment on a house.
4/14
simonkr / Getty Images
Refinance Student Loans
You might be able to reduce your monthly payments by refinancing your student loans at a lower interest rate. Boneparth refinanced his federal student loans, which had an average rate of 6.8 percent, with a private loan that has a fixed interest rate of 2.95 percent.
With a lower rate, he paid roughly $100,000 less in interest over the length of his loan. Compare refinancing options with lenders such as SoFi and CommonBond.
5/14
Wavebreakmedia / iStock.com
Take Advantage of Federal Programs to Reduce Loan Payments
If you have federal student loans, you might qualify for a program that will help reduce your monthly payments so you can save more. For example, if you have several loans, student loan consolidation can roll them all into one and reduce your monthly payment by giving you a longer period to repay them.
Or, you might qualify for an income-based repayment plan, which can bring payments more in line with your income, Dearing said.
Student loan forgiveness programs are also available for people who have certain public service jobs or teach in low-income schools. You can get more information at StudentAid.ed.gov.
Related: 20 Companies That Help Employees Pay Off Student Loans
Reduce Current Living Expenses
Anything you can do to cut back on monthly expenses will make more room in your budget to save for a down payment, Salviati said. But you'll likely free up the most cash by lowering your biggest monthly expense — housing.
Consider getting a roommate to split the cost of rent or moving to a cheaper apartment. You might even be able to get your parents to agree to let you rent your old room at a fraction of what you're paying for apartment rent.
7/14
Monkey Business Images / Shutterstock.com
Be Willing to Make Sacrifices
If you're trying to balance saving for a down payment with paying student loans, you might have to give up some things you enjoy.
For example, Boneparth said that he and his wife gave up vacations while saving for a home. "We love to travel, but that's a big saver for us," he said.
8/14
fizkes / Shutterstock.com
Put Saving on Autopilot
Don't let your sacrifices and smaller loan payments from refinancing or consolidating go to waste. Make sure the money you're saving actually goes into a savings account for a down payment. Dearing recommends setting up automatic transfers from your checking account to a savings account at the beginning of each month "before you have a chance to spend the money on something else," she said.
If you get a bonus, overtime pay or a pay raise, immediately transfer that extra money to your down payment savings account, too. "You'll have the down payment you need before you know it," Dearing said.
Aim to Save 20%, But Explore Low-Down-Payment Options
Your goal should be to save enough to make a down payment equal to 20 percent of a home's purchase price, Dearing said. This will help you avoid having too much debt for your income level — which might make it hard for you to pay your student loans. And it will help you avoid private mortgage insurance, which you must pay in addition to your mortgage if you put down less than 20 percent of a home's purchase price.
In some high-priced markets such as Los Angeles and San Francisco, it could take up to 20 years to save enough for a 20 percent down payment, the Apartment List study found. But there are zero-down and low-down-payment mortgages that might help you get into a house faster.
Boneparth, who bought a house in New Jersey close to New York City, was able to get a mortgage with a 3.625 percent interest rate without PMI even though he put down just 10 percent. Having a high credit score helped him get such favorable terms, he said.
10/14
garagestock / Shutterstock.com
Keep Tabs on Your Credit
As Boneparth pointed out, making sure you have a good credit score can help you avoid PMI and get a good interest rate on a mortgage like it did him. The credit score you need to buy a house will vary from lender to lender and the type of loan for which you're applying. However, a credit score of 740 or higher will improve your chances of getting a mortgage with a lower rate.
Boneparth recommends checking your credit score well before you apply for a mortgage so you'll have time to improve it if necessary. You can boost your credit score by making on-time payments and paying off debt — especially credit card debt.
11/14
Roberto Westbrook / Getty Images
Know How Much House You Can Afford
If you want to buy a home but have students loans, make sure you don't stretch yourself too thin by buying too much home.
"Make up your mind to only purchase a house that you can reasonably afford based on your income and your total assets, and to borrow no more on that home than your income can support," Dearing said.
A good rule of thumb to determine how much house you can afford is to plan on buying a home that costs no more than two to two and a half times your income, Dearing said. "In parts of the country with very high real estate valuations, you can go as high as three to three and three-quarters times your income."
12/14
DragonImages / Getty Images
Know What Mortgage Payment You Can Handle
In addition to sticking to a manageable purchase price on a home, pay close attention to the size of your monthly mortgage payment. If you have student loan debt, "a manageable monthly mortgage payment for you should not exceed 25 percent of your monthly income," Dearing said.
However, you should also consider the additional costs of owning a home. You'll have to pay for things such as homeowners insurance, property taxes, utilities, repairs and lawn care. Boneparth said new homeowners often don't anticipate these costs and aren't prepared for them. If your budget isn't ready for these higher costs, you might have a hard time staying on top of student loan payments.
13/14
sturti / iStock.com
Consider a Cheaper Housing Market
If you have student loan debt and live in an expensive housing market, buying a house might be easier if you're willing to move to certain suburbs or cities that are more affordable.
"Reevaluate where you're looking," Salviati said. "Real estate values are localized."
For example, if you're a millennial living in San Francisco, homeownership will be difficult to obtain. Although it's not always easy to pack up your life and move, it could make owning a home easier.
14/14
Abel Zyl / Shutterstock.com
Consider Tiny Living
You might be able to achieve your dream of homeownership faster if you opt for a tiny home that's just a few hundred square feet. Tiny living is a growing trend, and tiny homes can be much cheaper than conventional houses.
A smaller mortgage and lower maintenance and utility costs also mean that tiny living can help accelerate debt repayment. You'll have more money at the end of each month to pay off your student loans faster.
Up Next: How One Woman Paid Off $81,000 in Student Loans While She Was Broke
About the Author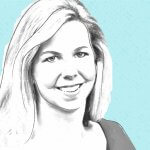 Cameron Huddleston is an award-winning journalist with more than 18 years of experience writing about personal finance. Her work has appeared in Kiplinger's Personal Finance, Business Insider, Chicago Tribune, Fortune, MSN, USA Today and many more print and online publications. She also is the author of Mom and Dad, We Need to Talk: How to Have Essential Conversations With Your Parents About Their Finances.
U.S. News & World Report named her one of the top personal finance experts to follow on Twitter, and AOL Daily Finance named her one of the top 20 personal finance influencers to follow on Twitter. She has appeared on CNBC, CNN, MSNBC and "Fox & Friends" and has been a guest on ABC News Radio, Wall Street Journal Radio, NPR, WTOP in Washington, D.C., KGO in San Francisco and other personal finance radio shows nationwide. She also has been interviewed and quoted as an expert in The New York Times, Chicago Tribune, Forbes, MarketWatch and more.
She has an MA in economic journalism from American University and BA in journalism and Russian studies from Washington & Lee University.