LoanDepot Mortgage Review: A Mortgage Option for Every Homebuyer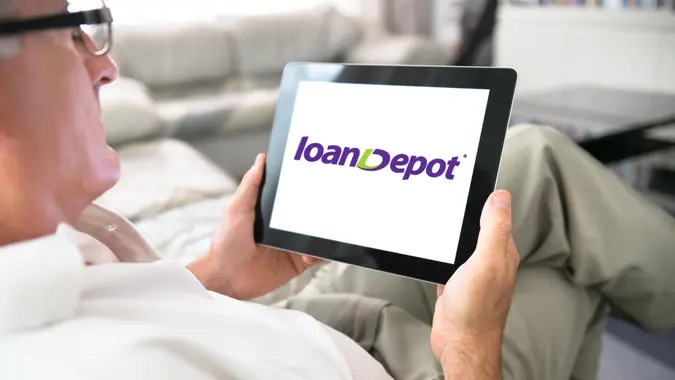 franckreporter / Getty Images/iStockphoto
Although LoanDepot funded an impressive $125 billion in mortgage loans in just seven years, it's nowhere near the status of some of the largest mortgage loan providers. For instance, when looking at the seven-year funding totals from LoanDepot versus Quicken Loans, which is ranked as the top online mortgage retail lender, LoanDepot's totals pale in comparison.
Though it's somewhat of a newbie in the mortgage lending space, LoanDepot does feature some advantages: It's accredited with the BBB, has an A+ rating and offers a full suite of mortgage loans. When searching for a mortgage lender, see what LoanDepot has to offer you.
LoanDepot Mortgage Review
Each homeowner's needs are different, and LoanDepot offers a variety of options. Read on to compare mortgage rates and even discover what LoanDepot mortgage payment might fit your needs.
LoanDepot Mortgage Products
LoanDepot offers eight different mortgage loan products. Here are details on each LoanDepot mortgage:
1. Fixed-Rate Loan
Enjoy the security of a set interest rate and fixed monthly payments. Customers can opt for a loan with a 30-year mortgage rate or one with a shorter term of 20, 15 or 10 years.
Fixed-Rate Highlights:
Easy to budget
Available with as little as 5 percent down
Loan terms from 10 to 30 years
FHA loan for just 3.5 percent down
2. Adjustable Rate Loan
Get a lower interest rate initially with an adjustable-rate mortgage, then the rate will adjust at preset intervals. Choose from a three, five, seven or 10-year ARM.
Adjustable-Rate Loan Highlights:
Allows you to save on interest in the short term
Monthly payments decrease as rates go down
Option to refinance at a later date
3. Jumbo Loan
For mortgage seekers interested in borrowing between $417,000 and $2 million, a jumbo mortgage is the answer. The program offers competitive home loan rates for individuals who are able to spend more for the house of their dreams. Customers can also use this program to refinance their higher-priced home.
Jumbo Loan Highlights:
Ability to choose a fixed- or adjustable-rate mortgage
Quick closing compared to other lenders
Low fees and excellent rates
4. Personal Loan
A LoanDepot personal loan works well for home purchases under $35,000 or home improvements. The loan can also be used to consolidate debts, pay for dental work, finance an automobile or fund a wedding. LoanDepot rates depend on your current credit rating, debt-to-income ratio and payment history.
Related: Can I Use a Personal Loan for Anything?
Personal Loan Highlights:
After approval, funds are often available within days
No collateral required
Fixed rate and set payment schedule
5. Veterans Affairs Loan
Anyone who is an active-duty service member, an honorably discharged Veteran or a military member's surviving spouse can apply for a VA loan. LoanDepot staffs trained loan officers who help customers navigate all the ins and outs of the program.
VA Loan Highlights:
Special benefits not provided with other mortgage loans
Two types of refinance programs for accessing cash from home equity
Advantageous terms for military members
6. FHA Loan
FHA loans offer some of the lowest mortgage rates available and forgiving credit score requirements. But you must meet debt-to-income ratio limits to prove that you can make loan payments.
In addition, when putting less than 20 percent down, you will be required to carry mortgage insurance that is 1.75 percent of the base loan amount and pay an annual mortgage insurance premium between 0.45 and 1.35 percent of the base loan amount.
FHA Loan Highlights:
Perfect for the first-time homebuyer with less-than-perfect credit; minimum credit score of 580 required
Fixed and adjustable rates
Refinance options available for those who need cash from the equity in their home
7. HARP
The Home Affordable Refinance Program is a federal program designed to help homeowners who are struggling to pay their mortgages. To qualify for this program, you must own a Fannie Mae or Freddie Mac loan that was purchased on or before March 31, 2009. LoanDepot states that no equity, no private mortgage insurance and no credit minimums are required to get approved for a HARP loan.
HARP Highlights:
Ability to save hundreds each month after refinancing
No minimum credit score; individuals with bad credit can qualify
No appraisal needed
Learn: 6 Benefits of Getting a HARP Home Loan
8. Home Equity Loan
Homeowners who have a lot of equity in their homes can take advantage of LoanDepot's home equity loan, available in amounts from $25,000 to $250,000. This fixed-rate second mortgage allows customers to borrow as much as 90 percent of their home's equity and pay it back over the course of 15 years.
Home Equity Loan Highlights:
Ability to close within days instead of weeks
Doesn't affect your original mortgage or interest rate
The money can be used at your discretion
LoanDepot Mortgage Process
When you're ready to apply for one of the available mortgages, you'll be taken through the following LoanDepot mortgage process:
Verify that you are over the age of 18 years and either a U.S. citizen or documented U.S. permanent resident.
Call 800-656-2606 to talk to one of LoanDepot's lending specialists to begin the application.
Provide your income information, bank account number, email address, birthdate and Social Security number so the loan specialist can check your credit rating. You'll need personal information for any cosigner as well.
Wait for the LoanDepot agent to extend a pre-approval offer.
Upon accepting, upload or mail in all of the required documents.
Wait for LoanDepot to verify the documents — up to three days; then, visit the LoanDepot login page where you can sign in and view the status of your loan.
You'll be given a LoanDepot payment plan once your loan is approved.
Mail in your payment by the due date, or make a LoanDepot online payment instead. Payments more than 15 days late incur a $15 late fee, and negative credit reporting might occur.
LoanDepot Mortgage Pros and Cons
Before deciding if purchasing a LoanDepot mortgage is right for you, take a look at the following pros and cons.
Pros
Eight available mortgage programs
Customer rating of 4.4 out of 5 stars at the Better Business Bureau
After first mortgage, all future lender and appraisal fees are waived if you refinance
Option to upload paperwork electronically
Your loan will never be sold to another financial institution
Cons
Terms and conditions not listed on the company website
No Sunday hours for customer service department
Final Considerations for a LoanDepot Mortgage
The LoanDepot loan administration team follows a strict "no-steering policy," which ensures that you will get the best advice for your current circumstances: Each of the company's lenders are required to only quote rates for the mortgage products you qualify for and are never offered incentives to place you in a particular program. Also, LoanDepot never charges an application fee, which means it won't cost you anything to get prequalified or preapproved.
Up Next: Not Just Mortgages — Learn About Everything LoanDepot Offers
This content is not provided by the companies mentioned. Any opinions, analyses, reviews or recommendations expressed in this article are those of the author's alone and have not been reviewed, approved, or otherwise endorsed by LoanDepot.