Majority of Americans Aren't Sold on Mortgages — What's Not To Love?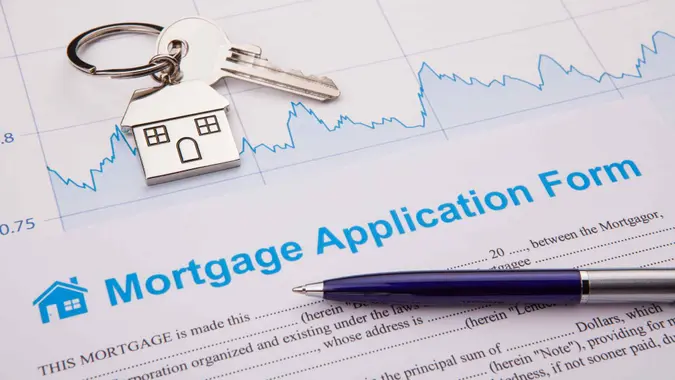 phototechno / Getty Images/iStockphoto
When asked their level of agreement with the statement, "Mortgage is the best solution when buying a home," 44% of Americans were neutral and 14% disagreed, according to a recent GOBankingRates survey.
Interest rates over the past year have likely played a major part in this sentiment. The 52-week range of the 30-year fixed-rate mortgage has spanned from 4.99%-7.08%, as of May 11, 2023.
In March 2023, 27% of homebuyers paid entirely with cash, according to the National Association of Realtors. This is a notable increase from right before the COVID-19 pandemic, when the percentage of cash buyers was in the teens.
GOBankingRates spoke with several real estate experts to find out why they think mortgages aren't as popular anymore. Here's a look at several reasons they say could be to blame.
High Interest Costs
"We recently ended a 10-year cycle of low and ultra-low mortgage rates and Americans are feeling the sticker shock of current elevated rates," said Erin Sykes, chief economist and real estate wealth advisor at Nest Seekers International. "Even though we are a full percentage point below the 50-year average rate for 30-year fixed mortgages, buyers are still categorizing the current rates as 'high,'" she said.
Unfortunately, she doesn't believe mortgage rates will significantly decline in the near future — but she doesn't think that should stop you from buying.
"There is negotiability in the current list price of homes and rents are at all-time highs, making this an opportune time to buy, despite higher rates than the last decade," she said. "Your mindset around a home purchase should be respected as a long term investment, as home ownership remains the number one way to build wealth in America".
Maureen McDermut, a Realtor with Sotheby's International, also thinks high interest rates are playing a large role in Americans' mortgage hesitancy, but agreed they're still low historically.
"I think the fact that many homebuyers and consumers are of the opinion that they would pay cash for a house if they could," she said. "So when compared to that option, mortgages with interest rates do not seem like the optimal way to purchase a home."
While rates aren't at historical highs, Denis Smykalov, a real estate broker at Wolsen Real Estate, noted that cumulative interest paid over the term of a loan can be substantial.
"Over a 30-year mortgage, a homeowner can end up paying more than the original loan amount in interest," he said. "This can make the overall cost of homeownership quite high, and some people may be averse to this."
Long-Term Financial Commitment
It's possible commitment issues are causing some people to steer clear of mortgages, Smykalov said.
"A mortgage is a long-term financial commitment, often spanning 15 to 30 years," he said. "This level of commitment can be daunting for some, especially given the uncertainties of life such as job loss, health issues or other unexpected events that might affect one's ability to make regular payments."
Financial Instability or Uncertainty
In today's popular gig economy, many people don't have a steady paycheck to rely on. Therefore, fewer people may be eligible to obtain mortgages or at the very least, feel confident in taking one out.
"Many Americans have unstable income or work in industries with significant uncertainty, he said. "For these individuals, the steady income required to reliably pay a mortgage may not be guaranteed."
Negative Experiences
"Those who have had negative experiences with mortgages, such as difficulty securing a loan, problematic lenders or hidden fees, might be wary of entering into such agreements again," he said. "Each individual's circumstances and preferences will heavily influence their view on mortgages."
Despite the benefits of taking out a mortgage to secure a home, he said it's not a one-size-fits-all solution for everyone.
Fear of Foreclosure
Since a lender can foreclose on a home if payments aren't met, Smykalov said the mere thought of this ever happening to them might be causing people to think twice about getting a mortgage.
"The housing crisis of 2008, where millions of Americans lost their homes due to foreclosure, is still fresh in many people's minds," he said. "This fear can make some people hesitant about taking on a mortgage."
Gagan Saini, director of acquisitions at JiT Home Buyers, agreed that witnessing the housing market crash or experiencing other financial struggles might be causing people to take a more cautious approach toward both homeownership and mortgages.
"These negative experiences have instilled a sense of skepticism and wariness toward taking on significant financial obligations," he said.
Attitude About Homeownership
Owning a home is a dream for many, but not everyone.
"Cultural factors and generational differences can also influence attitudes toward mortgages," Saini said. "Some individuals may come from backgrounds where homeownership wasn't a common or attainable goal, leading them to have a more neutral stance on mortgages."
Flexibility and Mobility
"Renting provides more flexibility for relocation compared to owning a home," Smykalov said. "For those who frequently change jobs or prefer not to be tied down to a particular location, avoiding a mortgage may make sense."
Jay Zigmont, PhD, CFP, founder of Childfree Wealth, noted that while rents aren't cheap, it's still a better option for many people. He said his client base tends to be a bit more mobile, so focusing on buying a home isn't always the best move.
"For childfree people, buying a house is a choice, not a requirement," he said. "The days of buying a house being a pillar of your retirement, or a requirement for getting ahead, may be running out."
Lack of Affordability
Since mortgage rates are on the rise, and in many areas home prices are at or near peak values, Zigmont said purchasing a home is simply not an option for everyone.
"The result is that buying a house, even with a mortgage, is out of reach for many," he said. "The recent approval of 40-year mortgages does not make housing more affordable in the long run, as it results in more interest paid."
Ultimately, when deciding whether to take out a mortgage, you need to make the best choice for yourself. This is a very personal decision that will heavily impact your financial future, so don't let anyone sway you in a direction that makes you uncomfortable.
More From GOBankingRates