Mortgage Demand Spikes 10% After Fed Indicates Possible Pause on Interest Rate Increases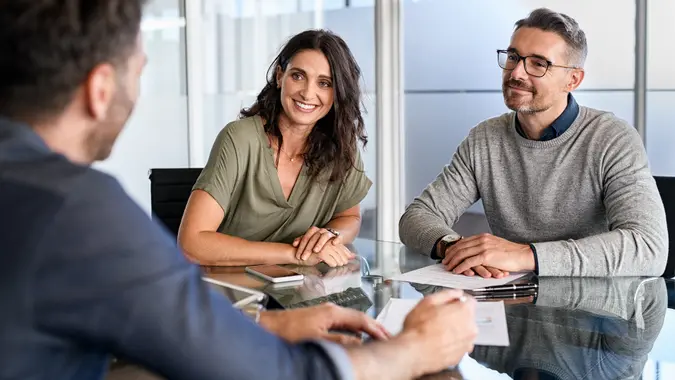 Ridofranz / iStock.com
The Federal Reserve's most aggressive rate hike could soon be over.
After signaling a potential end to interest rate increases, mortgage rates dipped slightly last week, CNBC reported. This boosted demand from homeowners looking to refinance their mortgages to lower rates.
According to the Mortgage Bankers Association's weekly survey, the average interest rate for a 30-year fixed-rate mortgage decreased last week to 6.48% from 6.50% the previous week, per CNBC. Applications to refinance a home loan, meanwhile, went up 10%compared with the previous week, seasonally adjusted.
"Mortgage applications responded positively to a drop in rates last week, as the Fed signaled a potential pause at the current level for the federal funds rate in anticipation of inflation slowing and tightening financial conditions that will slow economic and job growth," wrote Joel Kan, MBA's deputy chief economist, in a release.
While there's a significant jump in demand for refinance mortgages, purchase applications were 32% lower than the same week a year ago. CNBC noted that rates aren't low enough to offset high home prices. Prices have been dropping since last summer, but they're starting to tick up again due to strong demand and low supply.
Jeff Tucker, Zillow senior economist, wrote in a company press release that there's a normal seasonal surge in demand with some help from lower interest rates. However, potential sellers have stayed out of the market this spring, and demand for the last remaining affordable homes on the market has fueled price growth.
Learn: 15 Cities Where Houses Are Best Bargains Right Now
Florida's Retirees Are Fleeing: Here's Where They're Going Instead
Between March and April, the value of the typical home increased by 1%, said Zillow. This is the strongest monthly appreciation since last June, but it's also consistent with pre-pandemic norms for this time of the year. Home values are 1.5% higher than April 2022 and 38% higher than 2020.
More From GOBankingRates