Mortgage Rates Are Down: What Limited Inventory Means For Spring Homebuyers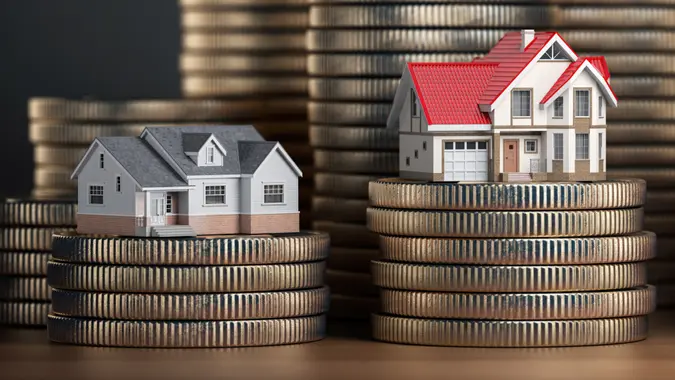 Bet_Noire / Getty Images/iStockphoto
Spring is traditionally the hottest time of the year for the real estate market. However, even with mortgage rates optimistically trending down this year, potential homebuyers will face heavy challenges closing deals due to low inventory.
Limited inventory has been a problem since the housing crash of 2008 forced the construction of new homes to nose-dive. Now, despite mortgage rates dropping, many current homeowners aren't willing to sell since rates overall remain high. As Forbes notes, 70% of homeowners are opting to stay put because they locked into mortgage rates of 4% or less when the market was healthier.
Mortgage rates for a 30-year loan were at 6.28% this week. While the rate only dropped 0.04% from last week's 6.32%, it is the fourth consecutive week that the rate has decreased, according to Freddie Mac. However, the 15-year fixed-rate mortgage (FRM) rose from an average of 5.56% last week to 5.64%. At this time last year, the 30- and 15-year FRMs were 4.72% and 3.91% respectively.
Still, the modest cooling of longer-term mortgage rates and house prices (the median existing-home sales price dropped 0.2% to $363,000 in February compared to a year ago, according to the National Association of Realtors [NAR]), may attract more buyers, regardless of the time of year and concerns about the economy, inflation and recent bank closures.
"There's no seasonality," asserts Shauna Pendleton, a Redfin agent. "If rates end the week down, all of a sudden buyers are out there making offers. If rates end the week high, buyers disappear."
However, low inventory continues to plague the housing market and experts are uncertain when it will improve. "Inventory levels are still at historic lows," said Lawrence Yun, chief economist at NAR. "Consequently, multiple offers are returning on a good number of properties."
According to NAR, the U.S. total housing listings for February rose 15.3% in February year-over-year, reaching 980,000, per NAR. But February 2022 was a historic bottom; the only way to go was up. National inventory numbers still remain under the favorable 1 million level and inventory for the country is down 30% from five years ago, per MarketWatch.
As Rick Sharga, executive vice president of market intelligence at ATTOM Data, says, a flood of homes on the market won't come anytime soon. "I believe that we're likely to see low inventory continue to vex the housing market throughout 2023," said Sharga.  
With school winding down and warm weather on the horizon, Americans look to spring for a promise of new beginnings. Potential homebuyers might find slightly better mortgage rates and house prices to their liking, but the constraint of available homes for sale will make this spring less temperate than they expect.
More From GOBankingRates