How To Negotiate a Lower Mortgage Rate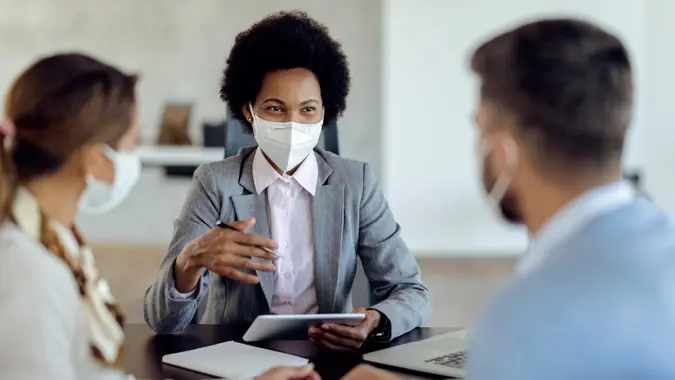 Drazen Zigic / Getty Images/iStockphoto
If your mortgage is taking too big of a bite out of your budget, you're not alone. On average, mortgage debt makes up about 69% of total household debt in the country — more than any other type of debt combined, according to the Federal Reserve Bank of New York's quarterly report on household debt and credit.
Poll: How Do You Plan To Travel Over the Thanksgiving Holiday?
Find Out: States With the Highest Property Taxes
If your budget is straining under the weight of your mortgage, you might be able to find some relief. Fortunately, you do have options to lower your monthly mortgage payments. However, the path you take to get those lower payments will depend on your financial situation.
Look Into Refinancing
You might be able to lower your monthly mortgage payment by refinancing if the value of your home has risen since you bought it and interest rates have dropped since you locked in your mortgage rate. Millions of homeowners could save hundreds of dollars a month by refinancing, according to a report by Black Knight Financial Services.
The better your credit score and more equity you have in your home, the better your interest rate will be when you refinance — and the lower your payments will be. To get the best rate, you need a credit score of at least 740 and 20% or more equity in your home, said Jason van den Brand, CEO of online mortgage refinancing company Lenda.
Be sure to shop around to find the best rate and refinancing terms. Check with your current lender as well as others, including online options. When comparing rates, look at the annual percentage rate, or APR, offered by lenders because it's the true cost of a loan reflected in a single number, van den Brand said.
But if refinancing isn't an option for you, you still might be able to negotiate a lower mortgage payment if you're truly struggling to pay your loan.
Take a Look: Here's How Much Mortgage Rates Have Fluctuated Over the Past Decade
Reach Out To Your Lender
If you're having trouble financially, reach out to your lender to discuss ways to lower your mortgage payments before you get behind on them, said Joe Parsons, a senior loan officer with PFS Funding in Dublin, California. "The lender wants to work something out," he said. Furthermore, if you miss payments, your credit score will fall — which could force you to pay higher rates in the future, or hurt your ability to get credit.
Most likely, the bank or financial institution that gave you your mortgage sold it, and now a mortgage servicer manages your loan. So check your monthly billing statement or payment coupon book for the toll-free number to contact your servicer to discuss your options.
When you call, explain your situation and ask what your options are. If you haven't missed a payment already, the loan servicer might be willing to push back your mortgage due date to give you more time to make a payment, van den Brand said.
You might even be able to negotiate a modification to your loan before you get behind on your mortgage, Parsons said. You'll need to provide documentation that proves you're struggling financially and can't afford your current payments.
However, the mortgage servicer might not be willing to modify your loan until you've already missed a payment or two, van den Brand said. If you do become delinquent, your mortgage servicer will be required by federal rules to contact you to let you know what you can do to avoid foreclosure, according to the Consumer Financial Protection Bureau. You also have to complete an application in order for the mortgage servicer to evaluate whether you qualify for mortgage assistance.
Helpful: How Interest Rates Affect Your Wallet and the Bigger Economic Picture 
Get Help From a Housing Counselor
You can get help with modifying your mortgage for free from a Housing and Urban Development (HUD)-approved housing counseling agency.
"These are experts who have helped out hundreds of homeowners in similar circumstances. They have the expertise and knowledge to give you an honest assessment of your situation, outline your options and help ensure that if you do contact your mortgage servicer to seek a loan modification, your application doesn't get lost," said Sean Coffey, a former housing counselor who is now a media and development manager for California Reinvestment Coalition, a consumer advocacy group. To find a HUD-approved counselor, visit MakingHomeAffordable.gov.
Housing counselors can help you gather the documents and information you need to get a mortgage modification or assistance, Coffey said. They can tell you what your timeline looks like in terms of how quickly you need to act to avoid foreclosure. And they often have built relationships with people at banks or mortgage servicers, so they can advocate on your behalf.
Find Out: How Much Debt Americans Have at Every Age
Consider a Federal Mortgage Modification Program
There are a variety of state and federal programs that can help struggling homeowners refinance or modify their mortgage. Housing counselors are familiar with these programs and whether you qualify, Coffey said.
Many of the federal mortgage modification programs are part of the Obama administration's Making Home Affordable plan, which has helped more than 1.5 million families. Most of the Making Home Affordable programs are available for homeowners who received a mortgage on or before Jan. 1, 2009, and owe up to $729,750. These programs are designed to help homeowners lower their monthly payments:
Home Affordable Modification Program (HAMP) lowers monthly mortgage payments to 31% of monthly pre-tax income by adjusting the rate, extending the term or reducing your principal. Homeowners typically save $500 a month. You can qualify if you've suffered financial hardship, and are delinquent or in danger of missing payments.
Home Affordable Refinance Program (HARP) helps homeowners with a mortgage owned by Fannie Mae or Freddie Mac who owe more than their home is worth by switching to a lower fixed-rate mortgage.
Home Affordable Unemployment Program (UP) can help if you're unemployed and delinquent, or in danger of falling behind on your mortgage. This program suspends or reduces your mortgage payment to no more than 31% of your gross income for up to 12 months.
FHA Short Refinance, offered through the Federal Housing Administration, allows homeowners who are current on their mortgage payments, but owe more than their home is worth, to reduce their principal by at least 10% by refinancing into a more affordable FHA-insured mortgage.
Hardest Hit Fund (HHF) offers mortgage payment assistance for unemployed or underemployed homeowners in 18 states and the District of Columbia. Eligibility varies by state.
Changes: Renovations To Make — and Skip — Before Selling Your Home
Improve Your Chances of Getting a Modified Mortgage
As soon as you realize your mortgage payments are too high for you to handle, contact your mortgage servicer or a housing counselor. "You want to start early, because this can be a long, drawn-out process, and you don't want to be scrambling for a modification a week before you're going to lose your home," Coffey said.
The information you'll need to provide to get mortgage assistance can vary depending on your situation and your lender, according to Making Home Affordable. In general, though, you'll need your monthly mortgage statement, two recent bank statements, two most recent federal tax returns, recent pay stubs or a profit-and-loss statement if you're self-employed, documentation of any additional income or benefits — such as Social Security — that you receive, an unemployment benefits letter if you've lost your job and information about your savings and other assets.
You'll likely need to write a letter explaining why you're having trouble paying your mortgage. Your servicer might also want to see that you're taking steps to address your financial situation, Coffey said. So if there are extra expenses you can cut, such as eliminating cable TV or a pricey wireless plan, you want to show that.
More: 10 Common Mortgage Mistakes That Hurt Your Finances
After you submit all of the necessary information, don't wait for your servicer to call you. "Be the squeaky wheel that gets the grease," Coffey said. Contact your servicer to confirm that your documents were received, and check in every two weeks or so to find out where you stand, Coffey said. If you think the servicer is making mistakes or not treating you fairly, submit a complaint to the Consumer Financial Protection Bureau.
It's important to recognize that you do have options to lower your monthly mortgage payments if you're struggling financially. Explore them with your loan servicer or a housing counselor to find the best solution for you.
More From GOBankingRates
Cynthia Measom contributed to the reporting for this article.
Last updated: Oct. 22, 2021