Rocket Mortgage Review: Options to Customize Your Loan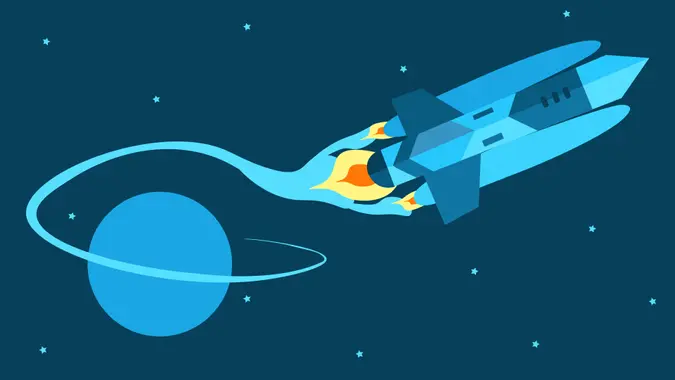 ©GOBankingRates
Rocket Mortgage, Quicken Loans' home mortgage division, has a variety of loan options and tools to assist homebuyers with their purchase or refinancing. Quicken Loans has been acknowledged multiple times over the last several years as being a prime resource for both mortgage originations and mortgage servicing.
Read on to see if Quicken Loans' mortgage options suit your needs, particularly if you're looking to be preapproved for a mortgage.
Quicken Loans Rocket Mortgage Review
Quicken Loans has four calculators that borrowers can use to map out their payment plans. The mortgage calculator simply lets you know what your rate will be for multiple loan options based on the home's price, credit score and down payment — keep in mind that putting 20 percent or more toward a home up front will help you avoid purchasing private mortgage insurance. It even recommends a loan based on the parameters you set. Rocket Mortgage also comes with a refinance calculator, an affordability calculator and an amortization calculator, which will show how your principal and interest are paid over the span of the loan.
Using Rocket Mortgage allows you to lock in your rate for up to 90 days using RateShield Approval. The rate-lock is available for 30-year fixed rate, FHA or VA loans. If rates go up, yours remains the same, but if they drop, yours does as well, so at minimum, you won't pay more on a monthly payment. Rocket Mortgage uses Prequalified Approval letters to streamline the process for both borrower and real estate agent, and these documents also let the borrower know how much they can afford. Quicken Loans' home loan experts will verify your information as well and grant you a Verified Approval letter within 24 hours of receiving all required documentation.
You can begin the application process for a loan by either applying online with Rocket Mortgage or speaking to a home loan expert on the phone or via online chat.
Understand: 7 Things to Consider Before Paying Off Your Mortgage Early
Quicken Loans Rocket Mortgage Loan Options
Here are the mortgage options you can select from through Rocket Mortgage:
30-Year Fixed Mortgage
15-Year Fixed Mortgage
Adjustable Rate Mortgage (ARM)
FHA Loan
FHA Streamline
HARP Refinance
Jumbo Loans
USDA
VA Loan
YOURgage
Knowing market mortgage rates helps when evaluating a loan. Quicken Loans provides these rates on their website for their more popular loans:
Quicken Loans Rocket Mortgage Rates
Loan
Rate
APR
15-Year Fixed
3.99%
4.497%
30-Year Fixed
4.56%
4.834%
7-Year ARM
3.99%
4.832%
5-Year ARM
3.875%
4.921%
30-Year Fixed VA
4.375%
4.662%
Rates accurate as of Aug. 17, 2018, but subject to change.
Keep in mind your overall APR will depend on several factors, including your creditworthiness, loan amount, down payment and location.
30-Year Fixed Mortgage
These loan options are great for those planning on staying in their home for an extended period of time. Monthly payments will not change throughout the lifespan of the loan, and you can pay any time without prepayment penalties. Loan amounts range from $25,000 to $3 million.
15-Year Fixed Mortgage
This mortgage option is similar to the 30-year loan except you'll pay less interest over the payback period because of the loan's shorter duration.
Adjustable Rate Mortgage (ARM)
Starting interest rates are typically lower for ARMs, which makes your monthly Quicken Loans mortgage payment easier on the wallet for the first several years. However, rates might rise based on market factors after a set amount of time.
Tips: I Paid Off My Mortgage With a Credit Card — Here's How
FHA Loan
These loans are backed by the Federal Housing Authority and typically require lower down payments — as low as 3.5 percent. You can also qualify with a lower credit score. This mortgage option is ideal for first-time homebuyers.
FHA Streamline
This is a refinancing option that lets you adjust your FHA mortgage rate if it's higher than today's rates. Since this loan is primarily focused on lowering your interest rate, the amount of cash you can get out of your home with this option won't exceed $500.
HARP Refinance
The Home Affordable Refinance Program assists homeowners who have little equity or owe more than their home is worth. You are eligible for this option if:
Your loan is owned or backed by Fannie Mae or Freddie Mac
Your loan closed on or before May 31, 2009
You have a solid history of mortgage payments
The last day to apply for HARP is Dec. 31, 2018.
Jumbo Loans
Jumbo loan interest rates are typically lower than other options and can come with either fixed or adjustable rates. Quicken Loans finances jumbo loans up to $3 million, and refinancing a jumbo loan through the lender can get you up to $500,000 back.
USDA
Thinking of buying a farm? Look into this option, which lets homebuyers avoid down payments if their target home is in a qualifying rural area and is not currently a working farm. This loan comes with guarantee fees, but these are generally lower than mortgage insurance premiums and might save you money.
VA Loan
Qualifying borrowers, primarily veterans and service members and their family, usually do not need a down payment using this option. Additionally, it comes with lower credit score requirements and lower interest rates. It is an excellent option if you're military-affiliated and looking to buy a home.
Be Prepared: How to Get Your VA Home Loan Approved
YOURgage
The most customizable option on the list, you can select a fixed-rate term of eight to 29 years, with a loan amount of up to $453,100. The shorter your term, the less interest you will end up paying.
Pros and Cons of Quicken Loans Rocket Mortgage
Before taking out a loan with Quicken Loans' Rocket Mortgage program, consider the following:
Pros
Adjustable loan option with YOURgage
Locked rate using RateShield
Streamlined customer service with online, phone and chat options
Cons
Rates change based on market factors
Loan limits might impede the mortgage process
The Bottom Line on Rocket Mortgage
Quicken Loans' Rocket Mortgage provides borrowers with a multitude of pathways on their homebuying journey. First-time homebuyers, or those who are risk-averse, should note their RateShield option. For those who want to feel less constrained by term ranges, the YOURgage is an interesting option that allows for a more personal approach to the mortgage process. Rocket Mortgage's calculators are also useful in assessing payment plans, or determining if they're even feasible.
Up Next: 19 Reasons Your Mortgage Loan Could Get Rejected
More on Mortgages
This content is not provided by the companies mentioned. Any opinions, analyses, reviews or recommendations expressed in this article are the author's alone and have not been reviewed, approved, or otherwise endorsed by Rocket Mortgage or Quicken Loans.
GOBankingRates is a personal finance and consumer interest rate website owned by ConsumerTrack, Inc., an online marketing company serving top-tier banks, credit unions, and other financial services organizations. Some companies mentioned in this article might be clients of ConsumerTrack, Inc., which serves more than 100 national, local and online financial institutions. Rankings and roundups are completely objective, and no institution, client or otherwise, paid for inclusion or specific placement. Any opinions, analyses, reviews or recommendations expressed in this article are those of the author alone and have not been reviewed, approved, or otherwise endorsed by the companies included in the article. All fees and rates are subject to change at the issuers' discretion. Some interest rates might be short-term or promotional offers only, and it is possible additional terms and conditions must be met in order to obtain the interest rates listed. Rates and availability might vary by region. Verify terms and conditions before opening an account.