Underwater Mortgage: What to Do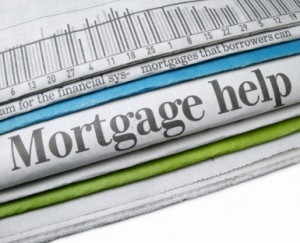 Do you owe more on your mortgage than your home is actually worth? If so, you have an underwater mortgage. Many homeowners with underwater mortgages are in danger of losing their homes to foreclosure.
You should know there are several options out there for you if you have an underwater mortgage and are worried your monthly payments may become too expensive. To help you better understand how you can handle your underwater mortgage and avoid foreclosure, here are some options that you may wish to take advantage of.
Talk to Your Lender about Your Underwater Mortgage First
As soon as you know there is a problem with your current mortgage, contact your lender and try to work together to come up with a new plan.
If you have an underwater mortgage, you may be able to ask for some options to at least help you get you caught back up. Foreclosure is an expensive process and the lending company's first resort is not to kick you out of your home. If you at least show your interest in wanting to rectify the situation, you may be surprised by the positive results you get.
Sponsors of
FHASecure Program
The Federal Housing Administration has two programs that can help homeowners, the first of which is the FHASecure. FHASecure allows underwater mortgage holders with non-FHA loans to refinance to an FHA-insured mortgage loan.
In fact, as of July 2008, "an expanded FHASecure refinancing plan allows homeowners who have missed up to three mortgage payments in the last 12 months under certain circumstances to avoid foreclosure," as explained on the FHA website.
In order to qualify for FHASecure, you must meet the following eligibility requirements:
Must have a delinquent non-FHA adjustable rate mortgage, or any type of current conventional mortgage

Dependable income with ability to make payments
Debt-to-income ratio below 41 percent
Credit score appropriate for any home loan
If you are in default, you must prove it is because of increased interest rates and the resulting higher mortgage payments
The FHA stresses that this program "does not indicate relaxed requirements for credit" and anyone applying for FHASecure are subject to the same requirements as any other homeowner applying for an FHA loan. If your credit has suffered greatly due to missed payments, you will have to find another option.
HOPE for Homeowners Program
HOPE for Homeowners is the second FHA program designed to aid underwater mortgage holders. It helps borrowers who have had trouble making payments but could afford a new mortgage insured by the FHA.
The lenders of underwater mortgages refinanced under HOPE for Homeowners will be required to reduce the principal, or write-down the amount of the mortgage, to 90 percent of the home's newly appraised value, rather than the value it was when the loan was originally created. Eligibility requirements include:
Mortgage originated on or before January 1, 2008
You can't afford your current loan (but have not intentionally missed payments)
A minimum of six full payments have been made toward the existing loan
You do not own a second home
Mortgage debt-to-income is at least 31 percent
It is important to note that HOPE for Homeowners will only offer 30-year fixed mortgages. Your eligibility will be based on your long-term ability to pay-off your mortgage with the new terms. Therefore, you must otherwise be financially secure.
Streamlined Modification Program
The Streamlined Modification Program is aimed at providing a fast-track method for high-risk, delinquent mortgage holders to begin making affordable monthly mortgage payments. The term affordable, in this case, means a payment that is less than 38 percent of the household's income. This is achieved through a combination of reducing the interest rate, extending the life of the loan and sometimes, deferring the payment on the principal.
Sponsors of
In order to qualify for this program, you must:
Have missed three or more payments
Own or occupy the property as a primary residence
Have not filed for bankruptcy
In addition, only underwater mortgage holders with a loan provided by Fannie Mae or Freddie Mac are eligible.
Seek Principal Reduction
In an effort to ease the mortgage crisis, the government has been encouraging lenders of underwater mortgages to reduce part of the principal balance in order to make the loans easier to pay off.
For example, Bank of America has recently begun their principal forgiveness program, which reduces the principal amount owed by underwater mortgage holders rather than reducing the interest rate to lower monthly payments.
Also, Tami Luhby of CNN Money recently reported that Arizona, California, Florida, Michigan and Nevada, will soon be sharing $1.5 billion in federal funds to help reduce the amount underwater mortgage holders owe. The states will primarily use the money "to subsidize homeowners' monthly mortgage payments and to reduce their principal."
Only a select few borrowers can get their lender to reduce the principal, but it is worth attempting.
Sell Your Home
If you're at the point that you would rather not keep your house, you can try a short sale, which allows you to sell your property for less than the amount you owe. Also, you can sign your deed back to the lending company in what's called a deed-in-lieu of foreclosure. It relinquishes your responsibility to pay the mortgage. However, it carries the same credit repercussions as a regular foreclosure.
If you're truly interested in how to save your home if you're in danger of foreclosure due to an underwater mortgage, these suggestions should be able to give you a great start.
Also, if your mortgage is underwater but you aren't in danger of foreclosure, you may wish to consider refinancing to a more affordable rate anyway. Find out if you qualify to refinance your underwater mortgage.