Zero Money Down May Be the Worst Financial Strategy for Loans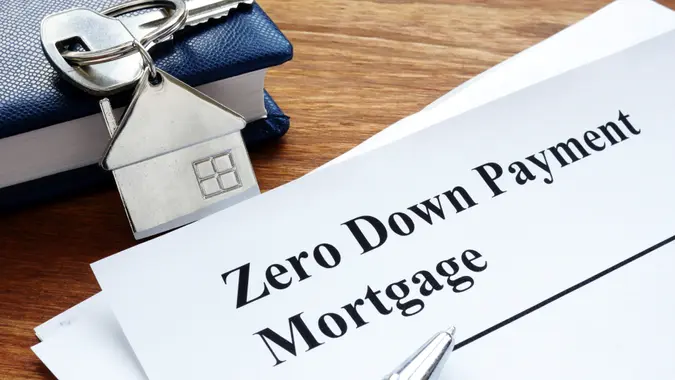 designer491 / Getty Images/iStockphoto
Those curious about finances could believe that anything featuring a "zero" when it comes to borrowing cash is a great deal. Many car dealerships offer 0% APR promos for those looking for a new car, and credit card companies often offer 0% interest for a limited time when signing up.
See: How To Rebuild Your Savings If You Spent It All on a Down Payment
Find: If Your Credit Score is Under 600, Make These 3 Moves ASAP
There's even the opportunity to be approved for a mortgage with zero money down, an especially relevant fact for first-time homebuyers who may have not been able to save the standard 20% (or the typically required 3% minimum). USDA and VA-backed loans are two popular options, according to The Mortgage Reports. Bank of America also recently launched a 0% down Community Affordable Loan Solution program aimed at promoting homeownership in underserved communities.
But is it really the best deal?
Not so fast, some investors and analysts cautioned. Dave Allred, a veteran real estate investor, said there are a few reasons why zero down is not the best strategy, as he told Business Insider. First, just because you put zero down doesn't mean you're saving anything — the total price still applies but will be accumulated as debt, which you'll have to eventually pay off. 
Then there's the issue of the housing economy, which has been tumultuous at best in recent years. Allred said: "If you buy a property and the market goes down and you haven't put a lot of money into it, then it's very easy to become upside down." When you have a loan with a higher principal than the home's current market value, it's considered an underwater (or upside-down) mortgage — not a great scenario to be in, as your equity is decreased.
As well, per Allred, if you don't put 20% down, you'll have to acquire private mortgage insurance — which he called "one of the biggest rip-offs in real estate."
Experian also pointed out that, with zero down payments, you'll end up paying more in the long run when it comes to interest. The term of the loan will be longer with more debt to pay off. Placing no money down may limit what properties you are able to buy as well, as you may not be approved for as much funding from a bank.
Take Our Poll: What Are Your Financial Priorities in 2023?
30-Year Mortgage vs. 15-Year Mortgage: Which Is Best for You?
However, if homeowning is your dream and you don't have money saved for the down payment, such opportunities can present you with a solution — albeit an often complicated one.
More From GOBankingRates