$100 Instant Loan Apps: No Credit Check Required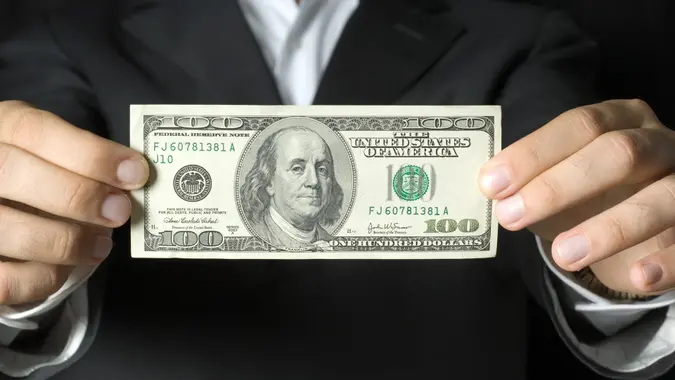 burakpekakcan / iStock.com
Everyone needs a little extra cash from time to time. Maybe you have to go to the doctor for an unexpected illness or you need to replace the brake pads on your car. There are countless reasons $100 might come in handy.
The good news is that there are plenty of $100 instant loan apps to choose from. But when you need a loan fast, it's important to compare your options and determine which app fits you best. 
6 Best $100 Instant Loan Apps
Here are the seven best $100 instant loan apps. 
EarnIn — Best for no fees
Dave — Best for repeated loans
Brigit — Best for financial management
Payactiv — Best for paycheck advances
MoneyLion — Best for large loans
Albert — Best for banking services
Added Perk

None of the apps on this list check your credit score!
1. EarnIn
EarnIn is one of the best $100 instant loan apps because there is no set fee to use the service. You can even choose to pay no fee at all. Instead, you determine a fee you believe to be fair by offering a "tip" for services.
The EarnIn app gives you the ability to access up to $100 of cash per day. 
When you sign up for EarnIn, you'll need to answer a basic questionnaire and prove that you earn an income. Then, connect your bank account to receive and pay loans. EarnIn typically sends the money you request in 30 minutes, but the amount of time it takes to get your money depends on your bank. When you get paid, the company automatically debits the money you owe from the loans you took throughout the pay period.
2. Dave
Dave is another instant loan app that gives you the ability to get a cash advance without paying fees — for the most part. You will need to pay a $1 monthly subscription fee to access an ExtraCash account. Once you subscribe, you can borrow up to $500, but there are some things to consider:
Standard transfers are free, but it will take between one and three business days to get your money. 
You can get your money instantly if you pay between $1.99 and $9.99 for Dave Spending transfers or between $2.99 and $13.99 for external transfers.
Like EarnIn, Dave gives you the option to add a "tip," which simply means choosing the fee you pay for the service. That means you can choose to pay $0 in transfer fees.
3. Brigit
Brigit is a complete money and credit management app that gives you the ability to access emergency cash when you need it. The best part is that you can access up to $250 immediately and at no extra charge. You don't have to worry about tipping, instant transfer fees or any other cash advance-related fees — but that doesn't mean the app is free.
If you want to access the cash advance features, you'll need to be a subscriber, which costs $9.99 per month. However, you get more than instant access to cash as a member.
The app is packed with clear financial insights that you can use in your day-to-day life. It also has features that give you better control over your credit and financial identity. If you find yourself needing loans frequently, Brigit might help you get your finances back on track.
4. Payactiv
Payactiv is an app that gives you access to up to 90% of the wages you earn as you earn them, and you can do so for free. There are three different ways to take advantage of the company's Earned Wage Access:
Free: Get free ACH bank transfers — real-time transfers with direct deposit of $200 or more per pay period — or use the money you earn for Uber rides, Amazon and Bill Pay.
$1.99: Get instant transfers for $1.99 if you don't meet minimum direct deposit requirements.
$2.99: Pay $2.99 to transfer money to Walmart Cash Pickup or non-Payactiv debit and payroll cards.
5. MoneyLion
MoneyLion is an all-inclusive financial app that can help you build your credit, manage your money and find financial products that fit your needs. The company also gives you access to instant loans up to $1,000 with no interest or fees.
However, there is a $1 per month account maintenance fee and other fees for transactions like funding via external debit cards, foreign transactions and paper check bill payments.  
6. Albert
Albert is another well-rounded personal finance app. The app offers online banking services like checking and savings accounts. It even gives you the option to open an investing account and start making your money grow with as little as $1.
You can also get up to $250 instantly with no interest or instant payment fees. There aren't any monthly fees or traditional banking fees to worry about. The only fee the company charges is a $2.50 out-of-network ATM fee.
Final Take
You can get access to money when you need it with $100 instant loan apps. If you're in need of fast cash, consider using one of the apps above to get back on track. 
Keep in mind, though, that these apps can create a slippery financial slope — it's best to use them only when it's completely necessary.
FAQ
What app can I borrow $100 from?

You can borrow $100 or more from EarnIn, Dave, Brigit, Payactiv, MoneyLion and Albert, among others.

What apps let you borrow money immediately?

EarnIn, Brigit, MoneyLion and Albert all offer immediate loans for no instant transfer fee, though some charge a membership fee. Dave and Payactiv also offer instant loans for a fee.

How can I borrow money immediately?

The most common way to borrow money immediately is through an instant loan app, like Dave or Brigit, or a payday loan service.
However, you can also ask friends or family if they'd be willing to spot you.
Information is accurate as of April 27, 2023.