9 Easiest Loans To Get in 2023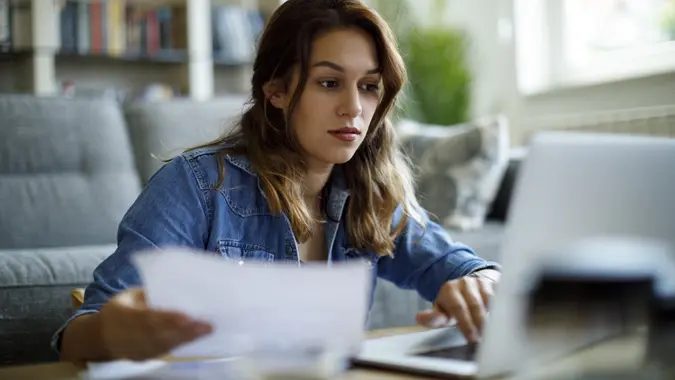 damircudic / iStock.com
Some of the easiest loans to get are those that come with a simple online application process, fast funding and minimal borrowing requirements. Common options include emergency loans, bad credit loans, payday loans and title loans.
Most of these are small personal loans geared toward borrowers who don't qualify for a personal loan elsewhere due to reasons like poor credit or limited income. Some options — like title loans — may not require a bank account, but most will.
If you're looking for easy loans to help when you need money quickly, here are some of the best options and what you need to know about each one.
What Are the Easiest Loans To Get Right Now?
If you need an easy loan now and aren't eligible for other financing options, you might want to consider bad credit or no credit check lenders, emergency loans or cash advance apps. While these don't guarantee approval, you'll have better odds of getting the cash you need with one of these options. That said, here are the best loans — and lenders — to consider in 2023.
Bad Credit Personal Loans
A bad credit loan is designed for people with limited credit history or poor credit. As a personal loan, you can use the money for things like emergencies, car repairs, medical expenses or even utility bills.
Like other loans, you'll be responsible for paying back the amount you borrowed. Most of these loans also come with interest. Repayment terms can be anywhere from a few weeks to several years, depending on the lender.
You can get a bad credit loan online from private lenders, banks and even credit unions. Requirements tend to be lenient, but you may need to provide proof of income. Lenders offering bad credit loans usually require a credit check as well. Your rate is typically based on your credit score and income.
1. Upstart
Best for: Borrowers who need funds fast and have limited or bad credit
Upstart offers personal loans ranging from $1,000 to $50,000 with repayment terms of up to five years. The typical APR is 4.60% to 35.99%. These loans do not come with a prepayment penalty, but you might have to pay an origination fee. You could also receive funds the next business day after applying.
With Upstart, you could qualify for a personal loan even if you have less than stellar credit. The application process is fully online, meaning you can apply from anywhere.
2. OneMain Financial
Best for: Borrowers with poor credit looking for personal or auto loans
OneMain Financial offers personal loans and auto loans to people with poor or fair credit. Loan amounts range from $1,500 to $20,000 and have two- to five-year repayment terms. The APR on personal loans is 18.00% to 35.99%.
This lender also charges either a flat or percentage-based origination fee based on your state of residence. Origination fees can be anywhere from $25 to $500 — or 1% to 10% of the loan amount.
3. Avant
Best for: Borrowers who need fast funding and minimal eligibility criteria
Avant offers personal loans up to $35,000 with 12- to 60-month repayment terms. APRs range from 9.95% to 35.99%, depending on your credit and income. However, you could still qualify for a loan with limited credit.
With Avant, you get a simple application process that can be completed entirely online. If eligible, you could receive funds within 24 hours, or on the next business day.
Emergency Loans
An emergency loan is a catchall term for any loan that's used to cover emergencies — that is, things like surprise medical bills or a flat tire. Some emergency loans, like payday loans or title loans, come with short repayment terms, small amounts and high fees. However, some lenders offer larger emergency loans with more competitive terms and rates.
Here are some of the top online lenders offering emergency loans at the best rates.
4. LightStream
Best for: Borrowers facing a financial emergency
LightStream offers loans ranging from $5,000 to $100,000. The standard APR is 7.99% to 24.99%. Repayment terms can be anywhere from 12 to 144 months. If you apply early on a business banking day, you could potentially receive the money in your bank account that same day.
5. Rocket Loans
Best for: Borrowers who need a large loan with same-day funding
Rocket Loans offers an easy online application process with the potential for same-day funding. You can pre-qualify and receive an offer in under a minute without affecting your credit score.
These loans cap out at $45,000 and come with flexible terms of 36 to 60 months. The average APR is 9.116% to 29.99%.
6. SoFi
Best for: Borrowers with good credit or better
SoFi provides various loan products, including unsecured personal loans you can use for things like debt consolidation, home renovations or family planning. You may need good credit or better to qualify. Once approved, you could receive funds the same day.
If you do qualify, you could get a loan for up to $100,000 with a maximum repayment term of seven years. There are no hidden fees. APRs range from 8.99% to 25.81%.
Cash Advance Apps
Cash advance apps let you borrow money from your upcoming paycheck, usually a few days early. This can be helpful if you're facing a bill that's due before you get paid.
You can typically borrow around $200 using a cash advance app. However, some apps have higher or lower maximums.
Although you're borrowing money you've already earned but haven't been paid yet, certain apps do charge a service fee. Others have an optional tipping feature you can use. Be aware that these fees can add up, so consider this when choosing an app.
Requirements are usually fairly lenient. As with most easy loans, you may need to have a bank account. You might also need to have direct deposit with your current employer.
If you get paid through PayPal, you can instead borrow money from your account through the app or website. This is an option if you have direct deposit set up. Depending on the type of funds, you could receive them up to two business days early.
7. Brigit
Best for: Borrowers who want to borrow money and build credit
Brigit lets you borrow up to $250 against your upcoming paycheck. There are no hidden fees or tips required for using this app. You also do not need to undergo a credit check.
This app also lets you build credit and monitor your credit score. It includes features that let you track your spending habits and bills, too.
8. Dave
Best for: People who want to earn cash back
With Dave, you can request up to $500 from your upcoming paycheck and receive it up to 48 hours early. If you sign up for the Dave Spending account, you can also earn 15% cash back on qualifying purchases using the Dave debit card.
9. EarnIn
Best for: People who need money from their upcoming paycheck today
EarnIn lets you borrow up to $100 a day from the money you've earned but haven't received. In a single pay period, you may be able to borrow up to $750.
There are no credit check requirements or hidden fees, but there is a tipping feature you can use if desired. You can also pay an express fee if you need money within five minutes or less.
Things To Consider Before Getting an Easy Loan
Easy loans can be helpful in a pinch. You can typically use the funds for anything you need, whether that's to cover a surprise bill or another unexpected expense. You can also use them to bridge the gap between your current bills and upcoming paycheck.
But these types of loans also come with their share of drawbacks. Many have high interest rates or other lender fees, making them expensive. For example, payday loans have an annual percentage rate of nearly 400%, on average. Certain easy loans have additional fees, such as a prepayment penalty for paying off the loan early.
Oftentimes, easy loans also come with short repayment terms. This can make them difficult to repay on time, especially if the interest rate is high. And if you miss a payment, you could end up with late fees. Missed payments can also end up on your credit report and hurt your credit score.
Before taking out any loan, make sure you're prepared to pay it back on schedule. Also, vet any lenders to make sure they're reputable and licensed to work in your state. Check out their company on sites like the Better Business Bureau and Trustpilot to see their reputation in the industry.
Bottom Line
Several reputable lenders and cash advance apps offer easy loans you can apply for online. Review each option carefully to make sure it's the best one for you and suits your needs. Also, be sure to budget in payments on your new loan as this can help prevent unneeded stress.
Information is accurate as of June 12, 2023.
All unsecured installment loans issued through Avant are made by WebBank, member FDIC.
*All loans subject to OneMain's normal credit policies and may be subject to maximum or minimum size restrictions, which vary by state. OneMain makes loans above the illustrative amount(s) mentioned in this advertisement, but the maximum loan size depends on your credit history, with larger loans only available to a small number of highly qualified applicants offering collateral. Commercial vehicles, salvage titled vehicles, and certain others are not acceptable collateral for secured loans.
Our in-house research team and on-site financial experts work together to create content that's accurate, impartial, and up to date. We fact-check every single statistic, quote and fact using trusted primary resources to make sure the information we provide is correct. You can learn more about GOBankingRates' processes and standards in our editorial policy.