Best Emergency Loans for Bad Credit in April 2022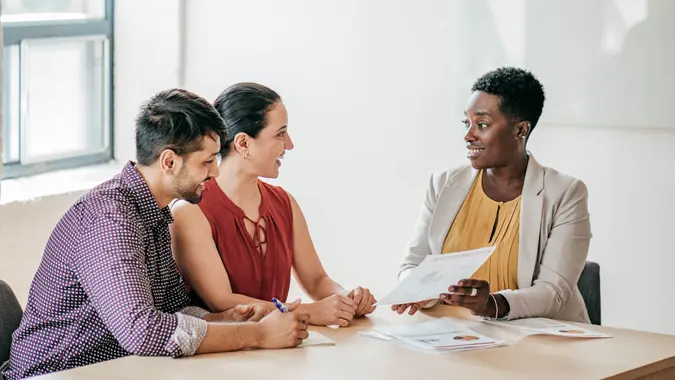 kate_sept2004 / Getty Images
An emergency loan is a good option for people with poor credit who need quick cash and don't want to turn to payday or car title loans. Rates and fees are typically better, and borrowers can now choose from many lenders to find the best deal.
What Is an Emergency Loan?
An emergency loan is a personal loan meant to cover large or unexpected expenses. Most lenders allow for almost any type of emergency use. When selecting an emergency loan lender, it is essential to consider rates, terms and fees carefully to keep borrowing as affordable as possible.
What Are the Best Emergency Loan Lenders for Those With Bad Credit?
Borrowing with bad credit never comes cheap, but each of the following lenders offers something that bad credit borrowers may find beneficial.
1. SeedFi
Best for fee-free borrowing

APR between 7.42% to 29.99%
Overview
Except for a late fee, SeedFi has no origination costs or other charges. Late fees are put into the borrower's savings account, which is included with the loan. Late fees go back to the borrower after depositing to a SeedFi Savings Account if the loan is paid in full.
Pros
While an emergency loan might be necessary sometimes, it can be a slippery slope and make a bad credit situation worse. With SeedFi, the amount borrowed is split between the loan and a savings account. The savings account acts as collateral. Once the loan is paid in full, the borrower gets the money in the savings account.
SeedFi reports payments to the three major credit bureaus, enabling responsible borrowers to rebuild credit.
Cons
Because part of the loan goes into a savings account that cannot be accessed until the emergency loan is paid off, some borrowers may not get enough of what they've borrowed to meet their emergency needs. Payment schedules are matched to customers' paycheck cycles. This means money comes out of every paycheck for loan repayment.
2. Upstart
Best for low credit score borrowers

APR between 3.09% to 35.99%
Overview
Upstart's minimum credit score requirement is only 300. Borrowers may need to meet other qualifications. Upstart also considers those with insufficient credit.
Pros
Upstart takes educational history and earning potential into consideration. This may help younger borrowers who have little credit but higher earning potential.
Cons
Upstart does consider an applicant's debt-to-income ratio, which may make some potential borrowers ineligible. Borrowers cannot have had a bankruptcy in the previous 12 months. Borrowers must be employed or have a full-time job starting within six months or another source of income to qualify.
3. Upgrade
Best for long repayment terms

APR between 5.94% to 35.97%
Overview
Upgrade is ideal for those who need to borrow a more significant amount and will need longer repayment terms. Some borrowers may qualify for up to $50,000 and loan terms up to 84 months.
Pros
Borrowers who cannot qualify for an Upgrade emergency loan may be eligible for a secured emergency loan via a cashout auto refinance. A cashout auto refinance may help some borrowers get a better rate than an unsecured emergency loan.
Cons
To get the lowest rates, borrowers must sign up for autopay. Some may be required to pay off a portion of existing debt directly with the emergency loan, limiting the funds available for emergency use.
Upgrade has a high origination fee that varies between 2.9% and 8%.
4. OneMain Financial
Best for borrowers with co-applicants

APR between 18% to 35.99%
Overview
Very few emergency loan lenders allow for co-applicants. This may help some borrowers qualify who couldn't otherwise.
Pros
OneMain Financial offers terms for 24, 36, 48 and 60 months. It also has a secured loan option.
Cons
Origination fees can be high — for some borrowers, it can be up to 10% of the loan amount. The maximum loan amount is $20,000.
5. Rocket Loans
Best for same-day funds

APR between 5.97% to 29.99%
Overview
For borrowers who need money right away, Rocket Loans can get funds to some on the same day, depending on the bank receiving the funds. In most cases, funds are available within a few days.
Pros
Rocket's minimum credit score requirement is 580. Other factors will also determine eligibility. Borrowers who elect autopay receive a rate discount.
Cons
Rocket has an origination fee of 1% to 6% charged to each loan. Loan term options are limited to 36 months or 60 months.
Good To Know

An origination fee is charged by the lender upfront when processing a loan. A 10% origination fee means the borrower only gets 90% of the amount borrowed. Borrows should steer clear of high origination fees, if possible.
Final Take
Emergency loans for bad credit have made it possible for borrowers who used to be limited to car title and payday loans to get needed cash. Most borrowers with bad credit should be able to find a loan option for which they qualify. They just might not be eligible for enough, and rates and fees could be high.
Borrowers should compare options carefully to find the best loan terms and rates possible. Secured loan options and signing up for autopay can help some borrowers get a better rate.
Our in-house research team and on-site financial experts work together to create content that's accurate, impartial, and up to date. We fact-check every single statistic, quote and fact using trusted primary resources to make sure the information we provide is correct. You can learn more about GOBankingRates' processes and standards in our editorial policy.