Best Hardship Loans for Bad Credit for 2023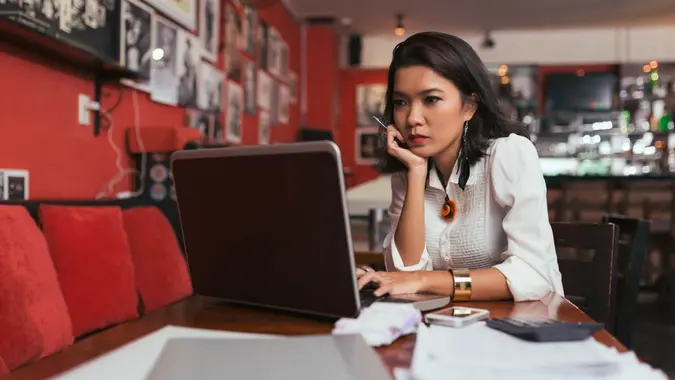 DragonImages / Getty Images/iStockphoto
The ebb and flow of your bank account often doesn't synchronize with the financial challenges you face on a daily basis. It can get scary when your credit card is maxed out and you have to potentially secure a personal loan. Going further into debt can seem counterintuitive when paying off loan amounts. But hardship loans can bail you out without hurting your credit score, even if your credit history isn't great. 
Getting Hardship Loans With Bad Credit: Quick Take
Many companies offer loans to help you get out of a financial pinch. But finding the best hardship loans for bad credit can be overwhelming. Before securing a hardship loan, be sure to do your research. Make sure you understand the difference between what online lenders offer. Areas to pay close attention to would be funding time, loan payments, rates and fees. Here are some tips and key takeaways to assess which loans will work best for you:
Eligibility requirements: Compare and review minimum credit requirements from lenders you are considering. This way you will know which lender can work with your current bad credit. 
Fees and penalties: The lender might charge an origination fee, late fees or even prepayment penalties. It is good to know what you are signing up for and what you'll have to pay on top of the principal loan amount.
APRs: An annual percentage rate indicates the total cost of a loan for you annually. Try to find the best interest rate being offered to make the loan both more attainable and affordable. 
Prequalify: If you have the option to prequalify for a loan, make sure you take advantage. This can help avoid a hard credit check, which can impact your already questionable credit score. It can also give you an indicator as to whether or not you are likely eligible for the loan. 
5 Best Hardship Loans for Bad Credit
Many companies offer a variety of loans designed to help with short-term or long-term financial difficulties. Here is a breakdown of five of the best hardship loans for bad credit:
Avant
LendingPoint
OneMain Financial
Upgrade
Upstart
1. Avant 
Best for: Quick funding
With Avant, you can get a personal loan ranging from $2,000 to $35,000 depending on your needs. This can cover areas such as medical bills, home repairs or emergency funds for unexpected expenses. It advertises the following benefits:
Fixed interest rates
Fast funding as soon as the next business day
Set monthly payments
Around-the-clock customer service
Automated payments
2. LendingPoint 
Best for: Fast and easy approval process
Personal loans in the shape of hardship loans from LendingPoint can range from $2,000 to $36,500. It prides itself on proprietary smart technology that supplies you with tools to better paint your potential financial picture. Here are some takeaways:
Simple application with no impact on your credit score
Easily explore your payment options
Ability to choose monthly payments and loan terms best suited for you
Quick funding potentially as soon as the next business day
3. OneMain Financial 
Best for: In-person assistance
You have the option to see if you prequalify for a loan with OneMain Financial which is a good route to take when trying to avoid hard credit checks. It has online options but also about 1,400 physical branches nationwide so there is potential to do in-person banking. Here are some points to consider for OneMain Financial:
Personalized service and loan specialists 
Fixed rates on loans
Fixed payments on loans
No repayment fees
4. Upgrade 
Best for: Large loan amounts
If you are looking to get a larger personal loan, Upgrade may be worth considering as it offers loans up to $50,000. It also gives you options for refinancing credit cards or debt consolidation, both of which can help with improving your credit. Here are some other key takeaways from Upgrade:
Low fixed rates on home equity loans
No prepayment penalties or fees
Can help you plan for a major unexpected expense
Affordable monthly payments
5. Upstart
Best for: Those looking to rebuild their credit score
Not only can you get a loan with Upstart, but it is one of the few lenders who specifically cater to those with bad credit. Upstart looks at more than just your credit score and knows it can help you improve your credit history with a few months of good payment habits. Unsecured loans, which means they are not backed by collateral, can be trickier to get with poor credit, however, Upstart offers the following:
Flexible loan amounts ranging from $1,000 to $50,000
Fixed interest rates
No prepayment fees
Final Take To GO 
In an ideal world, you would always have enough money to cover not only your needs but also your wants and future plans. In reality, however, things happen such as job loss, injury or damage to your home that don't necessarily fit into your monthly budget. When money is tight and your credit has taken a hit, don't despair as there are options for loans that fit your circumstances. 
FAQ
Here are the answers to some of the most frequently asked questions regarding hardship loans.
How do I claim hardship on a loan?

You can apply or see if you prequalify for loans at many locations. Make sure you do your research as to what the full picture of your debt repayment will look like. If you have a bad credit history, here are some lenders to look into for a hardship loan:

Avant
LendingPoint
OneMain Financial
Upgrade
Upstart

What can you do when you need money urgently?

If you need money urgently, you can take out a personal loan, find a side gig or sell items you might have. Some ideas to consider are:

Donate plasma
Sell your hair
Have a garage sale
Walk dogs
Clean houses

What is a hardship loan?

A hardship loan isn't technically a banking term, but rather a category of loans describing the need for borrowing money. It is a loan that helps you get through unforeseen or difficult financial hardship circumstances. For example, you may apply for a hardship loan for the following reasons:

Home repair
Medical bills
Unemployment
Caregiving responsibilities
Information is accurate as of June 1, 2023. 
Editorial Note: This content is not provided by any entity covered in this article. Any opinions, analyses, reviews, ratings or recommendations expressed in this article are those of the author alone and have not been reviewed, approved or otherwise endorsed by any entity named in this article.