Can I Get a Loan Without a Job?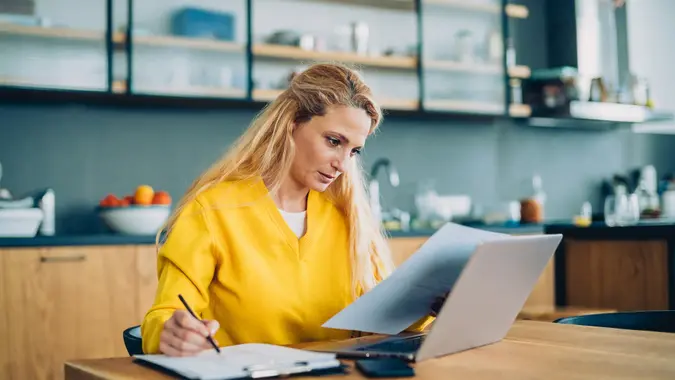 VioletaStoimenova / Getty Images
If you're without a job and need cash, you might be wondering, "Can you get a loan if you're unemployed?" While challenging, it can be done. Here's what you should know. 
What Lenders Consider When You Apply for a Loan
To learn whether you can get a loan without a job, it helps to understand what personal information lenders use to evaluate your loan application.
Your Credit History and Credit Score
First things first. If you don't have a job, you're already challenged when it comes to getting a loan, but a solid credit history and score can help. 
If your credit history is filled with late payments, defaults or bankruptcies, lenders will likely view you as a high-risk borrower. In contrast, a strong credit history with on-time payments and a low credit utilization ratio can make you more attractive to lenders, leading to better loan terms and lower interest rates. 
When it comes to your credit score, traditional lenders, such as banks, often seek a minimum credit score of 620 for approval. A 620 credit score is considered "fair" credit. Unfortunately, if you are able to get approved for a loan with a poor credit score, which is a score of less than 580, it will likely come with unfavorable terms.
Your Income
Lenders usually want to see consistent, reliable income — such as a stable job or other steady source of income — which indicates your ability to repay the loan. Additionally, many lenders require documentation, such as pay stubs or tax returns, as evidence of your income.
Your Debt-to-Income Ratio
Lenders also look at your existing debts in relation to your income — aka your debt-to-income ratio — to assess your ability to handle the loan repayments. A high debt-to-income ratio, such as over 49%, could make it harder for you to get approved. To find your debt-to-income ratio, add up all of your monthly bill payments and divide them by your gross monthly income. Your DTI will be the resulting percentage. 
How To Get a Loan Without a Job
You might find yourself wondering, "Can you get a loan if you're unemployed?" or "Can I borrow money with no income?" The answer is that you can, but it will likely be a challenge. Here are some things you can do to help you accomplish your goal. 
Work on Your Credit
If you have a poor credit score, you can work on improving it to increase your chances of loan approval. This will take time, but it can be worth it. A higher credit score can not only increase your chances of loan approval but also help you get more favorable loan rates and terms. 
Actions such as monitoring your credit report, making payments on time and reducing your debts can help boost your credit score.
Explore Different Income Streams
Having nontraditional income sources when applying for a loan is acceptable. According to the Consumer Financial Protection Bureau, lenders cannot discount or refuse to consider income that comes from the following sources:
An annuity, pension or other retirement benefit
Supplemental Security Income (SSI)
Social Security Disability Insurance (SSDI)
Unemployment compensation
Temporary Assistance for Needy Families (TANF)
Lenders might also consider income from child support and alimony. However, even if you have one of these nontraditional income sources, lenders are still allowed to consider the amount of the income you receive and the likelihood that you will continue to receive it when evaluating your loan application. 
Find a Co-Signer
Some lenders might offer the option of a co-signer, which can help you get approved for a loan. Having a co-signer could also help you get a loan with more favorable terms — such as higher loan amounts and lower APRs — than you could on your own. However, co-signers need to have good credit, have a solid source of income and be prepared to repay the loan if you can't.
Look Into Secured Loans
If you can't get approved for an unsecured loan, consider applying for a secured loan, which requires you to offer some type of collateral for the loan to be funded. A secured loan reduces the risk of the lender because if you fail to make payments, the lender can take possession of the collateral to recoup its losses.
Examples of collateral include the following: 
Checking, savings or money market accounts
Certificates of deposit
Insurance policies
Valuables, such as precious metals
Vehicles
Stocks, mutual funds and bonds
Real estate
Ask for a Loan From a Family Member or Friend
One option is to ask a friend or family member for a loan. However, you'll need to carefully consider who might be in a financial position to do so. If you do decide to ask for a loan, make sure that you and the other party draw up a loan agreement that details how much you're borrowing, whether there will be any interest or fees, how much the payments will be and when they are due. You both should sign the agreement and keep a copy. 
Loans To Avoid
Not all loans are equal and there are some loans that you should avoid at all costs, including the following, because they either have very high fees and interest or could result in the loss of your personal property.
Payday loans
Credit card cash advances 
Installment loans with extremely high rates and fees
Pawnshop loans
Auto title loans
Takeaway
If you're unemployed and seeking a loan, you'll likely face challenges, but that doesn't mean you won't be approved. Making sure your credit score is in order, offering alternative income sources and enlisting the help of a responsible co-signer are all things that can help you get the loan you want. For best results, shop around to find lenders with the best terms for your needs and also seek out those that allow co-signers just in case.
FAQ
How do I get a loan from Cash App?

The only way you can get a loan from Cash App is if the app allows you to do so. To find out, open Cash App and look for the word "Borrow" on your home screen or the banking screen. If you see it, select "Unlock" to request a loan.

Can I get a loan if I haven't started my job yet?

You may be able to get a loan if you have nontraditional income that your lender will accept as proof that you can repay your loan. Examples are income from a government benefits program, such as Social Security or unemployment compensation, or in some cases, alimony or child support.
Our in-house research team and on-site financial experts work together to create content that's accurate, impartial, and up to date. We fact-check every single statistic, quote and fact using trusted primary resources to make sure the information we provide is correct. You can learn more about GOBankingRates' processes and standards in our editorial policy.